The Body Shop – Georgia, which produces its own self-care products and cosmetics line, this week announced at a presentation at Tbilisi City Council that it had published a book to "empower women."
The book is called 'Love Yourself,' and the organizers say that its goal is to empower women and free them from social standards often set by the opposite sex. It is said to reflect the true stories of 13 women; however, all seven authors of the book are men.
The authors are: Giorgi Kekelidze; Basa Janikashvili; Dato Gorgiladze; Alexander Lortkipanidze; Irakli Shamatava; Gia Murghulia; and Toresa Mossy.
The Body Shop – Georgia noted that the authors of the texts were paid a "small salary" for their writing, but the women who shared their stories with the writers were not.
That the company aimed for the book to address women's issues yet didn't hire even a single female author was met with much criticism within Georgian society, to which The Body Shop responded with the following statement:
"Women are humiliated and locked into beauty standards by the opposite sex, so the novels in the first series of the book were written by men to present themselves in the place of these brave women. Work on the second edition is actively underway, in which more women writers are to be involved."
The well-known male writers were mentioned in the Facebook post published by the company, but the women behind their stories were not revealed, leaving readers with the impression that the book was "men writing about women." The Facebook post, following which the company was criticized for implementing the idea, was later deleted by The Body Shop.
"The brand realizes its responsibility," Irina Adeishvili, head of the company's marketing department, told RFE / RL. "We really want these girls to remain the main characters. The book needed to be available by August, and we want the entire proceeds from this book to be spent on women victims of violence. At the first stage, a digital book was published, which did not receive much response, so it was decided to publish it physically so that as many people as possible could get to know these amazing women."
Authors of the book, Toresa Mossy, Alexander Lortkipanidze and Giorgi Kekelidze, also responded to the criticism. Mossy and Lortkipanidze said they were not familiar with the details of the project, and Kekelidze deleted his post shortly after it was published.
Several women have since accused Kekelidze, writer and Director and of the National Parliamentary Library, of sexual harassment. The women decided to speak out publicly after discovering he had authored a part of the book on "women's empowerment."
One of these women told on.ge that about 7-8 years ago, Kekelidze had contacted her via Facebook and offered sex. Despite her refusal, Kekelidze tried to communicate in different ways, even getting hold of her phone number and starting to call her.
"He offered sex. He told me that he'd had sex with many of my friends, and tried to seduce me this way. I replied that I was not interested in having a relationship with him," she recalled, adding that it was a depressing and irritating process that went on for almost three years.
When she wrote about her case on Facebook, a number of other women left comments, some of them claiming Kekelidze had given them inappropriate compliments when they were minors.
Giorgi Kekelidze responded on Facebook, acknowledging the "tiresome flirtation" on his part, though he noted it was years ago and he has changed a lot as a person since then.
"Years ago, because of my overly active and boring flirtations, I might have given someone reason to interpret something. I don't know, I can't tell you. I'm ashamed of this "flirtatious" period and I have said it many times to these women directly: I apologize for that," he wrote.
However, Kekelidze's post disappeared within an hour. He later wrote a new post where the word "flirtations" remained, though "boring" had been removed.
Kekelidze also emphasized that he had not committed any "violence."
"I am writing this first of all for those who think that Giorgi Kekelidze is a man like God. I too am a human being, and I have made mistakes. I apologize now. However, nothing violent ever happened. Ever. I cannot and will not be blamed for such," Kekelidze wrote.
Later, The Body Shop – Georgia apologized to users on Facebook: "We are sincerely sorry that one of the ideas of this project, for men to write stories about women, did not convey our message in the way we intended. Our goal was to start people thinking and discussing this topic, not only women, but also men.
"Once again, we want to emphasize that the main characters of this project are brave women who talk about how they overcame difficulties; how they learned to love themselves.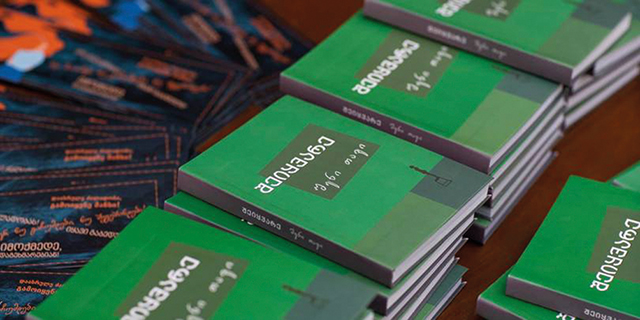 "We have heard different opinions and remarks from a number of readers which convince us we were unable to choose the right form of communication," they admitted.
"I think there was a problem with communication," said feminist-activist Ana Nikoladze. "The book is called 'Love Yourself,' and is about the empowerment of women and liberation from standards, and yet the title is followed by only male names."
She noted that feminist circles in Georgia are continuing to actively debate the issue as to whether men should write about women, or whether men have the right to write about women and their bodies, and what place male authors occupy in modern feminism. Some believe that the involvement of men in the dialogue is important; however, certain conditions are needed for that to happen, and, in particular, this should not be done at the expense of occupying women's places- women should be able to advocate for their rights themselves.
The Body Shop's Irina Adeishvili told RFE / RL that this has been a good lesson for the company and that in future, they will be involving more experts in gender-sensitive projects.
By Ana Dumbadze