The density of Russian military units being posted to locations near Ukraine outside of their typical training areas is continually furrowing European and American brows. The topic had a meteoric rise in popularity in the wake of several recent meetings between NATO and EU member states, American diplomats, and other stakeholders, along with missives, demanding an explanation from the Kremlin. Russia insists it is NATO who is stoking the fires, while NATO argues the reverse.
Ever since the 2014 invasion and subsequent occupation of its easternmost province of Donbas, Ukraine has fought politically with NATO and other Western allies for support. Much of that support, particularly in the form of battlefield technologies and hardware, was realized. However, it was the large strategic allies such as the United States and the United Kingdom that still kept a nebulous position on interventionism, opting for the issue to remain a containerized Russia-Ukraine problem.
Many have allowed the military movements of the Russian forces to stay within that scope. This ignores the larger scale implications of a continual escalation. This influx of men and hardware is far outside any typical maneuvering force. Almost 100 Battalion Tactical Groups (BTGs) are being positioned well within striking distance of Ukraine, potentially in a similar way to American RSOI during the lead up to the War on Terror.
RSOI, or Reception-Staging-Onward Movement-Integration, is a system for compressing and unpacking military elements for long travel. Typically utilized during large international training operations and combat deployments, this is a streamlined way to move large numbers of people and equipment. Since the United States generally operates thousands of kilometers from their conflict areas, this has become an integral part of the American military machine.
With Russia constructing these RSOI nodes around Ukraine, it allows for not only the initial invasion forces to quickly enter the country, but also for follow-on and support forces to seamlessly move in behind them. In the initial 2014 invasion of Ukraine, Russia brought to bear approximately 4 or 5 BTGs. The following year, it is estimated 10 to 12 BTGs were deployed. With up to 100 BTGs in the region, the scale becomes much more sobering.
Large formations of this nature are not mobilized in such a way normally. Decisions have most assuredly been made at some of the highest levels to ensure each component is in place and is at the highest readiness level for potential large-scale combat. Commanders thus far have delivered to Putin the option to invade and take additional large swaths of land in Ukraine.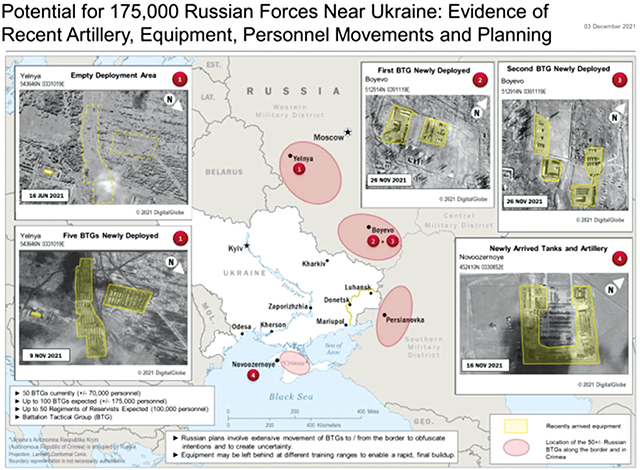 This option, whether or not he actually intends to use it, is more than a check against NATO. Putin and his staff believe they know Ukraine and its role in the Eurasian political game far better than anyone else. He is also not one to shy away from high-risk/high-reward games. While coercive bargaining is certainly plan "A", war is his only plan "B." As a result, they have opted to use this show of force as a hedge against Western perceived ignorance.
Despite this, it is unlikely that total war is on the horizon. Russia, economically stricken and buckling under increasing foreign sanctions, would not be able to bear the brunt of funding another invasion. More likely, and certainly more in line with the now infamous "Maskirovka" tactics, they will wage a hybrid and salami-slicing campaign to gain more of Ukraine's sovereign territory. By staying just under the limit of NATO's definition of invasion, more leverage can be levied against Kyiv.
This leverage aims to keep Ukraine from becoming too warm to NATO, and certainly from any potential membership. Putin knows that Ukraine will eventually make that move. With its growing sentiments towards Western integration, it is becoming more of an inevitability that they will ascend to the alliance. As a result, any delaying action to parry that is paramount in his mind.
But Ukraine is only the start. If NATO is unwilling to engage in the event of hostilities in Ukraine, what about Latvia, Lithuania, or even Poland? The salami slicing against the sworn enemy of the Russian Federation, at least at the Kremlin sees it, will only stop when met with enough resistance. In far less kinetic operations, the undermining of democratic systems of vulnerable nations on NATO's fringe, such as Georgia and Ukraine, will continue to keep the soil fertile for the aforementioned kinetic operations.
Unlike Georgia, Ukraine is essential to Putin's larger mission to restore the empire he witnessed collapse, something he has repeatedly framed as the single greatest geopolitical catastrophe of the 20th century. While reclaiming Georgia is a bonus, the current hold he has on the nation can satiate his hunger for the time being. Along with Armenia firmly in his pocket, this ensures his southern flank is secure and the Caucasus is no longer the headache it once was.
This latest sequence of bouts between the West and Russia is undoubtedly not the last we will see. Instances of increased tension will continue to flare on almost a sine wave pattern until senior national leadership makes full generational changes, most likely not to be seen by any reading this. The predictable dialogue will continue to be Russia accusing the West of dithering and inaction on key diplomatic items, and the West will paint Russia to be the overly aggressive bear reminiscent of the Soviet Union.
Zooming in, it is Ukraine themselves, as well as Georgia and Moldova, that will have to look inward for any hope of self-preservation for the time being. NATO is an honorable and righteous organization for sure, but to rely on them in the current state is akin to the old adage "hope is not a plan." Until a united and firm front against the prying claws of the Kremlin can curtail future advancement, the trio of Russian-abused states will have to stand their own ground.
By Michael Godwin