Tbilisi 4th International Summit of Crafts and Design ETHNOFEST 2022 commences in Expo Georgia on October 14th. The festival will run for three days, October 14, 15, and 16, and welcomes craft aficionados, local and foreign visitors.
The summit's goal is to promote craft producers and artists in the craft sector and to encourage their economic viability in both local and global markets. Participants come from six countries: Georgia, Bulgaria, Armenia, Ukraine, Armenia, and the Czech Republic. 
Over 150 craft manufacturers, artists, and designers will exhibit artworks and other goods at the exhibition. The festival allows local and international buyers to purchase handicrafts directly from craft manufacturers and learn more about the acquired item through face-to-face dialogue.
ETHNOFEST 2022 is a three-day event that comprises a craft and design expo, training, masterclasses, workshops, an international conference, and craft-themed film screenings. 
The summit will also showcase completed projects such as: CRAFTING EUROPE is an EU Creative Europe financed initiative; EU Black Sea Basin projects on Promoting Culture and Heritage Based Tourism; and a USAID Economic Security Program project aiming at the professional development of craft makers.
Training Digital Marketing Skills for SMOs Development and How to Develop Craft Studios to Host Tourists for Masterclasses will be conducted.
The festival will feature masterclasses. Tatulashvili's Ceramic Workshop-Museum will host a wheel-throwing masterclass with ceramic artist Giorgi Tatulashvili of Gori, Georgia. A masterclass on glassmaking will be held by the Czech Republic's Rautis Family Company. Asmart Creative Hub's silk-making masterclass will feature Konul Huseynova of Baku, Azerbaijan. Natalya Akulenko from Mikolaev, Ukraine, will demonstrate a Taurian Postcard Painting Masterclass, while experts from Bulgaria and Ukraine will hold masterclasses on experiential tourism topics.
The 4th International Summit of Crafts and Design ETHNOFEST 2022 in Tbilisi will also feature short films. One of the short films that will be screened is Handmade Culture – the Story of the Tbilisi Workshop, which was produced by Neka Sebiskveradze and directed by Gvantsa Meparishvili from Georgia. The Future is Handmade, produced by Maikel Kuijpers and edited and shot by Noel Schoolderman from the Netherlands, will also be presented at the festival. The Georgian Heritage Crafts Association's Master of Traditional Arms – Teimuraz Jalaghonia will also be on display. The film Crafting Europe Georgia, produced by studio Melano and commissioned by the Georgian Arts and Culture Center, will be aired. 
As part of ETHNOFEST 2022, a contest called the Best Booth will be held to choose winners in several nominations.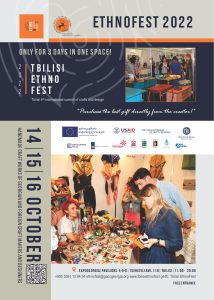 GEORGIA TODAY received exclusive remarks on the international summit from Mark McCord, Chief of Party for the USAID Economic Security Program in Georgia, and Maka Dvalishvili, founder of Tbilisi International Summit of Crafts and Design ETHNOFEST.
In a brief interview with us, Mark McCord revealed that ETHNOFEST means a great deal. Prior to the pandemic, ETHNOFEST was gaining popularity for its assistance to artisans around Georgia and the Caucasus, he noted, emphasizing that the festival helps artisans to learn more about worldwide best practices for trade, better business procedures, and making business-to-business relationships to improve sales.
"The fact that ETHNOFEST is returning this year is even more significant," he added.
"It will also serve as a punctuation mark, if you will, of the resurgence of the artisan value chain within the Caucasus. Allowing both internationals and locals alike the opportunity to interact with amazing artisans and those artisans to interact with potential customers," he highlighted.
"For Georgia, ETHNOFEST first and foremost means feasibility; it means increasing the knowledge and capacities of Georgian artists. They are already quite sophisticated, but they can adopt new techniques and expand into new markets. Of course, it will boost Georgian artisans' sale derivatives and provide them with possible market linkages," he continued. 
The involvement of USAID sends a "powerful message," McCord told us, a message that "we support Georgia's creative industry sector, which is a pathway to high-value employment, as well as Georgia's cultural heritage, which is manifested through these artisan products. "
McCord noted that USAID feels these craftsmen have "global appeal" and it will do everything possible to boost craftspeople's markets and their capacity to reach buyers all over the world. 
"It's not just the right thing to do, but it's also the wise thing to do. To assist craftsmen in increasing their exposure and access to new markets," underlined McCord. 
The significance and perks of ETHNOFEST were mentioned by Maka Dvalishvili in a short conversation with GEORGIA TODAY.
"The South Caucasus region's artisans come together for ETHNOFEST. This is a relationship-building platform. The capacity of craftsmen to communicate with other artisans about the latest trends in arts and crafts from their own nation," she stated.
"This year, Eastern European nations including Bulgaria, the Netherlands, the Czech Republic, and Ukraine will attend ETHNOFEST with us for the first time," Dvalishvili added. 
Dvalishvili said ETHNOFEST fosters two key partnerships between Georgians and foreign ambassadors. First, craftsmen have the capacity to get to know one another's works of art and "forge bonds." It also creates "business connections" and "openings for new markets." "Strengthens and prolongs the ties that exist between nations," she added.
The artisans who participate in the summit will attend a variety of workshops, see short films, and participate in competitions, she commented. 
"There are several cultural festivals in Georgia, but none of them are specifically focused on arts and crafts. Summits like ETHNOFEST are extremely uncommon not just for Georgia but also for the South Caucasus; I believe ETHNOFEST is the only one that is currently accessible," she highlighted.
"Craftsmen must expose the history of each product and become masters in client communication," noted Dvalishvili. 
The event offers a day devoted to Ukraine when Ukrainian artisans will celebrate their cuisine and culture by making Borscht, said the festival's organizer.
ETHNOFEST is partnered with the European Commission Delegation to Georgia, USAID, and Embassy of the Netherlands. Along with Tbilisi City Hall, Expo Georgia, Czech Center Tbilisi, Tskaltubo Tourism Development Center, Tskaltubo Municipality, and Gori Municipality.
By GT Team