Our café, like our house, is getting "signatures" on it from all over the world: the handiwork of those who have worked on building or renovation projects over the years. The house includes its first bathroom (built by Canadians, with finishing touches by Mingrelians) as well as many smaller but vital elements done by Americans, our own village's Svans, and others.
We now have a pair of Swiss men, one of whom I have known for 31 years, newly arrived for work. Originally, they were to replace the burnt-out garage roof, but the previous pair of café workers had a look and urged us to strengthen the garage walls with cement and rebar before re-roofing. Our Swiss guys are here for only 10 days, and this won't be long enough to finish the garage roof work; so we are having them make a staircase to the café balcony instead.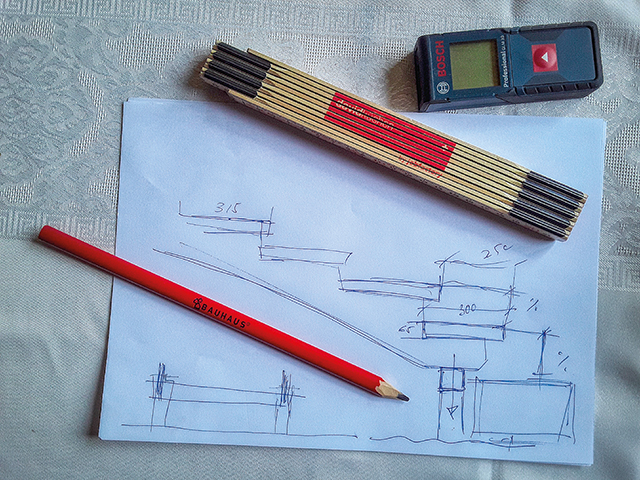 Measure twice, cut once, says the phrase in English. In Georgian, measure 100 times! In any case, this phase, planning and drawing the project after some back and forth to establish our ideal staircase, is now under way. They will make a complete list of needed small materials (nuts, bolts, screws and so on) which
I can quickly go to Mestia to buy instead of all the way to Zugdidi. They brought some power tools with them from Austria, where they live, and I picked them up from Kutaisi airport last night, after a direct WizzAir flight from Vienna: basic but nice and cheap. It was 10 hours of driving in a day, but broken by several hours; we came home through thick fog in Svaneti without incident. I have borrowed an angle grinder and welding apparatus from a kind neighbor, and we're off.
The procedural gap in techniques is huge. In most of Western Europe, you cannot build or renovate any structure without a daunting list of permissions and bureaucratic hoops jumped through. This is for safety, uniformity, standardization and more. The freedom here in Georgian villages, though, means that you bypass all this stuff… and the protection it brings.
The very materials you can choose from here range from scarily bad to beautifully high-quality. The continued existence of the bad things, instead of their disappearance in the face of such competition, sometimes surprises me, who would always choose the expensive and long-lasting version over the cheaper one which might need replacing more often and also even be dangerous. (Electrical fixtures, I'm looking hard at you, for example). But there are plenty of people here who cannot afford such high-end choices, and are forced by economy to buy cheap and often. So the poorer quality things persist on the market. It's not called "the luxury of choice" for nothing.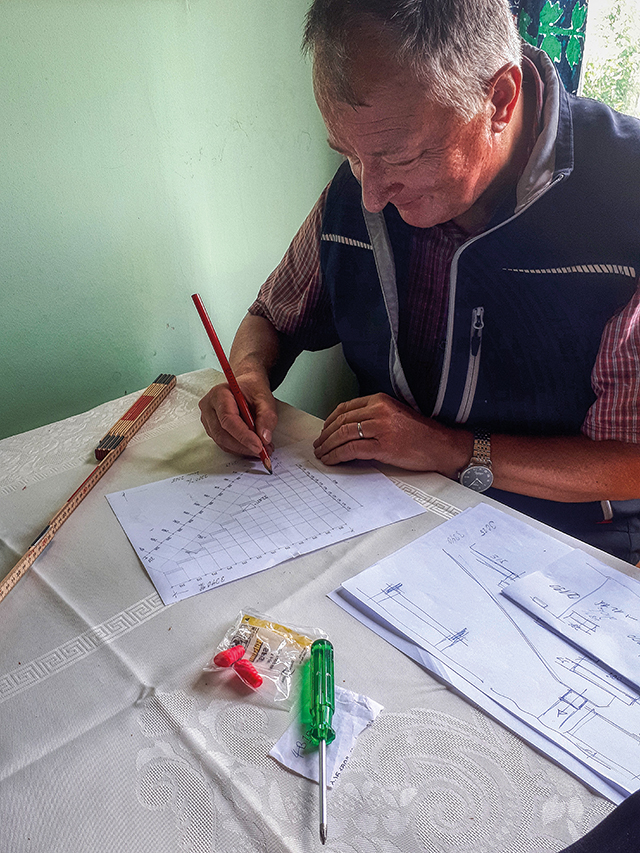 Gone are the years when we had a garage full of good power tools for our workers to use: that all burned up in January, and much of it will never be replaced, as we wind down building and renovating things on our Svaneti property.
Materials (wood and steel), foundation (steel set in concreted holes in the ground) and finish are all vital, as are joining methods (welding, and screws or bolts as opposed to nails, which will loosen over years of weight-stressed use and cannot be tightened). One of their first jobs, though, is to make some of the tools they'll need, such as a strong sawhorse, which will become the legs of my next workbench after the men go. This tool-making follows the understanding that every tool in existence was made by other tools, farther and farther back in time, until we arrive at the original proto-tools such as the first hammer. (PLEASE don't plane the sawhorse's corners, though—we don't need it to have so much beautiful form that its function is a pity!)
Just the drawings and the questions give us confidence that we are in good hands, full of both knowledge and experience (including some in Africa). We are coming to a mutual understanding, and feel that our exchanges will yield long-lasting fruit. This is what you get standing behind the name of Swiss made, with its centuries of reputation for quality, precision and longevity! One more set of signatures to add to the collection, thank you.
Blog by Tony Hanmer
Tony Hanmer has lived in Georgia since 1999, in Svaneti since 2007, and been a weekly writer and photographer for GT since early 2011. He runs the "Svaneti Renaissance" Facebook group, now with nearly 2000 members, at www.facebook.com/groups/SvanetiRenaissance/
He and his wife also run their own guest house in Etseri: www.facebook.com/hanmer.house.svaneti