NATO Secretary General Jens Stoltenberg held a joint press conference with Prime Minister Irakli Gharibashvili after their meeting today.
Stoltenberg talked about the concerns within the Alliance regarding the recent developments of political events in Georgia, including the detention of the chair of the "National Movement" Nika Melia. He emphasized that the Alliance is based on the rule of law and democratic values, so they call on Georgian politicians to find a way out of this difficult situation in order to be able to continue reforms to deepen European integration.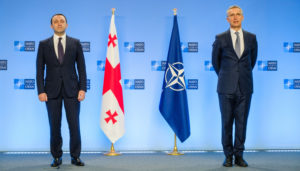 "NATO is an alliance based on core values ​​- the rule of law, democracy and freedom. This is the cornerstone that underlies all members of the Alliance. Therefore, we welcome Georgia's progress in pursuing democratic reforms, strengthening and modernizing institutions. Both in the security sector and in the judiciary system."
Stoltenberg added that NATO supports the mediation efforts of the European Union. He called on Garibashvili to work with the opposition to find a common solution to the crisis.
By Ana Giorgadze