Snow fell to 15cm overnight in the hills above Georgia's capital, Tbilisi, and more is falling!
Snow ploughers were slow to get on the scene, resulting in heavy traffic jams both sides of the Mtatsminda/Okrokhana turning.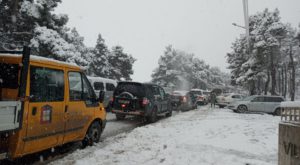 Up until 10am, buses had to unload passengers on said turning and return to the city. Some passengers decided to walk to their jobs in the Tsavkisi Valley area, or give up and head back down to Tbilisi.
Cleaning works are underway and police are one the scene to direct the flow of traffic. If you're planning to head up that way, expect delays throughout the day, and drive carefully!