Over 60 deeply engaged entrepreneurs submitted creative ideas to the United Nations Development Program (UNDP) Accelerator Lab's 'Solutions Safari', a call for inventions that can ease the pandemic's burden on citizens and businesses. The competition was funded by the governments of Germany and Qatar. Submissions included a dazzling array of simple and effective solutions that were created 'by the people, for the people' to address everyday challenges brought on by the pandemic.
The Accelerator Lab created the Museum of Georgian Inventions website and Facebook page to profile participants and to promote the idea of people-driven solutions.
To find the most standout proposal from among all submitted ideas, UNDP gathered an esteemed jury composed of Accelerator Lab members and representatives from the private sector, civil society and academic institutions. The jury chose two winners: Davit Mizandari and Anna Ghviniashvili. They will each will receive GEL 10,000 equivalent support to improve or upgrade their ideas and to put them into practice.
Davit Mizandari invented and patented the MizMask, a reusable and rechargeable respirator that creates a seal around the face to filter out harmful particles. MizMask is an N99 respirator that provides five levels of protection (including an ultraviolet diode sterilizer). It will be particularly useful for frontline medical personnel, emergency crews and hospital staff who face an outbreak. A COVID-19 hospital in Tbilisi has successfully tested a MizMask prototype.
Anna Ghviniashvili developed an online model for an inclusive dance class. Her class supports people with disabilities during the pandemic and helps them cope with the isolation, sense of loneliness and other psychological issues stemming from the pandemic. The online teaching methodology is based on findings from Ghviniashvili's research and her earlier practical experience teaching face-to-face inclusive dance classes. The Azdak inclusive theatre and the Youth for Social Equality organization are already using her model to great success; currently, over 70 people with disabilities participate in online dance classes thanks to Ghviniashvili's innovation model.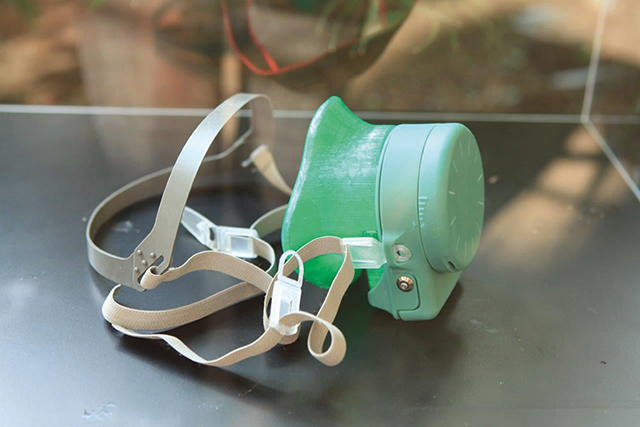 "Business as usual does not work during a pandemic. We are experiencing extraordinary times that require innovative approaches," said UNDP Acting Head Anna Chernyshova. "Our competition helps map out and support creative solutions to everyday challenges — solutions that come from people directly."
"Smart use of innovative methods will help Georgia recover from the pandemic crisis," said Head of Cooperation at the Embassy of Germany Lidija Christmann. "Germany is pleased to partner with UNDP to help unlock people's potential to withstand the crisis."
UNDP Accelerator Labs are now working in 116 countries. Each Accelerator Lab is focused on applying new insights and technologies to solve protracted development challenges. Georgia joined this fast-growing network of innovators and experimenters this year. Georgia's Accelerator Lab initiatives are focused on supporting the National Centre for Disease Control and Public Health to overcome vaccine hesitancy in Georgia, transforming public attitudes towards recycling and waste separation and translating climate data into narratives to transform people's behaviors.