Michelle Gagnon, a scriptwriter and film-maker by profession, is also the curator of the "Rust" photo/textile exhibition at The Exchange Gallery, featuring GEORGIA TODAY's Tony Hanmer. We sat down with her to find out more about what inspires her work, and what brought her to Georgia.
"Most people I meet have an interesting story of how they ended up in Georgia. Mine isn't glamorous," she tells us. "It came down to a spreadsheet deduction. Georgia kept topping the list for safety, affordability, and of course the important stuff… good food, good wine, good people. My husband's online business gave us mobility, so we sold everything in Canada and arrived on one of those terrible 3am flights, with two small kids, eight suitcases, and a labrador retriever. We had never visited Georgia or met a Georgian. It was both calculated and impulsive, really.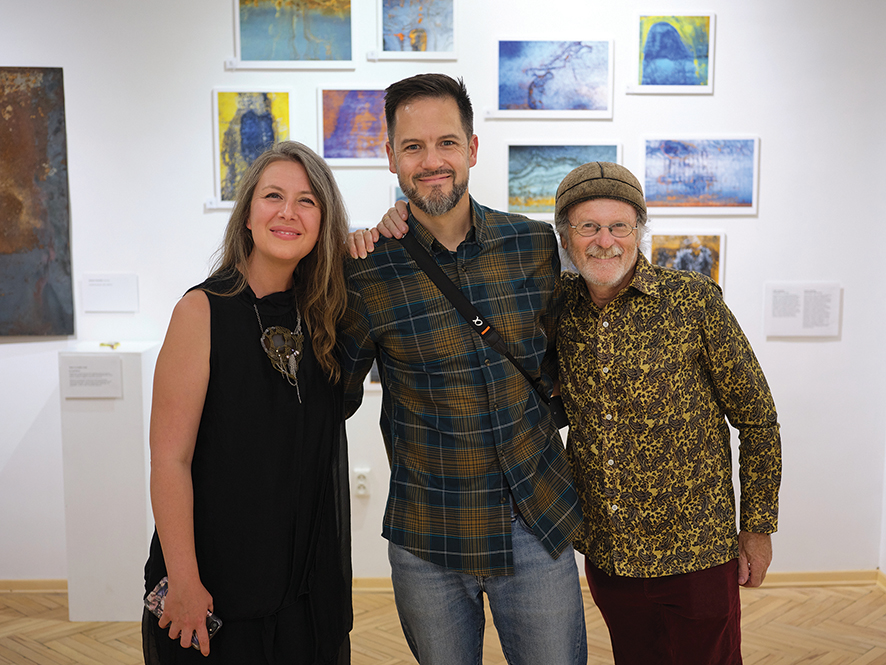 "But the reality of living in a foreign culture can be difficult and lonely. You don't fit anywhere and the culture shock can be severe. I had a really tough time making friends for five years, because of the transient expat community. No one was around long enough to build deep connections and locals already had their extensive family networks. But I found an inroad. My tribe turned out to be the local filmmakers and painters. That turned everything around for me.
"Now, I work in Georgia as a full time creative. I split my time between script writing and development, short documentary directing and producing, and working as an art gallery curator. Most of my work is self-generated and self-funded. My next goal is to find partnerships that will increase my capacity for larger projects and the number of artists I collaborate with and support," she says.
You have been producing a film about Tony Hanmer. What about him captured your interest and how's it going? What is your background in filmmaking?
My father worked in the TV industry in New York, so I grew up around the industry, but never expected I'd end up in it. In Canada, I did some theater acting, but that wasn't possible for me in Georgia, so I decided to get an interdisciplinary degree in Film and Art History online from an American university during the Covid lockdown. But when I finished my degree I hit a block. "What now? How do I make this work in a foreign country?" The answer was always the same: just do the work. No one is going to give you the opportunity, so insert yourself. Find your own way.
My friend Ana Kvichidze, a local filmmaker, gave me good advice: "Start with documentaries." She was right. Rent some equipment, find something interesting, and just start rolling. I decided to shoot a short documentary called Wires in collaboration with my dear artist friend, Giovannino, which we premiered at her art exhibition last July. I have another short film project about a young Georgian man in a wheelchair that is starting post production soon. I hope to raise awareness about disabilities here in Georgia. This young man is really inspiring. His voice should be heard!
About a year ago an Iranian friend, Merhdad Ruien, approached me with an idea to make a doc about our artist friend, Tony Hanmer, a Canadian expat who has lived in Georgia for 25 years. I believed in the project and was eager to support and develop some new talent. I decided to fund and produce it myself. With a crew of 9, we shot about 35 hours' worth of footage over several months. This included a week of intense conditions up in Svaneti with power outages, snow up to our waists, and carrying equipment on our backs into Ushguli when the vans couldn't get there. There were many challenges, but it has pushed me to grow. Those are the opportunities I am looking for. It's in editing right now. It's called Geosynchronicity, so be on the lookout for it in the New Year.
Tell us about your other film pieces and artwork – what inspires you?
I am just finishing an original feature-length screenplay with a wonderful Georgian scriptwriter, Nikoloz Mdivani. He is rocking the European film festivals right now with the film he co-wrote with Elene Naveriani, Blackbird Blackbird Blackberry. It is inspiring to see Georgian filmmakers getting the recognition they deserve on the international stage. Nikoloz is a talented writing partner and dear friend. I have learned a lot from him and owe him a lot for connecting me with the Georgian film family. I'm excited to see what happens with this original story we have written.
I'm also developing a potential series with a local animation studio. I really admire their work and artistic integrity, and am excited to learn from them. These are the kinds of people I'm looking for and want to work with, people who have a lot of heart, are passionate about their work, and are really professional. That inspires me in my own work. And animation is just cool. My friend Nika Kobaidze, a Georgian animator and painter, is teaching me a lot about this process. It's good to have smart friends who are willing to pass on their knowledge!
What about Georgia do you love best, and is there anything in particular that wakes up your muse here?
I think Georgians are artistic people at heart. Theirs is the language of the poets. And they are a really ancient and noble culture. I really admire their creativity, a lot which I think has been out of necessity. They are a resilient people and manage to create beauty and maintain a sense of cultural identity despite their history of invasion and occupation. It's the people here who inspire me, my friends, and their stories. The deeper I go, the more I fall in love with this place.
One of my passions is spotlighting up-and-coming artists, those who will be leading the Georgian art scene in 10-15 years. One of my new favorites is Iru Meladze, an abstract painter. Her work is so full of raw emotion and color on the canvas. It really speaks to me. Over time, as I work closely with artists, friendships are forged. This is my favorite thing! Working for the local NGO, Caucasus Culture Exchange, as the curator for The Exchange Gallery, gives me amazing opportunities to go deeper into the local art scene, build connections, and support and celebrate all the creativity in this amazing part of the world.
Tell us about the Rust exhibition and your plans looking ahead in terms of exhibitions, filming, etc.
"Rust" was a really fun collaborative show to put together. We've had a great turnout and wonderful feedback from the community so far. People can still stop by and check it out through the month of October. Our next show will be in December. I am still thinking about the concept, but something like concrete might be fun. And of course I am always on the lookout for new artists!
We are also building a music studio at The Exchange this winter, so I am looking forward to getting to know the local music scene.
Most of my projects are long-term. I'm the kind of person who likes to see a project through from beginning to end, and that sometimes takes years. And the risk with creative work is never knowing if it will become a reality. I'm really lucky to do work that I love here with the support of the Georgian arts community. So I just keep showing up, doing the hard work, making friends, hoping for a bit of magic, and we will see what happens.
Interview by Katie Ruth Davies