In the 11th week of devastating war between Russia and Ukraine, the key developments are as follows:
• Russian troops in the east of Ukraine have been focusing efforts on villages and crossroads instead of major cities and expanses of territory, an apparent sign of Moscow's reduced ambitions, the Pentagon said.
• Moscow claimed that nearly 700 more Ukrainian fighters surrendered in Mariupol after Ukraine gave up its last stronghold at the Azovstal steel plant, according to Reuters. Ukraine has so far confirmed the surrender of about 250 fighters.
• Mariupol officials warned of a possible "environmental catastrophe" after Russia's siege of the steel facility. They said tens of thousands of tons of toxic chemicals stored there could leak into the Sea of Azov, and subsequently the Black and Mediterranean seas.
Azovstal
This week's main event in Ukraine was the evacuation of wounded fighters from the Azovstal steel plant in Mariupol, which until now remained a symbol of the dedicated fight and resistance of Ukrainians. Azovstal was the last stronghold of resistance in the shattered port city.
More than 260 Ukrainian fighters, including those badly wounded, have been evacuated from the Azovstal steel plant in Mariupol and taken to areas under Russian control.
Branded "heroes of our time" by the General Staff of Ukraine's Armed Forces, scores of troops have been trapped in the bombed remains of the giant plant for 82 days.
Ukraine's Deputy Defense Minister Anna Malyar said that, on Monday, 53 seriously wounded fighters were taken to a hospital in Novoazovsk.
An additional 211 fighters were evacuated to Olenivka through a humanitarian corridor.
"An exchange will be worked out to get them home," Malyar said.
The Ukrainian military reports Russian troops kept up their blockade of the plant on Tuesday.
The army's General Staff said in a post on its official Facebook profile that "in Mariupol, the enemy concentrated its main efforts on blocking our units in the area of the Azovstal plant."
Russia called the operation a "mass surrender." The Ukrainians avoided using that word, but said the garrison had completed its mission, and refused to disclose the number of fighters who remain there.
Those who have been evacuated will be interrogated, Russia's main federal investigative body has said, as part of its probe into alleged "crimes committed by the Ukrainian regime against the civilian population" in Ukraine's industrial east.
Russia's Investigative Committee said in a Telegram post that "Russian investigators will identify the nationalists (and) test whether they have been involved in crimes committed against the civilian population.
It did not provide any additional information regarding the location or legal status of the Ukrainian fighters.
Aside from the steel plant, the besieged city of Mariupol is under complete Russian control.
The full capture of Azovstal would be significant for Russia, as it would give Moscow its biggest victory of the war yet and could help free up forces for offensive action elsewhere in eastern Ukraine, a key focus of Russia's following a series of setbacks.
Against this background, President Volodymyr Zelensky asserts Ukraine is determined to reclaim control over the southern cities of Kherson, Melitopol, Berdiansk, Enerhodar and Mariupol, now occupied by Russian troops.
"All of our cities and communities under occupation – under temporary occupation – should know that Ukraine will be returned," Zelensky said.
Meanwhile, Russia continues to focus and attack eastern Ukraine. Russian shelling in Donetsk continues.
"The situation has deteriorated over the last week or so," said Al Jazeeera's Assed Baig, reporting from the town of Bakhmut in the eastern Donetsk region.
"The mayor of the town has told residents to leave, the situation is very tense," Baig said, adding that those who remain have to deal with no electricity as Russians forces have destroyed power lines.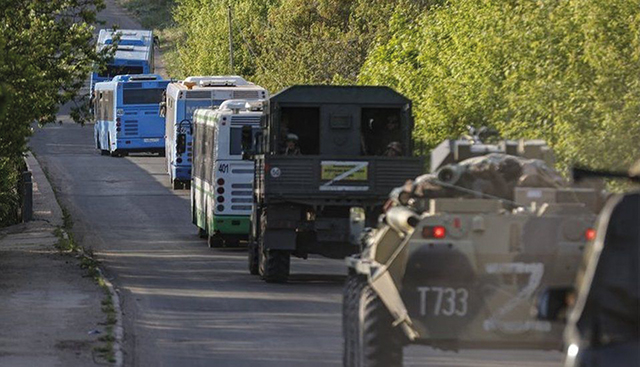 Adviser: Ukraine Won't Give Up Any Territory to Russia
Ukraine will not compromise with Russia and will not give up any territory, an adviser to Zelensky has said.
"The only option for reconciliation is Russia's capitulation, the withdrawal of troops, and talks on compensation. This is the principle position of the government," Oleksiy Arestovych told Channel 24.
Arestovych said he believed some countries wanted a repeat of the Minsk agreements, which had sought unsuccessfully to end the war in Ukraine's Donbas region since 2014.
But, he said, although some countries would try to negotiate, "there will be no option where we allow Russians to stay here."
Ukraine Begins its First War Crimes Trial
Eleven weeks into the Russian invasion, Ukraine began holding its first war crimes trial on Wednesday.
Vadim Shishimarin, a 21-year-old Russian soldier, admitted to shooting Oleksandr Shelipov, a 62-year-old man, a few days after the invasion began. He, pleading guilty, faces life in jail.
By Ana Dumbadze