Among some of the first things tourists marvel at in Georgia is the majestic statue of "Kartlis Deda" or Mother Georgia. The immense aluminum statue, erected in 1958 to honor the city's 1,500th anniversary, is that of a woman clad in Georgian dress holding a sword and a bowl of wine. For those who come as friends, the wine, and for those who come as hostiles, the sword.
Such a succinct statement characterizes much of Georgia's history and interactions with its neighbors. However, Georgians have had a particular resistance to Russian influence, largely cemented by the 2008 invasion of the Kremlin's forces. And after Moscow's recent actions, the influx of migrants from the other side of the Caucasus has sparked ire from many in the nation.
Protests, politician's statements, and even internet memes have captured the spirit of many who oppose the newcomers. A popular image has gone viral in the country, depicting a Russian armored column moving to Tskhinvali in 2008 alongside the image of Russian civilian traffic attempting to cross the Lars border checkpoint. Such a comparison has obvious implications.
The influx of Russian citizens is more of a mixed group than those who left after the initial invasion in February. At that time, many left purely out of disgust of the Kremlin's actions and over aggression against what many online characterized as fellow Slavs. The groups of people fleeing the country now have more personal reasons for emigration: Self-preservation.
As evidence of this, human rights and legal groups in Russian have been inundated by requests for support. Sergei Krivenko, who runs a group of around 10 lawyers called "Citizen. Army. Law.", said his office was working overtime to meet the demand.
"We are working round the clock. People are being torn from their normal lives," Krivenko said. "This is a mobilization without a time limit during a war. It could last months or years. People may not return, and leaving the army is pretty much impossible. The only way is death, injury or prison for disobeying orders."
Dmitry Lutsenko, the co-owner of an organization named "Release" that offers legal advice and information for potential service members, said "the best way to avoid conscription is to leave Russia now." He advised that the alternative is to "avoid signing a summons, avoid military offices. The legal punishment for not going is a small fine and I don't know of anyone who has been fined yet."
This self-preservation has caused many to find refuge in Georgia, regardless of their views on the "special military operation" in Ukraine. It's understandable that a young family, with high overhead costs and growing young children, would want to avoid military service and a high potential injury or death rate in Ukraine. But bringing those views may conflict with the views of many young Georgians.
This conflict has the potential to manifest into violence. According to some OSINT sources online, there have already been instances where Georgians and Russians have clashed, with injuries. Businesses have taken steps to force them to denounce Moscow's actions in Ukraine and people have held posters and marches to inform them that "Russian deserters" are "not welcome."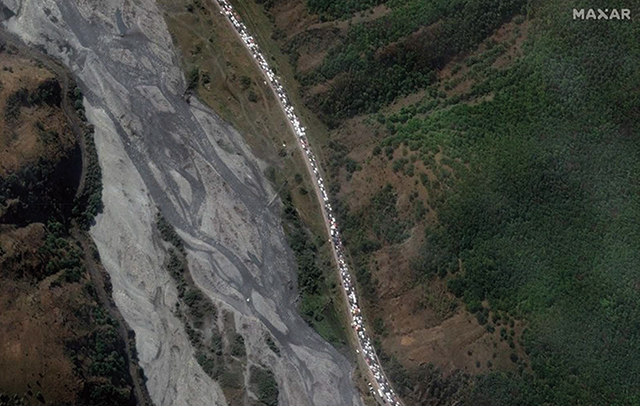 It may be easy to chalk these actions up to xenophobia based on old differences. The reality is that it may formulate in a way that could result in conflict. Russia has used the protection of its people, both citizens and ethnicities, as a caucus belli in Ukraine, Georgia, and Moldova. The process for another annexation of Georgia is easy to see should complaints of ill treatment by Russian citizens increase in number.
With the massive influx, naturally resistant Georgians are likely to lash out. This backlash to the migration is almost certainly to cause a wave of concern in the Russian social media camp. This will undoubtedly make its way to the Kremlin's information channels. It's all too easy to use this as leverage against Tbilisi.
The current Georgian government would likely be unwilling to reply in a way that matches the actions on the street. While Parliament may say they apologize and will prosecute the offenders, it won't match the response of the citizenry. This will assuredly spark more ire from the Kremlin.
That same caucus belli being used, an operation to protect Russian peoples in Georgia is not off the table. While some may say this is unreasonable and wouldn't match a rational flow of decision making from Moscow, this is exactly the point. Putin has not acted rationally, including the very invasion of Ukraine and the strategic decisions employed during the ongoing campaign.
Putin's erratic and unpredictable nature in the past year has defied predictions. What comes next for Georgia is likewise uncertain. Despite the warm nature of Georgians and an acceptance for foreign citizens, the threat must be faced frankly. Like the Mother Georgia statue, the newcomers must answer: Do you come in peace or with malice?
By Michael Godwin