In his Victory Day address, an annual event celebrating the Soviet victory over Nazi Germany in World War II, Russian President Vladimir Putin defended the decision to invade Ukraine and falsely depicted his country's actions as an "extension of the struggle against Nazism in Europe."
Western and Ukrainian officials earlier assumed that Putin might use the May 9 ceremony to officially declare Russia in a state of war and expand military conscription.
However, speaking in Moscow's Red Square on Monday, he made no call for new sacrifice or mobilization, no threat of a nuclear strike, and no stark pronouncement about an existential war with the West. Overall, Putin did not make any new attempt to prepare his people for a wider conflict. Instead, he promised that the military would keep fighting to "liberate" Ukraine from "torturers, death squads and Nazis."
The choreography of the parade itself was traditional: troops and vehicles marched and rolled through Red Square as they had in previous years and did not show the "Z" symbol that has come to represent support for the Ukraine war. The traditional aerial flyover of the Victory Day parade was canceled "due to the bad weather," Kremlin spokesman Dmitry Peskov said. In total, 77 aircraft were to take part in the ceremony, including eight MiG-29 fighter jets, which were to form the letter "Z" in the sky above the Red Square.
In Ukraine, President Volodymyr Zelensky rejected Putin's claim of purging Nazism to justify the invasion, saying in a video released on Monday that it was the Russian leader who was "repeating the horrific crimes of Hitler's regime today."
"On the day of victory over Nazism, we are fighting for a new victory," Zelensky said.
On May 9, Putin made no call for new sacrifice or mobilization, no threat of a nuclear strike, and no stark pronouncement about an existential war with the West
From both leaders' speeches, it can be concluded that the end of the war is not yet close. Currently, Ukrainian troops, armed with heavy weapons supplied by the West, are fighting Russian forces along a 300-mile front in the Donbas region of eastern Ukraine. After weeks of intense combat, Russia has made only sporadic gains.
The Ukrainian military said that the Russian army had deployed 19 battalion tactical groups, each with as many as 1,000 troops, to the Russian border town of Belgorod in preparation for an assault to slow a Ukrainian counteroffensive around Kharkiv and to break through Ukrainian defensive lines elsewhere in the region.
Biden Signs Lend-Lease Act for Ukraine
In parallel with the May 9 celebrations in Russia, US President Joe Biden signed the Ukraine democracy defense Lend-Lease act.
The signing ceremony was held at the White House.
Biden's signature on the Ukraine Democracy Defense Lend-Lease Act of 2022 will make it easier for the US to lend or lease military aid to allies affected by the Russian invasion of Ukraine.

Under the measure, Ukraine can request streamlined transfers of US weapons and other security assistance. The US will get guarantees that the country will replace or reimburse the assets at a later date.
The Lend-Lease program was used during World War II.
The act signed to help Ukraine is a historic step, Zelensky said.
"I am grateful to US President Biden and the American people for their support of Ukraine's fight for our freedom and our future. The signing of the Land-Lease Act is a historic step. I am confident we will win together again and we will defend democracy in Ukraine and Europe as we did 77 years ago," Zelensky wrote.
US House of Representatives Approves Additional $40 Billion for Ukraine
The US House of Representatives has approved more than $40 billion in aid to Ukraine.
As Reuters reported, Biden asked Congress to approve an additional $33 billion in aid to Ukraine, while as a result of a lawmakers' decision, military and humanitarian funding was increased.
The bill was supported by 368 members of the House, with 57 against.
Democratic Representative Rosa DeLauro stated: "this bill will protect democracy, limit Russian aggression, and strengthen our own national security, while, most importantly, supporting Ukraine."
Ukrainian soldiers wounded inside Mariupol's Azovstal steel plant call for help
Attacks and shelling of the Azovstal steel plant in Mariupol, Ukraine, continue. The troops holed up at the plant are denying Russia total control of the Ukrainian port city, but their situation is desperate, as soldiers with open wounds are left without any medical care in insanitary conditions.
Speaking in an online press conference on Sunday, an intelligence officer of the Azov regiment holed up in Azovstal said surrender "would amount to suicide."
Describing their increasingly grim, and likely ultimately hopeless, circumstances, Illia Samoilenko also made clear his bitterness with the Ukrainian government in Kyiv. It had, he said, failed in its defense of southern Ukraine, where Russia made much faster progress than in the north, and had abandoned Mariupol's garrison to its fate.
"Surrender is not an option because Russia is not interested in our lives," said Samoilenko, arguing that Moscow could not allow them to live because of the war crimes they had witnessed. "We are basically dead men here. Most of us know this and it's why we fight so fearlessly."
Speaking after the Zoom briefing, Ukrainian presidential adviser Mykhailo Podolyak said "every presidential conversation with foreign leaders and international organizations starts and ends with Azovstal."
In June, I expect to receive an affirmative response regarding our country's candidate status for EU membership – Zelensky
Mariupol's defense has been hard contested, in part because the city is critical to Russia's ability to supply the reconstruction of the eastern Donbas region it is now fighting to secure, and to establish a land corridor between the Russian mainland and Crimea, annexed from Ukraine in 2014.
All of the women and children who were huddled in bunkers at the site for weeks have been evacuated.
British intelligence: Withdrawal of Russian forces from Kharkiv region is a silent admission that they cannot take key Ukrainian cities
Russia is withdrawing troops from the Kharkiv region to replenish its forces after reorganization and heavy losses, the UK Defense Department said this week.
"Ukrainian forces continue to counterattack north of Kharkiv, retaking several towns and villages along the Russian border. The fact that the Russian Federation has given priority to Donbas has made its units stationed in the Kharkiv region vulnerable to mobile and highly motivated counterattack groups in Ukraine," the statement said.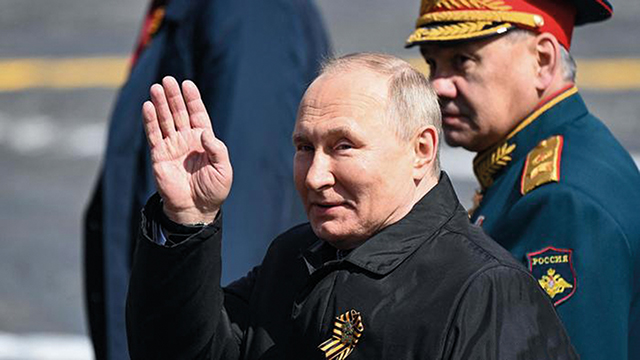 "The withdrawal of Russian forces from the Kharkiv region is a tacit acknowledgment that they cannot take key cities in Ukraine," the statement said.
Zelensky expects a positive response to EU candidate status in June
Ukraine may obtain EU candidate status in June, President Volodymyr Zelensky said in a video address on Facebook on May 9.
The Ukrainian leader noted that Ukraine had submitted the second part of the completed questionnaire required to become a candidate for membership on May 9, a process which normally takes many months.
"We have done everything in a matter of weeks… In June, I expect to receive an affirmative response regarding our country's candidate status for EU membership," the President said.
On February 28, Zelensky signed an application for Ukraine's accession to the EU. He said that after the full-scale invasion of Russia, Ukraine will apply to the EU for immediate accession under a new special procedure.
On March 21, it was announced the European Commission had begun work on a conclusion on Ukraine's potential membership in the EU. According to Zelensky, this will be prepared within a few months and will act as a recommendation for the EU Council to decide on the next steps.
By Ana Dumbadze