As we Georgians say, "Rugby is our game," and this well expresses the nation's deep love and appreciation of the sport. And it should come as no surprise, considering the numerous happy moments and important achievements on the international arena that rugby has brought to Georgia.
On hearing of some new initiatives the Georgian Rugby Union has in store to promote a healthy, happy lifestyle among children and youth, to further develop women's rugby, and in terms of CSR, GEORGIA TODAY went to meet Nikoloz Alavidze, Vice President of Georgian Rugby Union, to find out more.
We started by asking him about the condition of the Head Coach of the Georgian National Rugby team, Levan Maisashvili, which has been a recent worry for loyal fans of rugby. The VP told us that Levan, who was infected with coronavirus and was treated in South Africa for over 2 months, has recovered, and is now in Georgia with his family. "We'll soon be seeing him back on the pitch," he said.
We then turn to the current situation, in particular, certain problems related to the election process of the President of the Rugby Union at the beginning of the year. Alavidze informs us the situation has been resolved, everyone is calm again, and the Georgian Rugby Union remains open and ready for joint discussions and consultations with all rugby-interested persons. "Important successes achieved in quite a short period of time have helped the Union to reach even bigger audiences and remain transparent and available to them," he adds.
"Another challenge was related to finances, considering the economic situation in the country," he notes.
"This has also been solved thanks to backing from the Georgian government and World Rugby, now we are opened for sponsors."
He adds that, again, thanks to the active collaboration between the Rugby Union and the Georgian Government, the Georgian Rugby Union now has very impressive and exciting future plans.
Alavidze notes that special emphasis has been put on raising healthy future generations and maximally promoting healthy lifestyles.
"With this in mind, we identified 45 regions in Georgia, and over 100 locations within them, in which to construct new sports infrastructure and develop the rugby spirit and encourage a healthy lifestyle countrywide. This has been possible thanks to cooperation between the state and private sector, in particular, charity fund Cartu, which is involved in the process of financing this important project. The project will give children a chance to play rugby or other sports, and will go a long way to promoting a healthy lifestyle in the country," he says.
"The infrastructure will be very much in line with the standards of World Rugby. In the post-COVID reality, promoting a healthy lifestyle becomes of a vital importance. Based on the statistics provided by UNICEF, among the 900 thousand kids in Georgia, only 20% have physical access to sports infrastructure, while the remaining 80% have no access to sporting activities, which is a big challenge for the country," he says.
"To help our future generations, we decided to address this challenge. We'll be investing heavily in the training of coaches and the development of intellectual infrastructure in the regions. We're discussing actively, both with our foreign and local partners, how to bring more expertise, knowledge and practice in working with kids to Georgia," Alavidze tells us. "The main aim is to improve and further increase the popularity of rugby itself. Although it's already one of the most popular games in the country, we have to maintain this and build on it, for which we have a very clear and ambitious plan."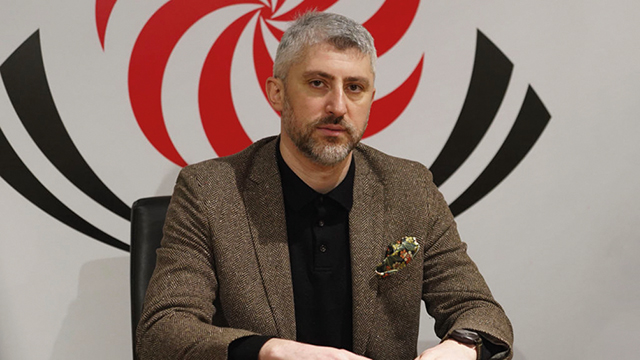 Tell us about this plan.
We're going to construct 100 pitches, but we also have plans with a very strong accent on kids' development. The idea of promoting rugby among children is for them to have fun, to learn how to play. There are also many important values that rugby carries. We want to share these values with kids. For this, we're working very actively with World Rugby and other stakeholders to gain more international expertise in this direction. We're also getting local businesses involved, encouraging them to contribute and play their role in this process, because we, Georgians, really love this game: it is more than just a sport to us.
(Unfortunately), Rugby is the only team sport from Georgia that has been represented at the World Cup since 2003. The Rugby World Cup is the 3rd most popular team sporting event after World Olympic Games and FIFA World Cup, and gives Georgia an opportunity to present itself on the global stage; to present not only our rugby game and spirit, but the country itself; to show our investment potential, business environment, culture, tourism, etc.
All these sentiments give us even more enthusiasm to bring up healthy new generations for the better and healthier future of Georgia.
Tell us what's new in the Rugby Union.
First, we all are united under our new President, Mr. Ioseb Tkemaladze who is coming to Rugby from business, is very result oriented, visionary businesslike person with superior skills to push all the necessary reforms. Noteworthy news within the Rugby Union of Georgia includes the formation of the new board and supervisory council of the Union, which has been reformed and is now represented by and connected to such renowned names as Mamuka Gorgodze, who is a world star of rugby, retired, but very active both in Georgia and Internationally; Chairman of the Board Davit Kacharava, who played over 100 games with the Georgian National Team; and other members, all of whom are a guarantee for the strategic activities and progress which will be executed by this new management.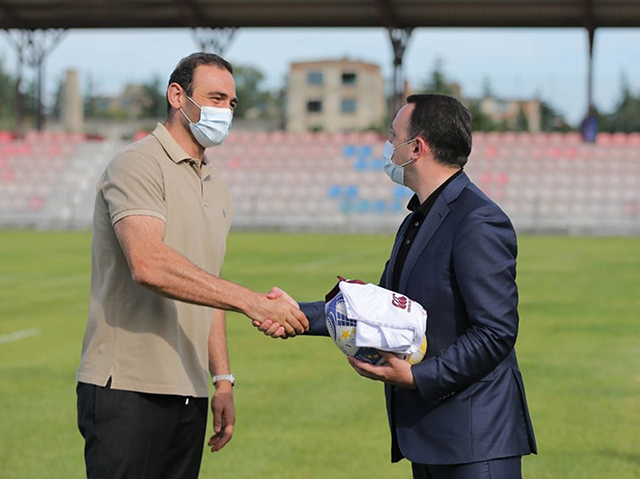 In addition, I would underline as a major achievements within this short period, creation of the new and efficient management structure, formation of so long awaited professional Franchise team "Black Lion", that will take participation in two very interesting tournaments of Rugby Europe's Super Cup and South African Currie Cup".
When implementing such reforms, what we have done during these past five or so months, we're very much result-oriented, the main message is to stay united, because rugby is a team game, and we remain open to everybody to achieve bigger results together and to promote healthy lifestyles among future generations in this country.
And the Rugby Union has a focus on the development of Women's Rugby too, right?
Yes. The Georgian National Rugby team, the Lelos, wants to raise awareness for gender equality. For this, they wore UN Women-branded shirts against South Africa in July 2021.
With this move, declining offers from traditional sponsors, the Lelos hoped to raise awareness for gender equality by having the UN Women logo on their jerseys as they faced the world champions in South Africa.
Georgian rugby players have a long-standing partnership with UN Women. The cooperation promotes the participation of men in the fight against violence against women and girls.
Georgian rugby players have dedicated several international matches to the movement to end violence against women, including the UN Secretary-General's UNiTE to End Violence against Women campaign and the UN Women global solidarity movement for gender equality, HeForShe. They also meet with local men and boys in Georgia to discuss the imperative of stopping violence against women and girls.
Many may still not know that apart from successful male rugby players, the Georgian Rugby Union also cares a lot about the development of women's rugby. As such, we spare no efforts to develop this sport among women. To do so, the Union has significantly increased financing for the 7-member women's rugby team.
It is also noteworthy that well-known Georgian director Gela Babluani will soon make a series of films about Georgian rugby, depicting the path it has traveled over the years, and the hard work dedicated people put into its development, which today makes the Georgian people so proud. The series will also be available internationally to let the world know that Georgia has many exciting traditions, opportunities and talented people beyond its delicious cuisine, beautiful nature, and dance.
As a bonus, we are having a great news for our supporters as we will be playing official test match against France National Team in Bordeaux, on November 14th. This match is twice as much important to us, as we share a great friendship and relationship with French rugby, for over past 30 years. We are thrilled and excited to this opportunity that will benefit to further development of Georgian Rugby.
Exclusive interview by Ana Dumbadze