Georgia's national rugby team has defeated Romania 28:7 in the Rugby Europe Championship 2021 in Tbilisi and won the Antim Cup on Sunday.
The Antim Cup is contested between the rugby union teams of Romania (The Oaks) and Georgia (The Lelos). It is named after the Metropolis of Muntenia and Dobrudja Antim the Iberian, who was originally a Georgian.
The Antim Cup is contested each time Georgia and Romania meet in a senior international match other than World Cup matches. The holder retains the cup unless the challenger wins the match in normal time.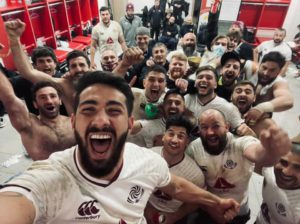 The current holder is Georgia, who defeated Romania 28–17 on 28 March 2021 in Tbilisi.
This is the 4th victory for Georgia within the championship Rugby Europe, which also serves as the qualifying tournament for the Rugby World Cup France 2023.
In their previous games, the Lelos defeated Russia, Spain, and Portugal.
By Ana Dumbadze