"Today, our heroic police showed the highest standard, that is the same as European, American standards," PM Garibashvili
The Prime Minister of Georgia, Irakli Garibashvili, thanked the Minister of Internal Affairs, Vakhtang Gomelauri, for the special operation carried out this morning which resulted in the arrest of Nika Melia, Chairman of the UNM opposition party.
"Regarding general practice and the methods used [today], this is the highest standard of absolutely civilized, democratic countries. Today, our heroic police showed the highest standard, that is the same as European, American standards," Garibashvili said.
He emphasized that all citizens, regardless of their status or political affiliation, are obliged to obey the law.
"We will protect the right of all citizens to express their opinion within the constitutional framework. This is how we understand the rule of law and the basic principles of democracy, but of course with the reservation that everything must be within the framework of the Constitution and the law. I would like to thank the Minister of Internal Affairs Vakhtang Gomelauri and the whole police once again. I am proud of you," he said.
The arrest of Nika Melia, the leader of the United National Movement, was also positively assessed by the Speaker of the Parliament Archil Talakvadze. He told reporters: "The answer in any democratic state is what happened in this case. It is the enforcement of a lawful court decision."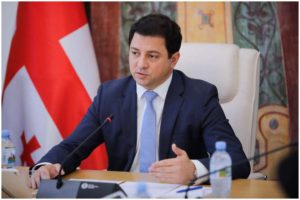 According to Talakvadze, the state offered Melia the chance to pay his bail. Melia knew that he would be arrested if the bail was not paid, yet, he deliberately chose the most provocative way.
"Nika Melia will appear before a fair court and there will be an opportunity to argue on the issues and present his arguments," said the Speaker of Parliament.
Tbilisi Mayor Kakha Kaladze also responded to Nika Melia's arrest.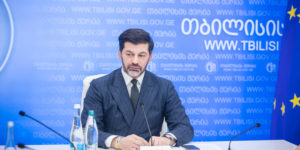 "Fortunately, no one was harmed, which is very important. Unfortunately, today has shown us that even on the 100th anniversary of the occupation, we still do not agree on elementary state principles. We do not respect the law, which leads to disrespect for each other and the state," said the Mayor. According to Kakha Kaladze, in order to move forward, radicalism must end. He added sees no alternative to dialogue and civilized relations.
A special task force arrested the opposition leader, Chairman of the United National Movement party Nika Melia, at the party office this morning. Before the arrest, the law enforcers sprayed pepper spray into the room.
Melia has been transferred to Rustavi penitentiary establishment 12.
By Ketevan Skhirtladze
Related Story: Police Arrest 21 People During the Raid on UNM Office