Reno, pronounced as in Renault, and short for renovation. This is what I've been immersed in for a couple of weeks in Tbilisi: the ongoing saga of taking a completely unfinished apartment to a state able to be walked into and lived in.
So many choices, narrowed down by one's taste, desired quality, and budget! Flooring materials, wallpaper or paint, ceilings, bathroom tiles, curtains, heating system, door locks. Then furniture (ready to buy or custom made), appliances, and all the bits and pieces like cutlery, crockery, and bedding. My taste, hers, or a mixture? Color schemes?
She (my wife) had got there first and chosen browns and creams for the bathroom tiles, in three different patterns which worked well together. I decided to do the rest of the small flat in a similar palette, from brown through yellow, a bit of orange or red as well. The necessary contrast with these hues would come later from my choices of photos and pictures to frame, a whole kaleidoscope.
At least as important as the above items is who will be installing them. Here we lucked out, with highly recommended craftspeople doing it all very well, buttressing their reputations thereby and becoming our friends, instead of failing us and becoming our enemies!
But there were a few blips along the way, largely from having several people each working on a different stage of a project, like the doors. The wife was against solid wood ones, apparently justifiably afraid of shrinkage even from the driest materials, leading to ill-fitting results in the future. I was equally against the self-named "Door of Kings, King of Doors" type, which are basically ornate but fake: plastic film over Masonite, which we unwittingly went for on our upstairs doors in Svaneti. Only a third main choice remained: wood-toned "metallo-plastic" doors, typically used on bathrooms. Unusual, but not impossible.
However, the man who until now had done bathroom, walls, floors and ceilings, balked as soon as he saw my choice, unannounced, installed. "I can't finish the frames around these, what have you done, if only you'd told me!" he exclaimed, and then spent the next half an hour bemoaning his fate and brainstorming what to do, while I stressed out. In the end, we took a taxi to a factory of the "Door of Kings" type, ordered enough corner lengths to finish the job, and asked a friend of his to cut and glue them in on the spot. Done in a day, with much less fuss than his initial reaction had suggested.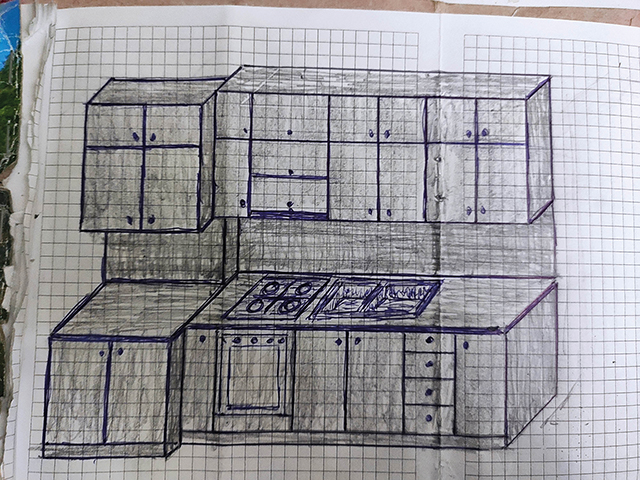 With not much space to play with, we went with two double beds (one a bit bigger than the other, as the rooms are) each with a hinged liftable mattress support revealing a considerable storage area underneath. The sofa would also open out to make a third bed, and I went for nice bright yellow material to upholster it; and the coffee table turns into a dining table for at least 8!
With everything being of measurably exact right angles, I decided to soften the look with the lighting choices, which are all circles. No expensive chandeliers: the main light in the living room is a minimalist thin band of illumination hanging from three vermicelli-thin wires like a UFO. Nice to have lower-energy LEDs for all lights too, as we will be paying for our electricity here, unlike in Svaneti, where it's been free for longer than my 21 years in Georgia!
The kitchen was where we really put down the most money. It's being custom made, three-sided, upper and lower cabinet sets, and will be installed soon, after a whole month or so of work. The stove, hood and sink are pretty well the best brand you can buy in Tbilisi. Other things might be damaged by renters, and we went cheaper for these, like the chairs.
During the whole process, I've been sending my wife photos to examine in Svaneti, but she's given me carte blanche to make all choices, with a few caveats. I suppose I proved myself in doing a similar job for the village house's entire upstairs some years ago, and she trusts me now. An important understanding, as we will eventually be retiring to this little nest…
Tony Hanmer has lived in Georgia since 1999, in Svaneti since 2007, and been a weekly writer and photographer for GT since early 2011. He runs the "Svaneti Renaissance" Facebook group, now with nearly 2000 members, at www.facebook.com/groups/SvanetiRenaissance/
He and his wife also run their own guest house in Etseri: www.facebook.com/hanmer.house.svaneti
BLOG by Tony Hanmer