If Russia wins in Ukraine, within a few weeks Georgia will be under the complete control of the Russians, and it probably won't even require military intervention – says French journalist and author Régis Genté. He knows the region well, having lived in Tbilisi for years now. He wrote the books "Putin and the Caucasus" and "Journey to the Abkhaz Region," and, after Russia's invasion of Ukraine, "Volodymyr Zelensky, in the Mind of a Hero" was published with co-author Stéphane Siohan. In this interview with him, we talk about this latest book, and also touch on presidents Putin, Macron and Saakashvili, and take look at Georgia's faltering reputation on the international stage.
Tell us about your book on Volodymyr Zelensky.
We wrote that book for a Western audience, even though it has since been translated into 16 languages, including Georgian, Chinese and Japanese. We agreed to write this book, as a proposal from the publisher, because we remembered the mood in France back in 2014, and how Ukraine was totally misunderstood, as were Russia and Georgia, and the whole region along with it, in terms of the very important impact of the pro-Russian narrative. We thought it important to speak about what Ukraine is, what is this war about, and what Russia wants.
What would you name as Zelensky's most iconic moment in the war so far from a PR point of view?
I won't be very original, but it is, of course, the very first video on February 25 last year, when he was on Bankova Street and said: "Ia tut" (I am here). That day, the Russians were about to take the Hostomel Airport some 30 kilometers from Kyiv, and the best Russian forces from the Pskov paratroopers were landing. The idea was to take Zelensky and the whole ruling elite of Ukraine. We know that there was a big threat hanging over his head, and the propaganda was huge that evening in the Russian telegram channels, claiming Zelensky was already in Poland and so on. And he said, Ia tut. It was really well done. "I am here, I'm not going away." And indeed, the fact he has managed to remind the world every day since who the victim of this aggression is and what is at stake in this conflict plays a very important role.
In the early pages of your book, you recall cases when he became flustered by questions his team hadn't prepared him for. How much of "Zelensky the actor" are we seeing today?
I personally see more of the head of a state which is at war. Of course he's staging, he knows how to speak. But I also see someone who is genuinely responsible, and who is also doing things in the interest of his country. When he had to talk with the Republicans in the US, and when he had to go to London and Paris to speak about air defense to try and get some aircraft from the West – he doesn't go just for the show, but because there is something at stake.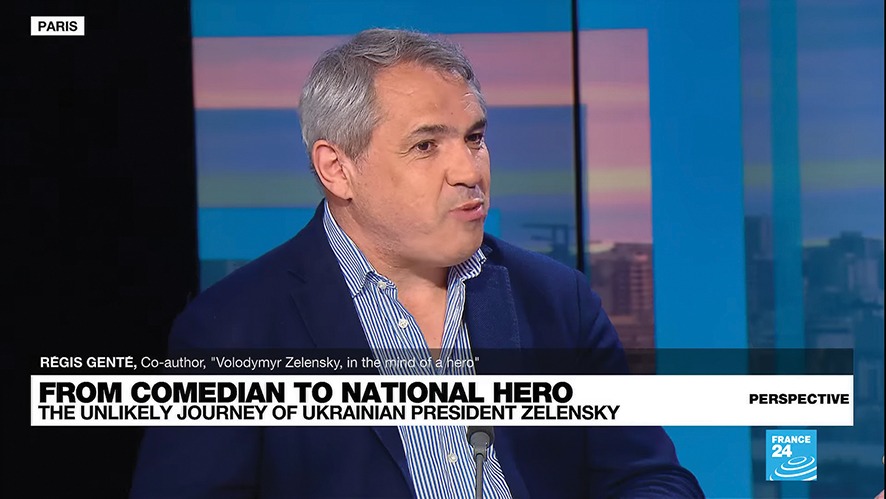 Whoever his speech writer is definitely deserves an Oscar (or whatever they've got for speech writers).
It's someone who was writing the speeches for his comedy series, a young man, and he definitely knows how to write. But, apparently, Zelensky also likes to include his own thoughts, to put the final words to these speeches.
The first 100 pages of your book sees the word clown used as criticism aimed at Zelensky. The other 100 pages have around the same amount of mentions of "clown," but this time in quotation marks. Why the change?
Because at the beginning, he was seen as a clown, that he was not serious and was unaware of what was happening. This is why until the very last day he didn't believe there would be a war. He didn't understand what was all at stake. He was elected on two pillars, one to bring peace to Donbas, which was very naive, of course, because you can only talk about that with Mr. Putin, and two, to fight against the oligarchs.
We tried not to judge in this book, because it's extremely difficult to deal with an oligarchy wherever you are in the world, because you can destabilize a country very quickly in doing so, though probably not in regard to Georgia, where there is one oligarch, not an oligarchy – it's a bit different. In Ukraine, you have Renat Akhmetov giving out maybe 300,000 salaries each month, so you can really destabilize the country by shutting him down. Also at stake is control of the media and political parties and so on.
In your book Zelensky is transformed into something of an esteemed figure, a court jester who tells the world, which is made up of ladies and gentlemen dressed in suits and ties, the truth, while himself wearing a khaki shirt.
They didn't expect he would dare to do so. It says a lot about their communication, how they see themselves. But it needed to be heard by the West. We're not going to go back to business as usual. This is war.
No man has defined Zelensky's presidency as much as Putin has. The title of your book is "Volodymyr Zelensky, in the Mind of a Hero." If you were to write a book about Putin and choose a title, what would it be?
I don't know. Putin is a statesman who has a passion for Empire and greatness, and he knows that Russia is not that great, that he's not that big. There is a famous book in France, published in 1993 and titled, "Russia – the Poor Power." And most of the strategy behind what Russia and Putin do is based on their being aware that Russia is a poor power and trying to compensate. Its economic poverty prevents it from competing with the US, but it wants to compete. Putin is a dreamer, and he dreams about Russian greatness. It explains a lot about what Russia is. I don't want to insult Russia by saying this; I'm trying to understand, to decipher what drives him, what drives Russia. This war is a way to say to the world, "I'm the most important." But China has ten times the GDP, and in a few years Russia will be a slave to it, deeply dependent on them, they already are, so the China problem is 10 times more important than that of Russia. But when you switch on the news, especially if you're a Russian citizen, you feel that Russia is the most important country in the world, the most powerful, which is perhaps one of the roots of this war.
Let's talk about the master juggler President Macron, who one minute says he's with the Ukrainians until their victory, then says Russia must not be crushed or humiliated. And he's still on the phone with Putin. What's his game?
Macron has a problem – he doesn't know intimately what Russia is. The opinion in France, especially in the ruling circles, in the army, diplomats, business circles and so on, where you have quite an important segment of the population, they are maybe not pro-Russian, but certainly anti-American. Macron is taking that into account. One day, he can sound like a Russlandversteher, as we say in German, and appear as if he has too much affinity for Russia, and sometimes he can be very tough. He doesn't know where to be.
Now to the Zurabishvili and Saakashvili dramas – one of whom had French citizenship, one who has Ukrainian. What's your take on it all?
I think the question of Saakashvili goes back to your earlier question about the image of Georgia on the international stage. We all understand that in a country where rule of law worked perfectly, Saakashvili could be considered to have made some mistakes. But Georgia is not such a country, and Saakashvili is a political prisoner right now. Saakashvili is a personal enemy of Mr. Ivanishvili, because of what he represents for the country. But we see the procedures are not respected, there are a lot of violations, a lot of prejudice. The way they speak about Saakashvili, say that Saakashvili is pretending – he lost more than 50 kilograms within a year! This is a fact signed off by doctors! How can you say that someone who lose almost half his weight within a year is in "good health"?
And as for Madam Zurabishvili, until the very first day of the war last year, she was saying that Mr. Saakashvili really is guilty of many things, and one of them is provoking the war back in 2008. But we understand now the question is not if Mr. Saakashvili really behaved well or not, and whether doing differently would have seen him preventing the war, but that Zurabishvili's saying so pleased the Russians. She lost a lot of credibility because of that. And then she said she would never pardon Saakashvili. It seems to me that she takes politics too personally. When you are president, it's not a question about what you think: It's about what you represent. Now she went too far to be able to come back on that, pardoning Saakashvili, I mean.
In her defense, her statements on Ukraine have a different tone than the government's.
Absolutely. Since last February, she has been saying the right things on the war in Ukraine, and what she says is absolutely precise and fair, and about what the government is doing. She criticizes and plays a role similar to what Mr. Margvelashvili did before, so as to counterbalance the power structure, which is important for the country.
What do you think this war, or rather Tbilisi's stance on it, has done for Georgia's international image?
I think it has had a really bad affect. If the position really was as it is being presented by the ruling party, Georgian Dream, that they are just being cautious with Russia, I would understand, because it is a real issue. Georgia is under threat – If Russia wins in Ukraine, within a few weeks Georgia will be under the complete control of the Russians, and it probably won't even require military intervention. But it is more than that. Everything shows there is an ongoing policy to move Georgia off the European path it was on, and this is a bit difficult for Westerners to understand, because Mr. Ivanishvili, who is the real ruler of this country, knows that 98% or 99% of Georgians are pro-European.
Some say we should be cautious, and some say we should do everything we can to join NATO and the European Union. But we see that when you decide conscientiously to insult the representatives of the US and Europe, it's a policy: Everything is being done to ensure that Europe will not want you in the family. This is the image now, and it is being done on purpose.
People would understand Georgia not wanting to join the sanctions against Russia, as it is a very small country and nobody can really protect it. But insulting the Europeans is not necessary. Most of the other post-Soviet republics are also cautious: Tokayev in Kazakhstan, Pashinyan in Armenia, and so on, they are very cautious. We understand they are against this war, but they don't say it to Russia because they have to protect their country, and they don't throw insults at the West.
This dimension of insulting the West systematically for months, and now this law on foreign agents, which is just a copy-paste of the Russian law, it's absolutely clear, even the name of the law is the same. What I have seen in these past 20 years is the non-democratic regimes, and Mr. Putin with them, slowly trying to challenge the Western democracies, the democratic way of governance. Georgians are being deeply affected by this, and if Russia wins this war, then the democratic Georgia that we know will disappear. I hope this law on foreign agents is not the first sign of that already happening.
Interview by Vazha Tavberidze for RFE/RL