I had an unusual request the other day, but one which we are equipped to handle: taking guests from Georgia's second city, into which they had flown from Belgium, to our house in the mountains. This required an overnight hotel stay in the city center (covered by the guests) as they only arrived in the middle of the night. Then I would arrange other transport for them from Mestia to Adishi; and finally take them from Ushguli back down to Kutaisi, with another overnight stay, for their departure home. In between, they would hike and camp in Svaneti.
I enjoyed the rare opportunity to see a bit of Kutaisi at leisure, and was delighted to find that my hotel room's window looked out on Bagrati Cathedral, which I had not seen up close since its re-roofing in President Saakashvili's time. This time I had a new tripod with me, and as dusk was not far off, I walked to the church to see how it looks now.
Bagrati was built during the reign of Bagrat III, early in the 11th century, hence its name. 1692 saw its cupola and ceiling collapse after a cannonball shot from the invading Ottoman army, and the church was left roofless for over three centuries. This is how I first saw and photographed it, visiting in the early 2000s. I have to say, the image and existence of a place of worship of God open to the sky has a certain theological rightness: No barriers to the Holy One here! Of course, it was also in a damaged state (more symbolism?) And, one of the four main cathedrals of Georgian Orthodoxy, under threat of continuing weather-based deterioration.
Saakashvili's government undertook the re-roofing about a decade ago, and in doing so caused the church to be removed from UNESCO World Heritage site status, which, together with nearby Gelati Monastery, it had gained in 1994. So there is controversy here. But now, complete again, it looks beautiful (the elevator not dominating the view!), with a green-patinated roof and cupola.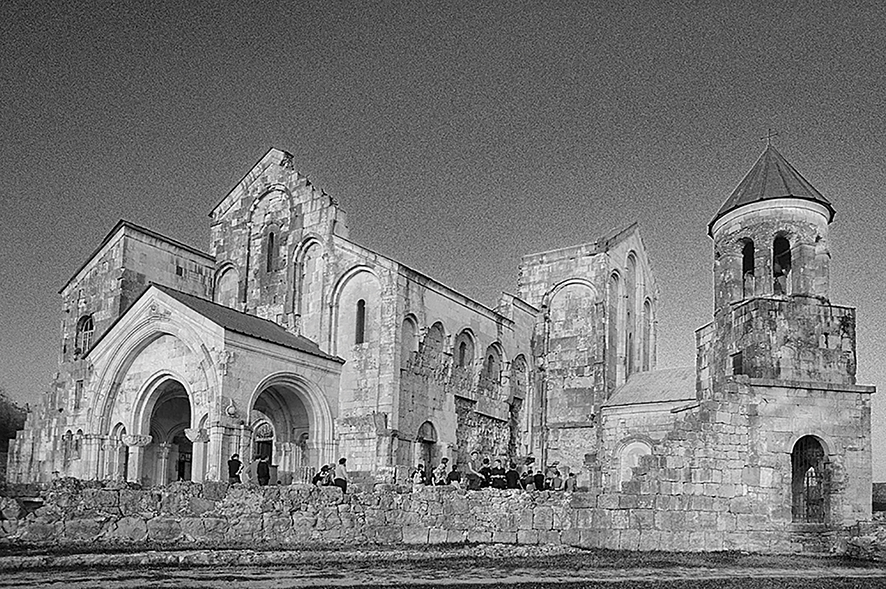 A small Georgian men's choir in traditional costume was performing under a large tree on the church grounds for some German tourists when I arrived, with many other onlookers. I took the opportunity for some photos with a slow shutter speed of about 1/10 second to blur the panduri playing while trying for enough sharpness in their faces. Then I went inside the cathedral, where a service was underway, and admired the reconstruction from this point of view. Not wanting to disturb, though, I didn't stay long.
Back outside, to open the tripod and try for some shots of 10-20 seconds as evening fell and the lights showed the church's exterior. Clouds moving by would blur nicely at this exposure time.
My current camera, a Canon EOS 77D, is new enough to have both wi-fi and bluetooth connectivity, so I set up and used this function for the first time to enable remote triggering of the shutter from my iPhone. This would eliminate camera shake from my physically pressing the shutter button. The shots I got, viewable instantly in-camera, were all I was hoping for. In processing, I decided to make everything black and white, a trend I am going with for most of my work now, to avoid the distraction of color and concentrate on composition and exposure. Color is now the exception in my work, though it still has its place.
Kutaisi offers far more than just Bagrati Cathedral for the tourist, but for my few hours and the desire not to rush, it was plenty. I'll be back there in a couple more days to see and shoot what else is on offer.
Blog by Tony Hanmer
Tony Hanmer has lived in Georgia since 1999, in Svaneti since 2007, and been a weekly writer and photographer for GT since early 2011. He runs the "Svaneti Renaissance" Facebook group, now with over 2000 members, at www.facebook.com/groups/SvanetiRenaissance/
He and his wife also run their own guest house in Etseri: www.facebook.com/hanmer.house.svaneti