The founding conference of the party of the former Prime Minister of Georgia, Giorgi Gakharia, will be held tomorrow at Expo Georgia.
The name of the new party is 'For Georgia.' The party presentation is scheduled for 5:00 p.m.
Exactly who will join Gakharia's political union will be known tomorrow.
However, the membership of his team was confirmed today by the former head of the presidential administration, Giorgi Abashishvili and the former ambassador of Georgia to NATO, Levan Dolidze.
"I like his presence in politics, our visions are very much in line with each other! I appreciate his teammates and therefore, I decided to support him and join Gakharia's team," Abashishvili wrote.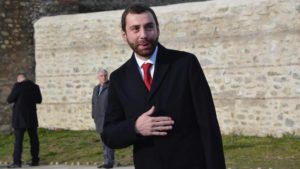 "I want to unequivocally confirm my decision to stand by Giorgi Gakharia. I believe that with the founding of Giorgi Gakharia's political party, there really is a chance in this country for the political spectrum to focus not on radicalism, not aggression, but on solving the specific problems that most concern our citizens today," said Levan Dolidze.
Gakharia resigned as PM on February 18 due to differences of opinion about the arrest of Nika Melia, the leader of the National Movement. However, following his resignation, the former PM announced that he was not going to leave politics.
By Ana Dumbadze
Related Story: Former Georgia's Amb. to NATO Levan Dolidze Joins Giorgi Gakharia's Team