On December 3, an adventure tourism event took place in Signagi Municipality as part of the project "Empowering Youth and Promoting Gender Equality in Adventure Tourism Through Professions."
Among other honorary guests, the event was attended by US Ambassador to Georgia Kelly Degnan.
As part of the event, students of the Adventure Tourism School were awarded diplomas, after which they demonstrated their adventure skills to the audience.
'Adventure Tourism School' has won the TVET Support Program 2021 Grant Competition for Vocational Schools Authorized by the US Embassy.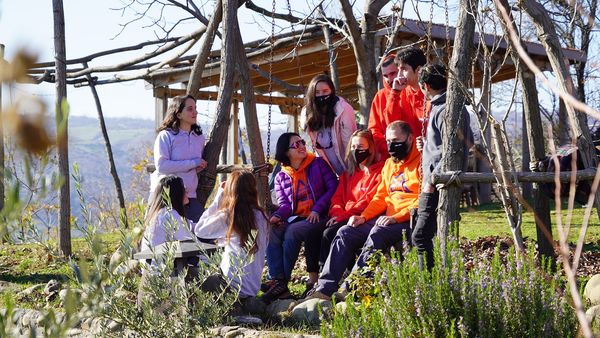 The objectives of the project are to strengthen the credibility and reputation of Technical and Vocational Education and Training (TVET), to showcase the professions of adventure tourism, their use and selection, to fight against stereotypes and to promote gender equality; changing misconceptions about the role of women in tourism, increasing the number of certified professionals, developing young people's labor skills and creating a competitive, skilled workforce, connecting adventure tourism school graduates with employers; promoting domestic adventure tourism and strengthening Georgia as an attractive destination for adventure tourism in the international market.
Within the project, introductory training courses in the basics of adventure tourism professions will be created and introduced for high school seniors (8th-9th grades) in the country's adventure tourism regions; the programs will be implemented in cooperation with resource centers and school teachers by representatives of the School of Adventure Tourism – certified graduates, who will receive special training in the field, pedagogy and gender equality; school officials will recruit students to study in the Dusheti campus.
The 4th level diploma integrated modules training program 'Geo Tourism Guide' will be developed and after obtaining the authorization, the program will be piloted; In order to increase the access to the professions of adventure tourism, 'Adventure Tourism School' together with local and international experts creates new short-term certificate programs (Alpine tours guide, equestrian tours guide, bicycle tours guide, rock climbing tours guide, riding tours guide, water sports tours guide, overland tour guide) which will help guides acquire specialized theoretical knowledge and practical skills in adventure destinations that are becoming increasingly popular among both Georgian and foreign tourists and provide new employment opportunities.
Within the project, the school runs a marketing and communication campaign – #Becomeaguide! The campaign will involve school founders, partners, supporters, US Embassy Representatives, Students, Alumni, public figures, etc.
In 2023, the school will hold an adventure tourism event: Mta-Mta – Guides Marathon, in which only certified guides will be able to participate.
Adventure Tourism School (ATS) was established in 2016 by the Georgian Association of Mountain Guides, the Ministry of Education and Science of Georgia and the Mountain Resorts Development Company.