Through the joint effort of Pace Group and the US International Development Finance Corporation (DFC), the construction of a new seaport in Poti has been successfully completed. The Poti New Sea Port's official opening ceremony was attended by Georgian Prime Minister Irakli Garibashvili, Minister of Economy and Sustainable Development Natia Turnava, US Ambassador to Georgia Kelly Degnan, members of Georgia's Cabinet and Parliament, and representatives of the diplomatic corps and maritime industry.
The guests were addressed by Irakli Garibashvili, Prime Minister of Georgia.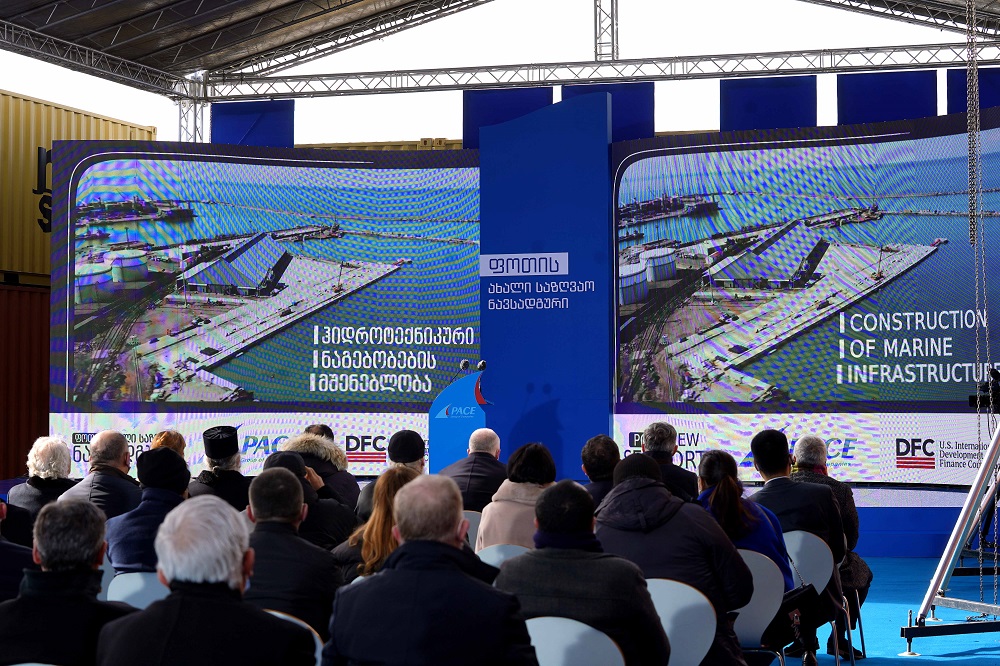 "One of our Government's key goals and priorities is to shape Georgia into a regional hub tapping into our location and potential. Let me single out the engagement of our key strategic partner, the United States of America, in this project, namely 50 million USD in financing allocated by the International Development Finance Corporation (DFC), another demonstration of Georgia's being an attractive country for foreign investments, one with the largest transit and transport potential in the region," the PM stated.
PM Garibashvili thanked Pace Group's President Ioseb Dolidze and each employee of the company for successfully implementing a project of this scope, and for exhibiting remarkable social responsibility, especially in light of the pandemic, by creating hundreds of new jobs.
The Poti New Sea Port, with its value amounting to 120 million USD, is one of the largest among Georgia's ongoing maritime projects. Notably, the financing allocated by the US International Development Finance Corporation is the organization's single largest investment into a project in the region.
"I'm delighted that the United States, through the Development Finance Corporation, has played a key role in the Pace Terminal's construction. It is a demonstration of our continued commitment to Georgia's prosperity and to the Georgian people. Georgia's investments in becoming the safe, responsible transport partner come at an opportune time. These investments further Georgia's ability to make global and regional connections when the world is looking for alternative routes and supply chains," US Ambassador to Georgia Kelly Degnan said in her speech.
According to Degnan, this port is a key link between prosperity and security, and the United States is committed to assisting Georgia, a strategic partner, in developing port infrastructure. "Our mutual interests are served in an environment that respects freedom of navigation, access to waterways, the rule of law, and national sovereignty.
"This port is part of the physical lifeline connecting Georgia to Europe. It is also a symbol of Georgia's continued Euro-Atlantic aspirations," Kelly Degnan added.
A total of 93 million USD has been invested in the construction of the new seaport, with large hydrotechnical facilities and modern port infrastructure built, including:
– A 260-meter berth;
– Fully reconstructed breakwater structures;
– 1.5 million cubic meters of soil removed from the Poti New Port harbor to further increase its depth to 13 meters;
– Closed warehouses with a capacity of 50,000 tons, equipped with fully automated reloading systems manufactured in Europe;
– Open storage areas stretching 6 hectares;
– Two new portable cranes exclusively manufactured and installed at the seaport, each with a load capacity of 100 tons.
The project's subsequent expansions, an endeavor valued at an additional 30 million USD, involves the construction of a new 230-meter deep-water (13 meter) berth. Modern port machinery and devices will be installed, such as a conveyor system and a ship-loader.
"This port symbolizes Georgia's imposing economic transformation since regaining independence in 1991. The Poti New Sea Port will create new jobs and spur economic growth, also empowering Georgia's positions as a strategic and transit country linking the Caucasus and Central Asia to Europe, further bolstering trade. The Poti New Sea Port will also continue the years-long productive partnership between the United States of America and Georgia," Kenneth Angell, Managing Director of the US International Development Finance Corporation (DFC), emphasized in his video address.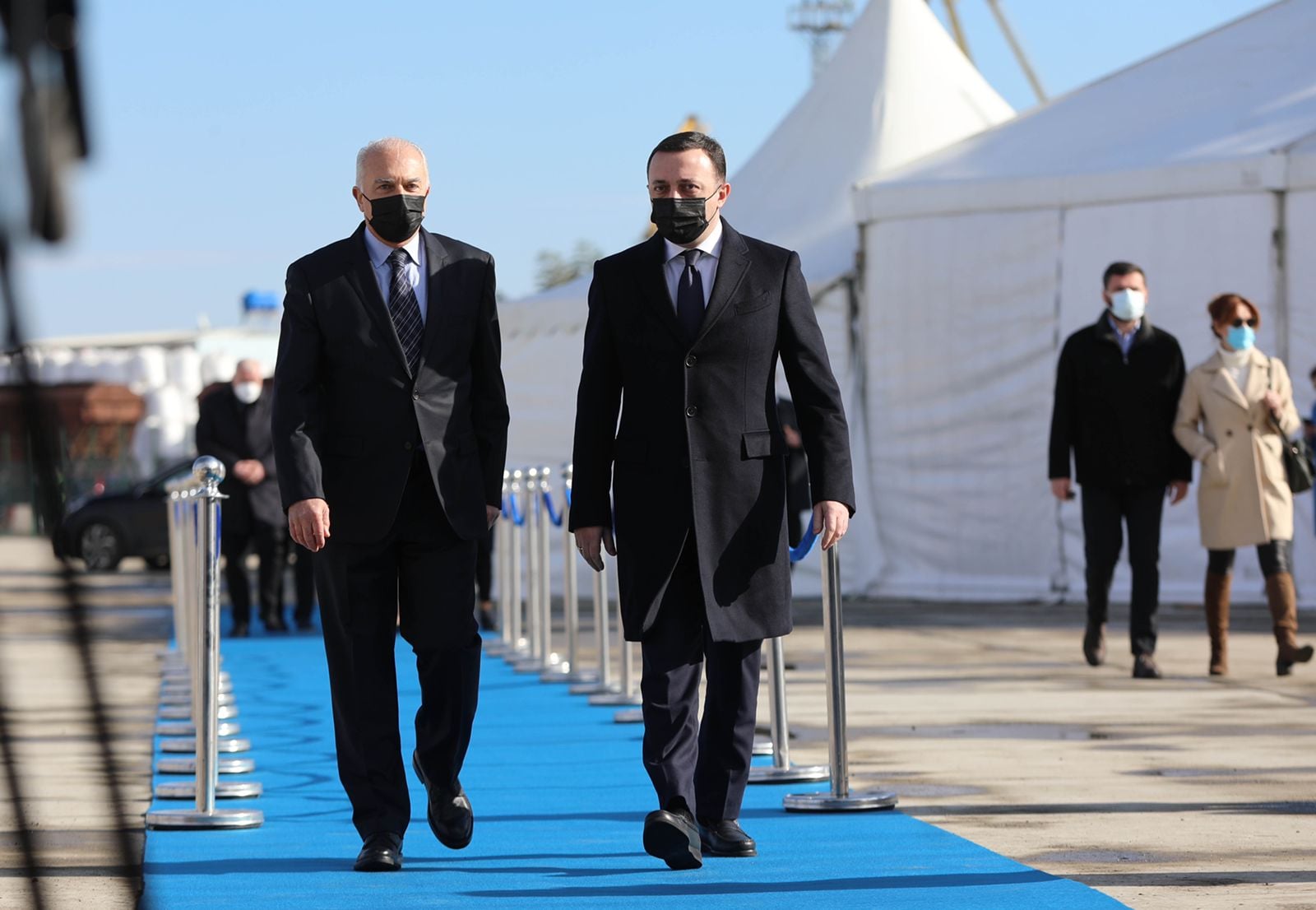 The berth and new port's infrastructure allow for up to 50,000 Mt cargo capacity bulk carrier and container vessels to be served. The port will handle bulk and break bulk cargos, as well as containers.
After the project's finalization, the capacity of Georgia's unified seaport infrastructure will increase by 3.5 tons.
These opportunities and the port's importance are discussed by Albright Stonebridge Group's Chair and former Secretary of State Madeleine Albright in her letter celebrating the opening of the Poti New Sea Port.
"The Poti New Sea Port project offers greater economic opportunities to the residents of Poti, to Georgia, and every Black Sea and Caspian state. By transporting 3,000,000 tons of cargo via the seaport, everyone's a winner," Albright noted.
"The United States of America is convinced that every country has the right to decide its role in relations with the rest of the world. But we also know that every country is entitled to real opportunities to trade in various markets. This instrument is part of putting to use trade and choice potential—this aspect imparting special importance to it not only from the point of view of trade and commerce, but also making a difference for all of us striving to ensure a better life for our families and countries," her letter goes on.
The Poti New Sea Port will give a tremendous boost to the country's port capacity and transit potential, also offering new opportunities for redirecting new cargos to Georgia's transport corridors.
Additional information about Pace Group
PACE Group is the largest transportation company in Georgia, incorporating maritime agencies, brokerage, logistics, container services, berth, and terminal operator companies. The group has an annual cargo turnover of 3,000,000 tons and employs over 1,000 people. Pace Group focuses on developing marine and transport infrastructure, and on attracting new cargos, based on modern technology.
Pace is a US-registered company established in New York, in 1992. Pace International has transported humanitarian cargos allocated by the Government of the United States of America to the Caucasus and Central Asia regions, mostly via the Poti and Batumi seaports.
In the late 1990s, Pace started transporting commercial cargo alongside humanitarian goods. Since the early 2000s, Pace—based on a long-term lease agreement—has been operating 8 berths of the Poti seaport. In 2002-2003, the company built a warehouse complex, a move making it possible to rerouting the transportation of the Tajik Aluminum Plant's primary aluminum through Georgia. Later on, after acquiring special machinery/equipment, Pace started transporting aluminum oxide, a raw material, from Poti to said plant in Tajikistan.
In 2007, Pace and Israeli company ZIM founded ZIM Georgia, enabling Pace to expand its container transportation activities.
In 2013, Pace and AGRICOM jointly built a reverse-type grain terminal. In the same year, Pace bought the Poti Shipyard Factory and decided to create new, modern port infrastructure in this territory.
The agreement on financing the construction of the new seaport was signed on February 4, 2019. Construction work launched in September of 2020.