170 days of protest against Namakhvani HPP continues with the ongoing rally at Enka Renewables' warehouse near Kutaisi.
After failing to find the common ground with the protesters and to address their demands, the government decided to use the police force by creating the checkpoints blocking off several villages and the main area for the continuous protest in the tents.
The tents were removed by the police on Sunday claiming that the area was unsafe due to the high water level of the River Rioni which, as they said, could flood the camp. This decision followed the Saturday incident – the young man's disappearance from the tents area after going into river Rioni. The search continues and it is still unknown if he is alive or not.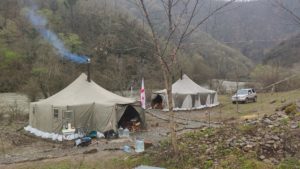 The next day, police destroyed the special camp in Namokhvani built by the guardians of the Rioni Valley, after which the protesters were finally blocked off the land that belongs to one of the guardians of the valley, Lali Efremidze. For notice, there was no explanation by the police regarding the inevitability of damaging the area.
Government's action was followed by protesters blocking the way in Gumati village (10 kilometers north of the west Georgian city of Kutaisi), in order to obstruct the trucks necessary to continue the construction works by Enka in Namokhvani.
Protesters demand safe entrance to Namokhvani village where they can set up the tents and continue the peaceful protest.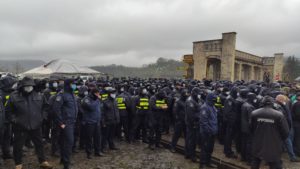 On Monday, protesters of Namakhvani HPP tried to break through the police lines in Gumati. After this attempt, the number of the police doubled.
One of the guardians, Varlam Goletiani, asked the police about the reasons for the blockade today at the rally. The police officer explained that the check points are necessary for the safety of people and for the search operations.
Goletiani claims that the camp territory has nothing to do with the search operations in the river as well as it does not represent the unsafe area for possible flooding.
"This is just an answer for an answer. We know exactly what their answer will be like, but we ask the additional questions, so that people can see themselves their deliberate policy and rhetoric towards the process," Goletiani told journalists at the rally today.
Currently, the protesters hold one tent near the police checkpoint in Gumati. Tonight will mark the 171th night since the first day of the protest.
By Ana Giorgadze