During the government session Irakli Garibashvili instructed the Ministers of Economy and Environment to visit and personally communicate with the local community regarding Namakhvani HPP. The Prime Minister stressed that there are a lot of questions raised around the project that require thorough answers from the authorities.
"I would like to ask Mrs. Turnava and Mr. Levan Davitashvili to arrive at the place tomorrow and start communication with people. Find out what they are worried about. I would also like to ask the ministers to hold committee hearings. People interested in this issue can be invited to Parliament for further discussion," Garibashvili said.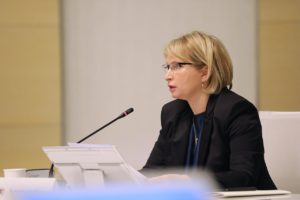 Minister of Economy Natia Turnava also responded to the critical statements and questions raised recently. She sees the necessity for deeper communication regarding the matter, however, she disagrees with the critics.
"The Namakhvani HPP project is one of the most well-studied projects. But it seems that there are still questions among the population about the safety, importance and benefits of this project," Turnava said.
She expressed the readiness to hold several meetings a week with different groups of people, experts, including on the various platforms, visit the regions and talk more about "the importance of strengthening energy independence for Georgia and in particular the benefits of Namakhvani Hydropower Plant, which could replace a large part of the imports."
By Ana Giorgadze
Related Story: EMC: Namakhvani HPP Will Not Contribute to Georgia's Energy Security