Photographer, journalist and Svaneti guest house owner Tony Hanmer has united with two other artists to display his photographs in a group exhibition titled 'Rust, from Corrosion to Beauty' at The Exchange Gallery (address below).
Tony noted it is his first show in 15 years, and may be the first of more to come.
Tony has been sharing his photography journey with us through his weekly blogs for GEORGIA TODAY. He has a unique eye for details, known as pareidolia – seeing in the most mundane objects, light, shadow, and landscapes, dragons, dancers, animals, people and other outworldly forms, from which he weaves stories and legends. His latest passion has been photographing the natural formation of rust on sheets of iron in Tbilisi's metal yards, then digitally enhancing the colors and contrast to create beautiful images whose forms can be imagined into anything your mind allows.

Alongside 16 examples of his unique creativity, Tony has hung a metal sheet as proof of the wonder of nature. Beside it is a magnifying glass, which eager visitors can use to study both the rust and the colorful printed photographs for a closer look at their finer details. Tony has also placed a notebook nearby to encourage guests to study the images more closely and to jot down what they think they see in the forms and lines.
"I'm not out to document reality but to find or make beauty everywhere I go," he tells us. "Even something as entropic, mundane and undesired as corrosion from moisture on ferric surfaces can be transformed into little planes of existence which sparkle with imagination."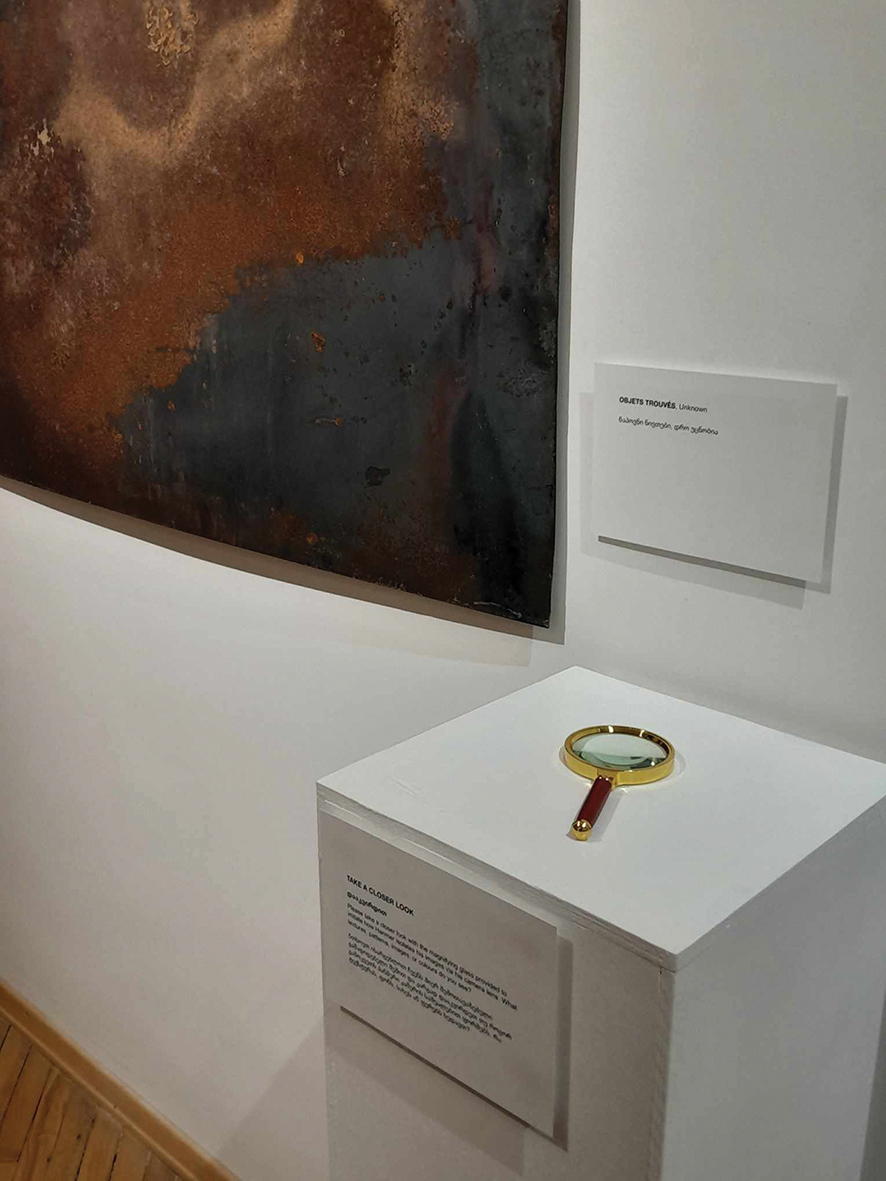 The exhibition also features a small selection of works by Nika Khabelashvili and paintings by Iru Meladze. Nika is a traveling artist who has already exhibited his works in Germany and Poland. He says he is inspired by the nostalgic quality that reclaimed metal provides when used as a canvas. Iru is a multimedia artist based in Tallinn, Estonia, who paints bright forms on rusted metal using an acrylic-PVA glue mix.
Be sure to go and see their fascinating works on display throughout the month of October.
The Exchange
109 Aghmashenebeli Avenue, Floor 2, Tbilisi
Gallery open Tuesday – Saturday, 11am – 7pm. Closed Sundays and Mondays.
By Katie Ruth Davies