On March 24, the world premier biopharmaceutical company Pfizer held a press conference titled "No patients behind. Modern treatment for oncology patients in Georgia". The event, which The American Hospital Tbilisi hosted, was a continuation of a two-day conference dedicated to the burden of cancer and the steps necessary for diagnosis improvement and the development of innovative treatment methods.
"The two days were a contribution of Pfizer to the development of regional dialogue between experts, and to increasing medical education," Zarinna Kozhakhmetova, Country Medical Director in Caucasus and Central Asia at Pfizer said. "It is very important for the public to know that kidney cancer is currently one of the most significant challenges and issues in health, and Pfizer is making a lot of effort to help Georgian cancer patients gain better access to innovative treatment."
Top healthcare experts described the state of oncology in Georgia during the conference. According to the statistics they presented, more than 13,000 new cancer cases were detected in Georgia in 2020. Experts highlighted the problem of the rapid spread of kidney cancer, of which more than 400,000 new cases are diagnosed worldwide yearly.
"I want to draw the attention of our patients to early detection and to where high-level treatment can be provided and, of course, to the implementation of new protocols for cancer treatment in all our countries in Central Asia and the Caucasus," MD Dilyara Kaidarova, Professor and the Ambassador for American Society of Clinical Oncology (ASCO) in Central Asia and the Caucasus noted.
The experts highlighted that medicines alone are not enough. A holistic approach is needed, combining well-advanced screening and medical facilities, access to innovative therapy, continuous skills development by doctors, and raising the awareness of the general public.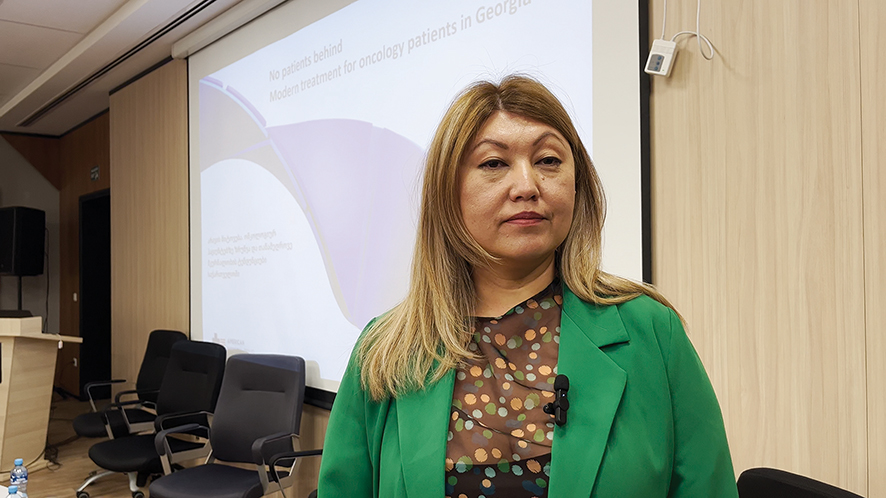 "Foreign experts and specialists who visited our clinic are in close partnership with various international oncological associations," Deputy CMO and Head of the Urology Department at AHT, Davit Nikoleishvili Ph.D. said. "Thanks to their advice and guidance, we can adopt the best international practices to improve patient care quality. By raising awareness about oncological diseases in patients, we help patients understand that cancer is not a death sentence, and diagnosing it at the early stage, if appropriate treatment is provided, can save many lives."
Oncological diseases remain a global challenge for humanity and still occupy a leading position in mortality, decreased quality of life, and disruption to workforce ability worldwide.
By Erekle Poladishvili