On Wednesday, Georgian Prime Minister Irakli Garibashvili paid a visit to Azerbaijan and was hosted by President Ilham Aliyev.
A meeting of the Intergovernmental Economic Commission chaired by the prime ministers of Georgia and the Republic of Azerbaijan was held, after which memorandums of cooperation were signed.
The Georgian delegation, led by the Prime Minister, included Deputy Prime Minister, Minister of Foreign Affairs Davit Zalkaliani, Minister of Economy and Sustainable Development Natia Turnava, and Head of the Government Administration Ilia Darchiashvili.
The Georgian PM spoke about President Aliyev on Imedi TV prior to his visit, noting the two countries' good relations.
"We have a good relationship and, most importantly, we have trust. When there is trust between countries and leaders, I think all issues can be resolved. I have a similar relationship with Armenian Prime Minister Nikol Pashinyan, and I plan to visit Armenia in the near future. I will do as much as possible to play a useful role between the two countries."
The visit of Prime Minister Garibashvili to the Republic of Azerbaijan began with a meeting with President Ilham Aliyev, where they emphasized the issue of strategic partnership and active political dialogue between the two countries, as well as intensive trade and economic cooperation.
"Our relations are beneficial not only for our nations, but for the region as a whole," Aliyev told Garibashvili. "The statistics show we have made significant progress in terms of economic and trade turnover. Georgia's positive investment environment and economic reforms are very promising for us, thanks to which many social and economic problems have been solved."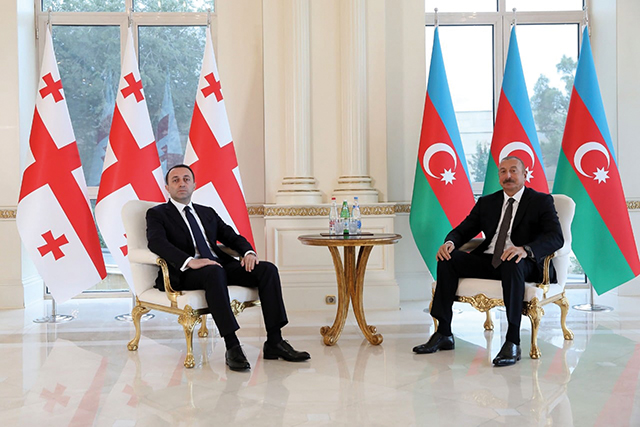 The Georgian Prime Minister noted that Georgia is interested in strengthening bilateral political, economic, cultural, and other ties with Azerbaijan, as well as peace and stability in the region, which will ensure economic development for all three countries.
"Our interests include peace and stability in the region, which ensures strong economic development. This is my second visit to Azerbaijan this year. Next, we will discuss issues related to our future plans. I am sure that this meeting will be very fruitful," Garibashvili said.
On September 27, the Georgian PM announced plans for Georgia to serve as a mediator between Armenia and Azerbaijan following on from last year's Second Nagorno-Karabakh War.
"We offer mediation to our brotherly states, our Azerbaijani and Armenian brothers," he said. "We set a really rare precedent in June when our country successfully conducted a peacekeeping operation through mediation, the release of 15 detained Armenian soldiers through negotiations and mediation, as well as handing over maps of territories mined by Armenia to Azerbaijan. There has not been a similar precedent for 30 years where Georgia mediated between two countries, our neighbors, and was able to do so successfully," Garibashvili said.
The PM noted that the initiative is connected with the continuation of this process at a higher level, adding that he is offering this mediation platform to the Azerbaijanis and Armenians in Tbilisi.
Armenian Prime Minister Nikol Pashinyan last visited Tbilisi on September 8, at which time the PM stated:
"The Karabakh War was certainly a real challenge for our region, but now that I have become familiar with the Prime Minister's new vision, I believe that this challenge can be transformed into a new opportunity, an opportunity that will bring prosperity to Armenia and the Armenian people. I would also like to say that the stability of Armenia is very important for us, both politically and economically, and it is directly related to the stability of our country and the region in general. Therefore, I would like to put our common regional goal in three words – it is peace, stability, and prosperity, which unites all three countries of the region," he said.
By Team GT