"Georgia and Azerbaijan have always played a major role in building peace in the South Caucasus region," Speaker of the Georgian Parliament Shalva Papuashvili stated at the press conference after meeting with his Azerbaijani counterpart Sahiba Gafarova this week.
According to Papuashvili, the visit of the Azerbaijani delegation to Georgia is symbolic, as this year marks the 30th anniversary of the establishment of diplomatic relations between the two countries.
The Speaker underscored the significant role of Georgia and Azerbaijan in ensuring peace in the region.
"Both countries should use this historic role to jointly promote peace, stability for the well-being of our countries and the region as a whole," he added.
According to Papuashvili, the meeting addressed the strategic partnership between countries and historical inter-ethnic ties.
Papuashvili thanked his Azerbaijani colleague for supporting Georgia's sovereignty and territorial integrity and, on his part, reaffirmed Georgia's unwavering support for the territorial integrity of Azerbaijan.
The Speaker of Azerbaijan's National Assembly stated that the parties discussed several regional topics and issues related to strengthening relations between countries.
"Azerbaijan and Georgia are friendly countries, strategic partners. This friendship is based on history," Gafarova stated. The guest thanked her Georgian counterpart for inviting and hosting the Azerbaijani parliamentary delegation to Georgia.
As part of the visit, Speaker of the National Assembly of Azerbaijan also met with PM Irakli Garibashvili and President Salome Zurabishvili.
During the meeting with Garibashvili, the parties discussed the friendly relations and strategic partnership between the countries.
The Head of the government praised the resumption of the meetings of the intergovernmental economic commission of the two countries. They also emphasized the importance of further development of the existing transport and energy projects, including the Baku-Tbilisi-Ceyhan oil pipeline, the Baku-Tbilisi-Erzurum gas pipeline, and the South Caucasus gas pipeline, the Trans-Anatolian pipeline (TANAP) and the Trans-Adriatic Pipeline (TAP).
At a meeting held at Orbeliani Palace, President Zurabishvili invited Gafarova to the International Conference of Women Leaders on Peace and Security. Gafarova expressed readiness to take part in the forum.
The Presidential Administration reported that the sides discussed the importance of further deepening bilateral political, economic and cultural relations. The meeting addressed the current developments in Ukraine, the situation in the region, Black Sea security, and the importance of peace.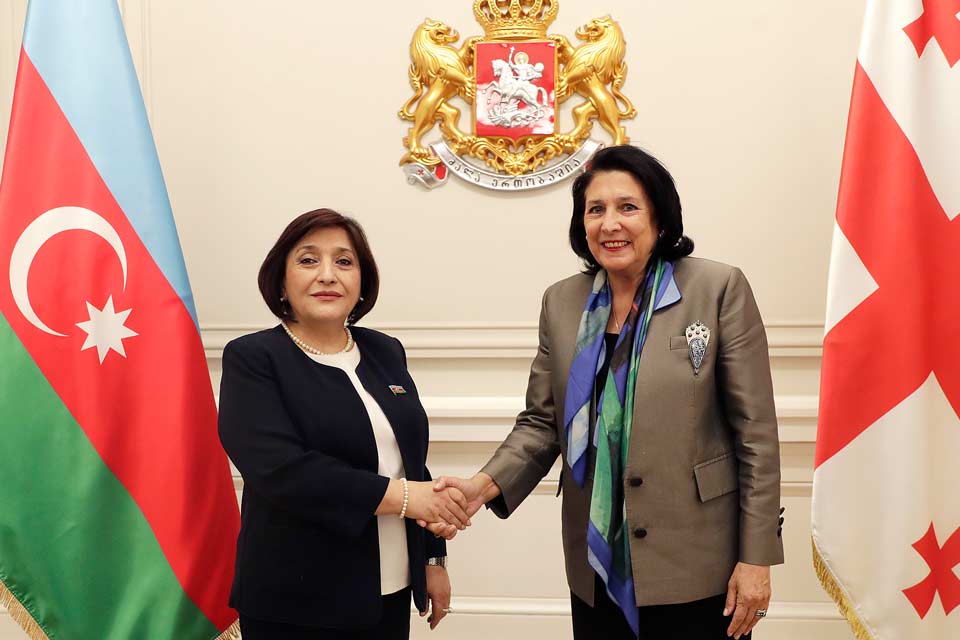 "Establishing peace and stability is important for further development of our region and full use of its cultural, economic or transit potential," the President noted.
She also emphasized the significance of European integration for the country.
The Speaker of Azerbaijan's National Assembly arrived in Tbilisi on April 19.
Image Source: 1TV