Online seminar on the Conference on the Future of Europe
3 and 4 December 2021, Zoom
Speakers:
Prof. Dr. Ulrike Guérot, Professor for European Policy, University of Bonn
Prof. Alberto Alemanno, Jean Monnet Professor of EU Law, HEC Paris, Founder "The Good Lobby"
Moderation: Sabine Sasse, Head of Programme, M100 Sanssouci Colloquium, Potsdam
The Conference on the Future of Europe, initially prompted by French President Emmanuel Macron and the liberal European Party ALDE and launched on 9 May 2021, is the first attempt at institutional reform since 2007. As such, it aims to discuss proposals and ideas for the future of the European Union by 2022, involving not only all EU institutions, and member states but also and especially EU citizens. Yet up until now the Conference struggle to capture the imagination of European citizens and remained underreported by mainstream media.
With a two-day online seminar on the future of European democracy and the role of the media, organizers would like to contribute to the conference, by targeting young journalists from all over Europe and on which our continent's functioning democracy depends. The seminar focuses on the role the media can and should play in European democracy, despite the absence of a mature pan-EU public sphere, and the challenges they face in an increasingly digitalized and thus more complex world.
"In the seminar, we will analyse how democracy can be strengthened in Europe and what role the media and media professionals may play in this process, what ideas and visions the participants have for the future of Europe from their different cultural, social and geopolitical perspectives, and what they themselves as media professionals can and want to contribute to this," note the organizers.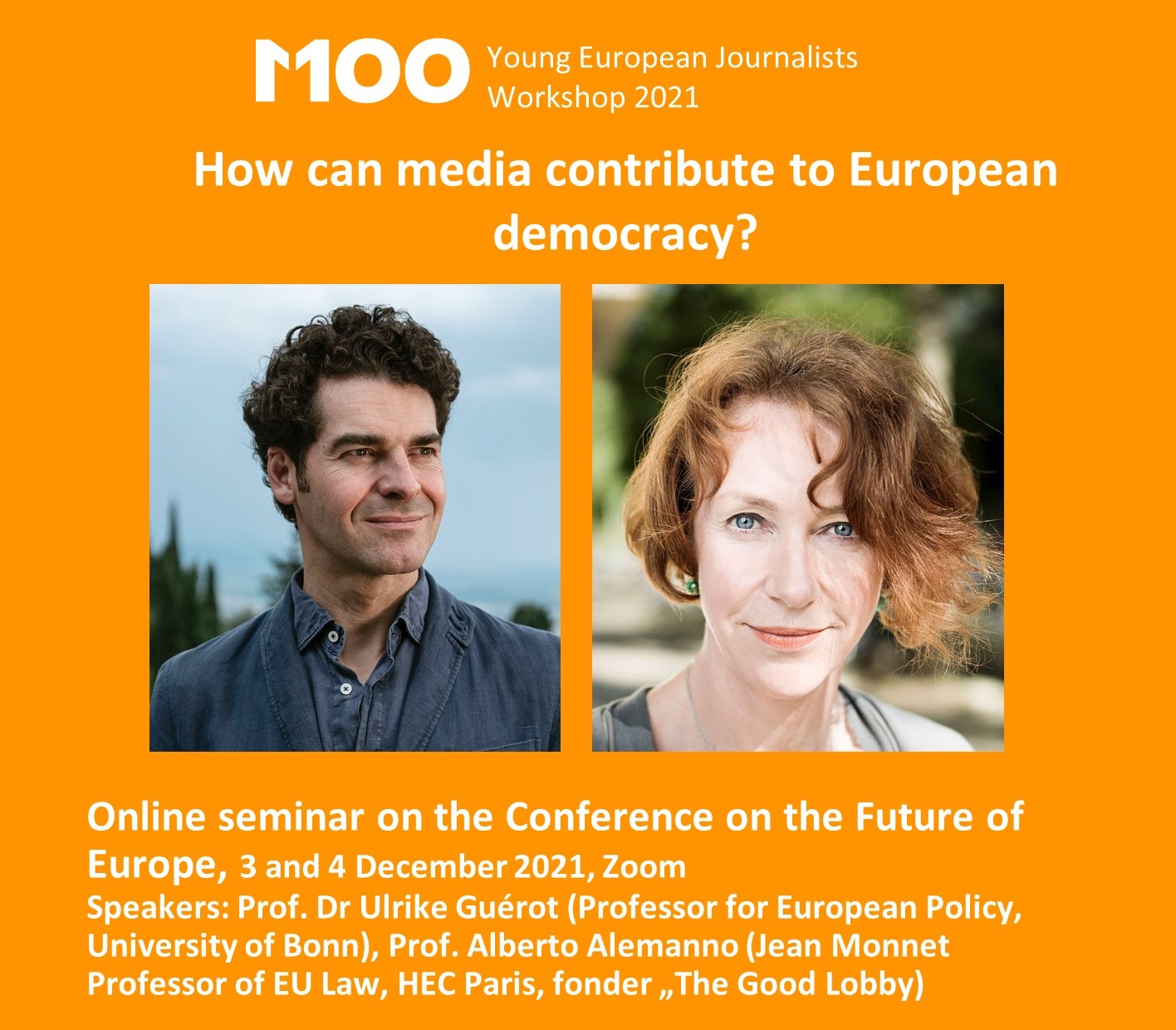 Some of the questions that will be discussed:
1. How do young media professionals perceive EU democracy from their different geopolitical and social perspectives?
2. How does the media report on major EU political developments today?
3. What role do the media play in their own democracies and how do their own media activities contribute to a more informed democratic debate?
5. What reforms are needed to strengthen and advance the EU?
6. How can we get closer to create a real European public sphere?
7. What do participants expect from a future-oriented, democratic, participatory, and just EU?
For the seminar, the organizers intend to select and invite 25-30 young journalists and media professionals from all over Europe to discuss their ideas and proposals with two European thinkers and academics – Ulrike Guérot (Professor for European Policy, University of Bonn, Germany) and Alberto Alemanno (Jean Monnet Professor of EU Law, HEC Paris, Founder "The Good Lobby").
The seminar language is English.
The seminar will be documented (including on film) and the results analyzed, curated, and published.
Conditions for participation:
Young journalists between 20 and 32 years old from all over Europe (including non-EU countries). Participants must send a letter of motivation why they would like to participate in the seminar (1 DinA-4 page) and a CV (with age statement) and send application in a PDF (not larger than 2 MB) to application(at)m100potsdam.org by 15 November 2021.
Only complete applications will be considered.
The seminar will take place online on 3 and 4 December between 10:00 and 15:30 (CET). To ensure the quality of the results, regular and active participation on both days of the seminar is required. Participation of guest audiences on individual days is possible upon request.
The detailed agenda available Here 
The seminar is supported by the Press and Information Office of the Federal Government of Germany.