The shop doorbell rang, and after I called, "Come in!", His Highness Prince Alain Murat of Chkaduashi, Mingrelia (also a descendant of Napoleon) walked in. Along with a family of four from France, the parents both dentists, the boys along for the ride. A total surprise, but the Prince and Princess do occasionally show up unannounced. I welcomed them and their driver in.
"My friends are in Svaneti with a large gift for the dentists of Mestia: some equipment from their practice in Paris, now being replaced but still very much useful," he said. "Would it be possible for you to interview them for Georgia Today?" Delighted, I replied, always glad to showcase local connections with outside and aid coming in. I seated them at our dining table with coffee, put my cellphone on a tripod to record, and began. The interview below is edited for brevity and clarity.
What brought you to Georgia?
Dr. Thomas Clément: I grew up traveling a lot with my parents, and decided to continue this with my wife, Marta, originally from Poland, and our two teenage boys. Our first visit to Georgia was in 2018, but it was really only for a few days, an introduction. It had been my dream to come here for a long time after hearing so many people say what a marvelous place it is. We loved it then, though.
We try to combine traveling and working. I wanted to make a long trip by car as my uncle used to: I visited Afghanistan with him when that was possible, and although now it is not, I wanted to cross all of Europe and reach the border of Iran as he did, to enter all the Caucasus countries in honor of him. We also began asking ourselves what we could do to help where we go; we have all this dental equipment which we needed to replace but which is still totally useful, and decided to bring it.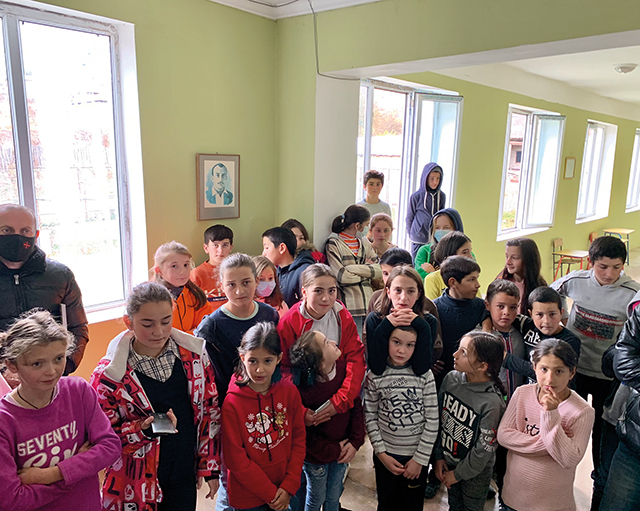 A patient of mine was the former Ambassador of France to Georgia, and he put me in touch with the Prince and Princess. We wanted to put everything into a car we bought for the trip, took two months off, arranged everything… and then Corona came! We had to rethink everything and to send the equipment by truck. The first part was partly "disappeared" by Customs here, and they also wanted $5000 to get it back last year! Nightmares. The Princess went and "talked" to Customs, found someone there she knew, and the French Embassy tried to help; but not with total success. A dental company in Austria, and also one in Germany, gave us many thousands of Euros' worth of equipment… and most of it disappeared here. We sent clothes to the Prince and Princess as well, and these they delivered to needy families [including some here in Etseri]. This was very stimulating for us, seeing the photos, and enabled us to arrange more aid.
Some of the dental equipment which we did not send by truck made it through to Kaspi and Mestia, and we have seen it in place, and we now know how to proceed with future projects. A couple of architects, Mr and Mrs Caravit, she is Bulgarian and he is Austrian, were the only company which gave us money to make this thing possible. They are also involved in a project in Congo, Africa, a school for deaf children, and I made a donation to this in exchange.
"We have not made it to Georgia by car yet (never say never!); we flew here this time for a week, to see how things are going in person, so much better than trying to understand it from a distance. It's difficult to get motivation from donors, though, if you have to explain that everything is "complicated"!"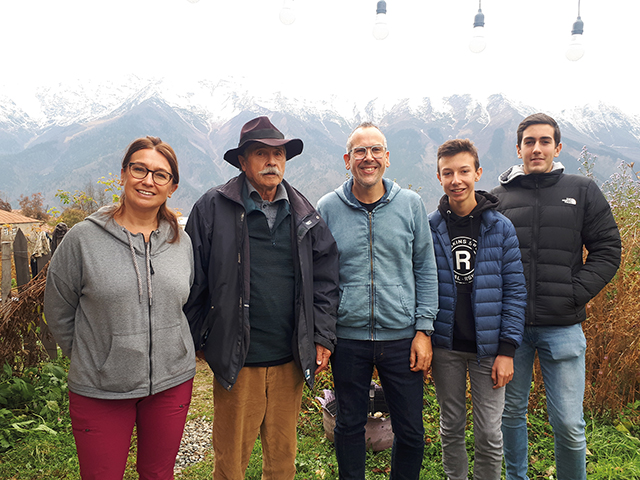 ***
We also took the Prince and the family to buy some honey from my neighbor, and then to the school, where they were well met with great interest. They will be back, I have no doubt. Georgian Customs, though… needs some work…
Their websites, in French and English: www.drs-clement.fr and www.smilecaucase.fr
And…as always at the moment, in Georgia's current political season, #mishavs means: "It matters to me"!
BLOG by Tony Hanmer
Tony Hanmer has lived in Georgia since 1999, in Svaneti since 2007, and been a weekly writer and photographer for GT since early 2011. He runs the "Svaneti Renaissance" Facebook group, now with nearly 2000 members, at www.facebook.com/groups/SvanetiRenaissance/
He and his wife also run their own guest house in Etseri: www.facebook.com/hanmer.house.svaneti