"The night was quite hard, but we have managed to relatively stabilize the patient," said Lali Turdzeladze, Medical Director of the First University Clinic of Tbilisi State Medical University, talking about the health  of the 27-year-old nurse who collapsed within 30 minutes of receiving an AstraZeneca jab yesterday in Akhaltsikhe.
The doctor told reporters that the patient will undergo repeated in-depth examinations over 24 hours.
"The patient was in a grave condition, all the examinations were done, the brain function was determined, the brain is still alive, let's see what happens after 24 hours," Turdzeladze noted.
The Head of the First University Clinic Levan Ratiani says everything will be done to save her life.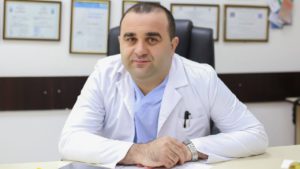 He noted that she is currently on artificial ventilation, and more in-depth studies are needed to find out what caused her collapse.
"Unfortunately, a reaction developed within 30 minutes. We do not yet know if it was an allergic reaction or some other type of reaction. Preliminary conversations with doctors lead us to think it was likely an anaphylactic reaction," the Director of the National Center for Disease Control and Public Health Amiran Gamkrelidze said yesterday regarding the case.
By Ana Dumbadze
Related Story: Georgian Nurse Collapses within 30 Minutes of Receiving an AstraZeneca Jab