From 2011 to the present, Natakhtari Fund, in cooperation with the local non-governmental organization Association Our Home-Georgia, has helped 660 young people with 1,042,593 GEL. As a result, hundreds of young people without parental care have started to live independently, and many are building successful careers. All of this is provided by the three main priorities of the Natakhtari Fund: Education, employment and psychological support.
For 11 years, the Natakhtari Fund has allocated resources to the needs relevant to each beneficiary.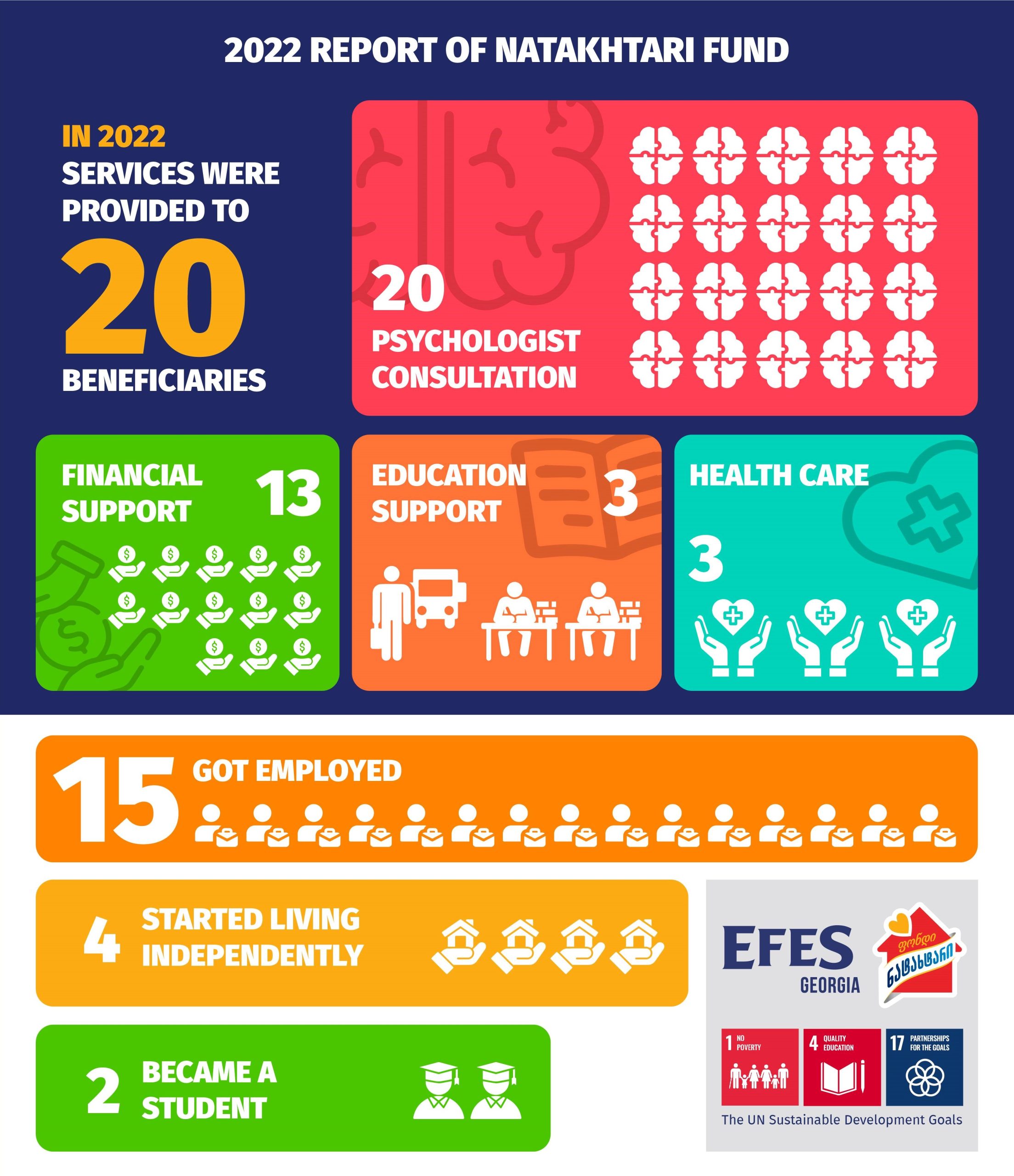 During this time, with the help of the fund:
340 young people received vocational education;
72 beneficiaries have received higher education or are currently studying in higher education institutions;
More than 220 young people learned the craft and been through an internship with a master of different directions;
660 beneficiaries received the individual services of a psychologist.
According to current data, 90% of the young participants in the project are employed, with over 60% holding stable jobs. The 2022 Needs, Resources, and Report of the Natakhtari Fund indicate the following:
In 2022, under the coordination of Association Our Home-Georgia, 20 young people received services, including intensive psychological counseling for all 20 and long-term psychotherapy for six. Seven individuals benefited from psychodiagnostics services, 13 young people received scholarships to support independent living, and one received funding to cover transportation to college expenses. Three were provided with medicine for chronic diseases, and underwent medical diagnosis and treatment.
Two participants received funding for preparing for national exams, each studying three subjects.
Ultimately, due to the activities of the Natakhtari Fund, in 2022, both enrolled in undergraduate programs, one at an elementary teacher education program and the other in a faculty of International Relations.
15 out of 20 beneficiaries found employment. During the year, the Association concluded its work with four beneficiaries, each of whom had become capable of independent living with the fund's support.
Natakhtari Fund, founded in 2011, aims at strengthening youth without parental care who have left the care system, preparing them for independent living by providing education and employment assistance.
In the process of preparing young people for an independent life, it is important to provide them with psychological services: Psychological counseling, psychodiagnostics, and, if necessary, psychotherapy. For each young person, the resources are allocated according to their individual needs. Within the framework of the project, the types of assistance to the beneficiaries are the provision of housing, support for receiving professional or higher education, coverage of utility costs, payment of travel expenses, purchase of textbooks and daily household items, financing of medical research and treatment, purchase of medicines, etc.