One of the most fascinating facets of the fighting in Ukraine is the digital front that has taken a presence online. People from across the world, using the natural anonymity the web offers, have taken up virtual arms in a multitude of ways. With smartphones making any global conflict as accessible as logging into one's social media account, this has highlighted the "meme" war that is going on alongside the battlefield.
Unlike past wars, and even recent conflicts such as Operation Iraqi Freedom, Operation Enduring Freedom in Afghanistan, and the Russian invasion of Georgia, the internet has now taken center stage.
"Memes," or images stylized to make a comedic reference to current events, have popularized the ongoing Russian invasion of Ukraine. Additionally, it makes what would otherwise be a dismal and tragic affair, seem relatable and palatable to those outside the combat zone.
In one example, a Ukrainian 2S7 "Pion" 203mm artillery cannon was adorned with an anthropomorphized Shiba Inu dog in military uniform. Along with "NAFO," or North Atlantic Fellas Association, and "Superbonker 9000" written along the immense barrels, it is a microcosm of a movement appearing on the front. The absurdity of the juxtaposition has resonated with online crowds, so much so that it has taken on a life of its own, even assisting with donations and volunteer missions in support of the war effort.
Interestingly, it has even made its way into official channels. United States Congressman Adam Kinzinger, former Estonian President Toomas Hendrik Ilves, and Ukraine's Defense Minister Oleksii Reznikov have all used the abovementioned stylized canine on their social media channels. The latter even tweeted his appreciation, saying "My personal salute to #NAFOfellas. I'd like to thank each person behind the Shiba Inu cartoon. Your donations to support our defenders, your fight VS misinformation is valuable. I'm changing my profile picture for a few days. Cheers @marlowc2324 NAFO expansion is non-negotiable!" The dog, popularized in the now famous "doge" internet meme, has become a keystone of the NAFO and other related movements.
The battleground, now also in cyberspace, has been championed by a large team of meme posters who have taken it upon themselves to combat the Kremlin's information war using their status as influencers, armed with algorithms and steeled by legions of followers. As sanctions and animosity reduce the contact many in the West and in Russia have with each other, the internet has become one of the last platforms these two worlds can collide in.
The pro-Ukrainian NAFO members, self-appointed as "fellas," are pitted against the so-called "Vatniks" – a Russian pejorative for all Kremlin sympathizers. They attack pro-Russian accounts online with memes, viral videos, and pro-Kyiv slogans, using their ill-named "article 69" or "article 5," a reference to the NATO article for collective defense, as hashtags.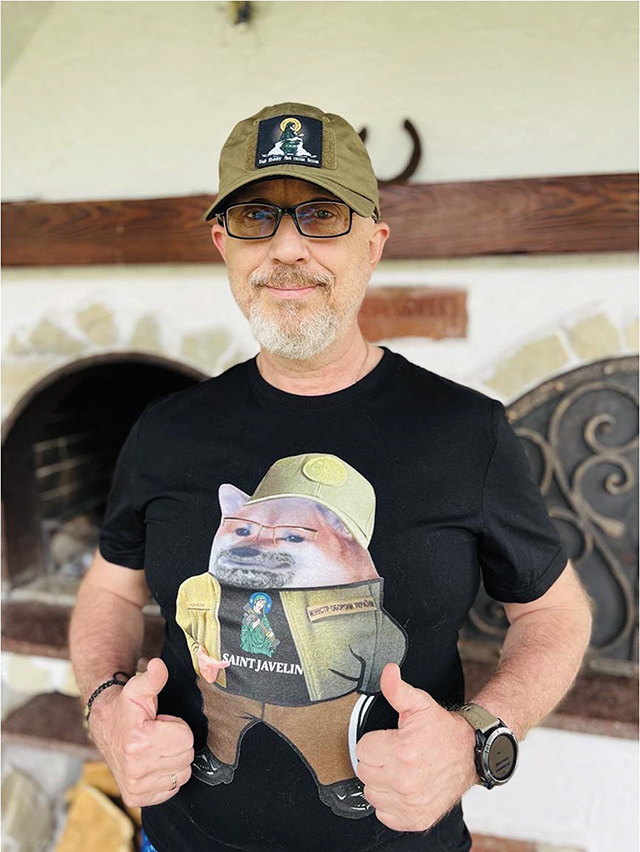 Russia has struggled to respond to this phenomenon, something military and cyber strategists scarcely include in their planning. To ignore them is to grant them the space they crave. Yet, to acknowledge them is to give them the spotlight they thrive off of, and enhance their legitimacy. Additionally, they are almost immune from attack from Russian government officials, as the very act of engaging with a perceived internet troll can spell disaster for any politician.
For NAFO, combining geopolitics, news, and a gratuitous serving of humor has combined well for these digital fighters. They have been able to mock the Kremlin while also remaining outside their reach. Russian officials that do engage are quickly shut down, bombarded with pro-Ukrainian messaging, and their statements made into memes themselves.
The fight has framed an interesting insight into Russian information tactics. Similar to their military tactics on the ground, their information strategy seems woefully outdated. While the Kremlin and its brigade of news networks attempt to drive a narrative, a pack of Shiba Inus wrestle that narrative to the ground, only to make anyone who attempts a counterattack look like a fool online for arguing with a stylized dog picture.
The anti-Russian effort doesn't end there, though. Thousands have donated to the NAFO cause, receiving their own Shiba Inu dog avatars in return for donating to the war effort. The group has raised over $400,000 for the Georgian Legion alone, much of it going towards gear, electronics, and enhanced warfighting capabilities against the Russian "special military operation" in Ukraine.
Despite being largely dedicated to "shitposting," they have also launched other projects, such as "Sign My Rocket." The initiative, taking social media by storm, allows people who donate the ability to have a message written on an outgoing piece of Ukrainian Artillery munition. A simple paragraph or less is written on the shell before being fired towards Russian positions; a simple but unique way of funding a war.
Wrapping a war effort fundraiser in the cloak of a cute dog has proven to be an effective means of not only supplying the military but also stumping Kremlin activists. Additionally, it continues to draw support from even the most remote and unobservant supporters of Ukraine. Working-class parents, internet denizens, and politicians have embraced NAFO's movement.
The trend of internet mobilization, particularly from a tech-savvy youth, seems unlikely to fade. Online trolls, operating in a realm largely inaccessible for politicians and international organizations, are capable of engaging at a level never seen before. With the natural trend of slow governmental adaptation, it is this digital offensive that will make the largest waves outside of actual combat.
By Michael Godwin