The adventure continues. It's my chance of a lifetime, being videoed both by interview and as I shoot new photos out in the field. I describe what I'm shooting, answer the questions about all forms of art I'm active in, seeing the overlap between them. How does my reading inform my writing, the words lead to photos and back to words? Sculpture to photos? Chaos theory to them all, fractal structures revealing their details in different scales? Geometry to logo design? The feedback cycles may also reveal "strange attractors", shapes which tend to appear as something somewhat random but repetitive, like the form a teaspoon makes in the bottom of my coffee mug as I stir.
Back in Tbilisi… getting used to the luxury of central heating in our new apartment this winter has meant I'm also getting unused to spending a few hours in Svaneti's ongoing deep snows. A cough develops, which persists as I write this from the apartment, attacked by medication and vitamin C. My stomach muscles start to get sore from the coughing: They are weaker from not getting the whole upper body exercise of some years ago, milking two cows twice a day and chopping my own firewood!
The team, though, are on point. Eight people coming not only from the USA and Canada but also Iran, China and our Georgian interpreter. They handle lighting, sound, video from up to two cameras at the same time on tripods and/or gimbals; shot lists and schedules. I arrange drivers and accommodation with people who have hosted me since 2007.
We move on: First to Ushguli, to the Ratianis, with whom I lived for the winters of 2007-2009. Always great to see them again, even though we have to lug our gear 20 minutes through snowbound little streets to reach their house from as close as the Delica vans can get.
Bebo (Granny) hasn't aged a day, as usual. We add an interview with Temuraz, brother of Georgia's Salvador Dali, the painter Pridon Nizharadze, who died a couple of years ago. Temo handles his house and gallery. There have been offers to relocate everything to better and more accessible conditions, but Temo wants the wildly surrealist work and impressionistic landscapes to remain where they were made. He reveals that he and others were afraid of Pridon's symbolic pieces and asked him to stick to realism. The result is a body of work in at least two very different styles. I am sorry I didn't somehow get a piece from Prison while he was alive: They're now moving away from affordability for me.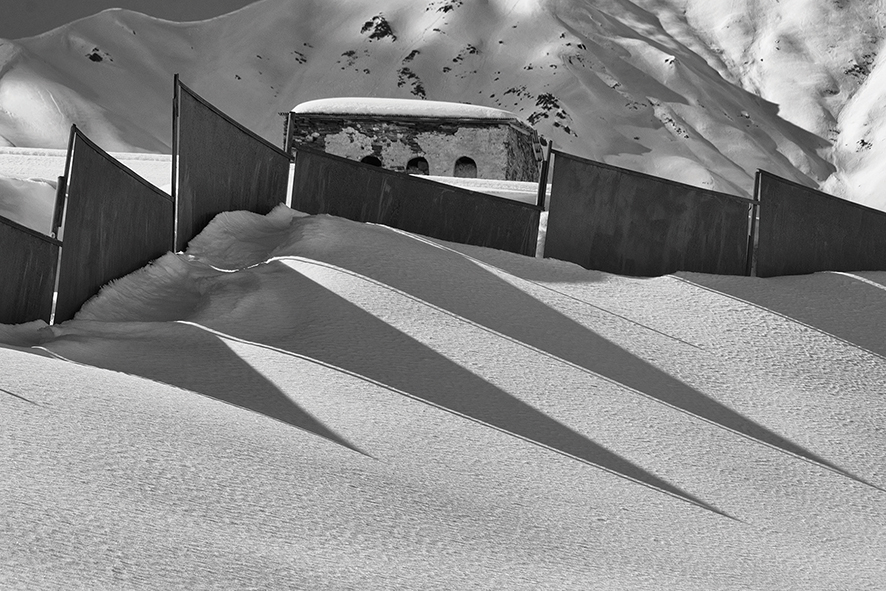 We shoot more around the village, and I discover a pod of dolphins swimming under the snow near Lamaria monastery. There's nothing else they could be, those long streamlined forms. Svaneti in deep snow remains as beguiling as ever to me. A new thing this trip is the texture of the snow everywhere we go: The same patterns I noticed in Etseri are here too, 75 km away, unique to this winter. Fond goodbyes, then down to Mestia for a final night.
Here, Roza Shukvani and her husband Vita Chartolani, with whom Lali and I stayed the winter of 2011-12, host us. They apologize that they can't give us supper as they currently have no cook, so we have that meal and lunch too in the town. More exploring, including the fabulously well-stocked and carefully looked-after main museum with its gatherings of Georgia's national treasure, sent up here for safekeeping when the lowlands were being invaded over centuries and kept to this day. But I remember when those delicate thousand-year-old icons were stacked like a shelf of books and anyone could rifle through them with their bare hands! My first photos of them date from this time, when Shevardnadze was still president.
We do a drone shoot ascending the outside of a watchtower to find me perched on its roof, admiring the town spread out below me. I go home and let the team have supper out without me, feeling the cold getting to me more than I like; they bring me leftovers and meds.
Next morning, we are shocked to meet a refusal of any pay for our stay, but Rosa and Vita won't be swayed. We give them all three remaining boxes of chocolates and about 15L of petrol for the useless (and unnecessary) generator, bow our deep thanks, and pledge privately to make this huge kindness up to them.
Off we go back down, the 500 km journey to Tbilisi. It's been an introduction to Svaneti for five of the crew, and they'll never forget it, especially having come up in winter. Now we reverse our backward time travel of a whole season: between Jvari and Zugdidi, all the daffodils are in full bloom. I take my cold with me, but it could be worse; I wouldn't trade. Thank you, Meta Team! It's a wrap, for now!
BLOG by Tony Hanmer
Tony Hanmer has lived in Georgia since 1999, in Svaneti since 2007, and been a weekly writer and photographer for GT since early 2011. He runs the "Svaneti Renaissance" Facebook group, now with nearly 2000 members, at www.facebook.com/groups/SvanetiRenaissance/
He and his wife also run their own guest house in Etseri: www.facebook.com/hanmer.house.svaneti