It's been a couple of weeks since Lali and I visited her nephew, Luka, in his monastery, emerging from a light snow. He has been there for a few years now, having transferred from another famous and picturesque one, Gremi, in the same province. At nearly 30, he is still the youngest inhabitant of this ancient place.
Nekresi has parts from the 6th, 8-9th and 12th centuries, so it is quite old, and has been nicely restored. It suffered defacement of its magnificent frescoes when the last masters of Georgia, the Russians and then the atheist Soviets, took over. Its other features include a well-equipped winery, a cistern and an ossuary. Lali and her sister were not allowed into the residential section of the monastery, but I was, and I briefly met a few of the other monks, who live quite a simple life of single and corporate prayer, contemplation, and the running of the monastery and its churches. They make and sell their own Kidzmarauli red wine and beeswax candles, all of which were gifts for us, to help support themselves.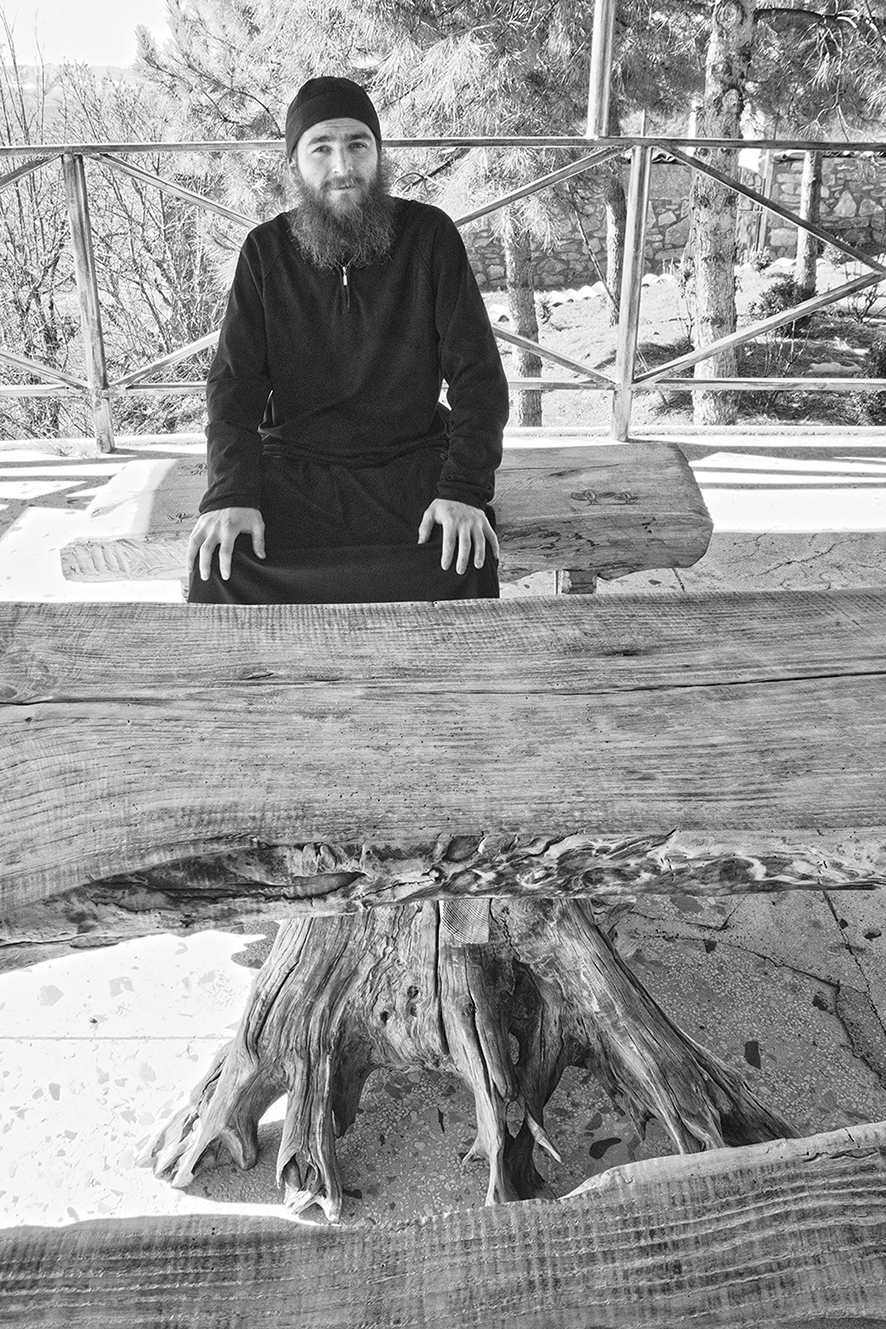 Nekresi is situated quite high above the flatlands of Kakheti, a steep winding switchbacked road (nicely re-cobbled in Saakashvili's frenetic time) taking you up to its fastness. The views of the valley spread out below are far and wide. They include the ruins of a huge Zoroastrian temple in someone's vineyard, the walls practically down to ground level and the layout a nice diagonal square against the horizontals and verticals of one's position.
We stayed for an hour or so, to catch up with our nephew, who was fifteen and a good singer at our wedding; he retains the latter characteristic, joining his fine voice with those of the other men. He showed us around the whole facility, and knew well its history and details. He rarely leaves the place, and all they have between them is a single cellphone for contact, but at least we can call him by this and visit him when we want to. His parents and sister also can do this. The last time we saw him outside was at Lali's parents' home in Leliani, not far away, when her father, his grandfather, died a few years ago. He also spent some time in our house in Svaneti, notably keeping Lali company for a month when I spent one of my English teaching job's free Christmas tickets to see family and friends in Canada. This was well before his monastic calling, and by the end of it, he was ready to flee the snowed-in isolation of the place.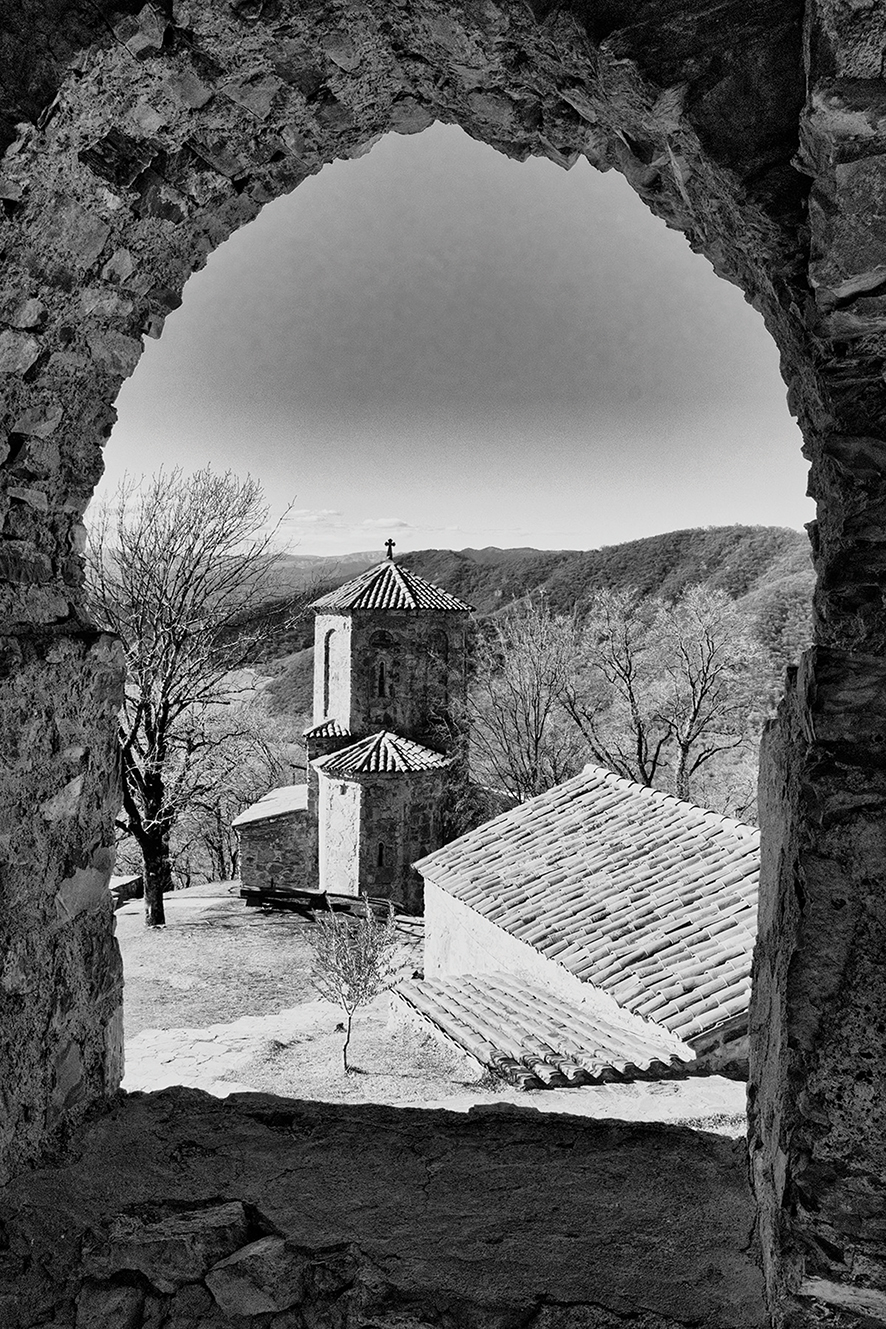 Luka seems quite content now where he is, and I expect him to grow into it and stay for life. It means that (like me and his uncle, Lali's brother) his father's male line will end with him. But there are compensations. His faith seems solid, and there are few of the frantic distractions of the 21st century's busy, disinformed and confusing life to sap its strength. In some ways there is much to appreciate and even envy here, although I think that one must indeed feel a definite calling to it, as you are also renouncing much. (A chapter of Mother Teresa's nuns once, under threat of invasion from some African revolution, called the Mother House in Calcutta for advice. "Die well," they were told).
We said our fond farewells and drove back down, each silently thinking of the young man, what he has given up and gained.
BLOG by Tony Hanmer
Tony Hanmer has lived in Georgia since 1999, in Svaneti since 2007, and been a weekly writer and photographer for GT since early 2011. He runs the "Svaneti Renaissance" Facebook group, now with nearly 2000 members, at www.facebook.com/groups/SvanetiRenaissance/
He and his wife also run their own guest house in Etseri: www.facebook.com/hanmer.house.svaneti