Nino Chakvetadze is a painter and illustrator born in 1971 in Tbilisi. She studied at the Iakob Nikoladze Art School, and at the Tbilisi State Academy of Arts in the Department of Painting. She's also a delightful children's book illustrator and has participated in various exhibitions. She opened her own gallery in Tbilisi six years ago.
As part of our ongoing "Meet the Artist/Designer" series of interviews, which GEORGIA TODAY runs jointly with BI Auction to introduce its readers to a variety of both established and up-and-coming artists, we went to meet Nino Chakvetadze to find out more.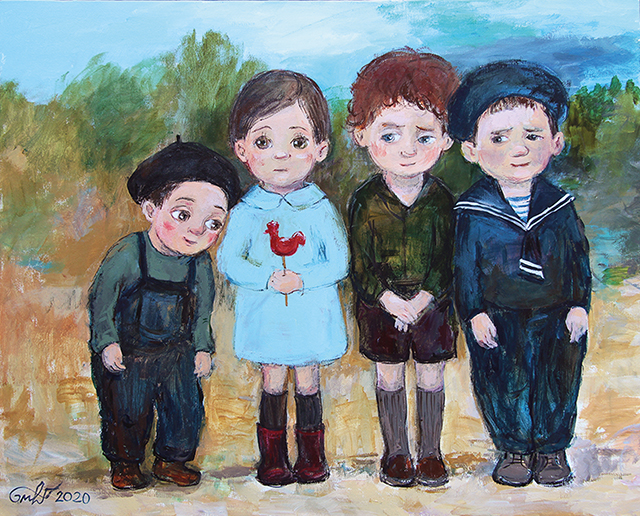 How would you describe your work? Which common trends in art or important artists themselves impact your work?
The themes of my works are mainly dedicated to the lives of children and the elderly, and most of the paintings have a nostalgic nature, in which any person can find moments of their lives.
I think I have found my own style; however, the process of searching is always with me, and it is always interesting to discover new, interesting artists and trends.
How has the coronavirus changed your creative vision, the art market in general, and your specific sales?
The pandemic has affected everybody, and I'm no exception, although my regime has not changed much, since I was already working at home. As for sales, the delay is less felt here too, only the form has changed, with people continuing to buy paintings, but online. Unfortunately, the fact that galleries and museums are visited by far fewer people is striking.
In your opinion, with the pandemic shifting the world to a more digital format, what is the future of art?
I think art is eternal, and as long as humanity exists, art will exist as well. Just the forms are changing.
What is your opinion of the virtual art space, exhibitions, and sales?
Of course, actually visiting a museum or gallery has a completely different meaning, but I also welcome the virtual form, as, in this way, it is possible to get more information. Also, artists have more opportunities to present their works to a larger audience and also to be able to sell more of their works.
What do you think about BI Auction and its role in artists' lives, based on your experience?
I think BI Auction has a positive role to play in the lives of artists, and their support gives more stimulus to artists.
Interview by Ketevan Skhirtladze