MasterChef Georgia — one of the most highly-rated entertainment shows on Georgian TV — has wrapped its seventh season crowning Tamar Bekauri as the winner. For the first time in the history of MasterChef, three women made it to the finals. Tamar was up against fellow finalists Mariam Bartia and Sandra Korenevich in a competitive finale which saw her walk away with the 2022 MasterChef title – the best cook in the country.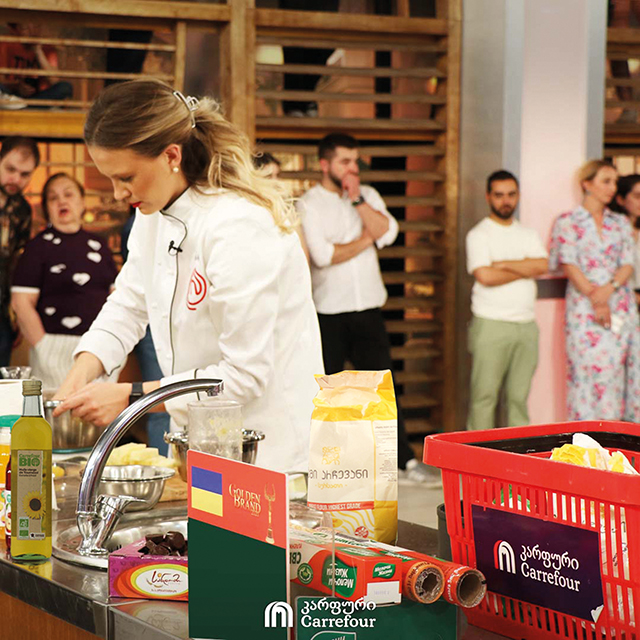 This season, like the previous two, received positive feedback and high engagement from audiences, in part thanks to the contribution of partner and general sponsor, Carrefour — who supported the show for the third season in a row. Carrefour – which is owned and operated by Majid Al Futtaim in Georgia – supplied the MasterChef contestants with high quality, fresh, and healthy products for their dishes, enabling them to impress the judges throughout the season. The leading retailer assisted participants in preparing visually attractive, delicious and unique dishes in their quest to be recognised as the MasterChef champion.
To reward the winning chef, as well as in celebration of its tenth anniversary in the Georgian market, Carrefour awarded the winner through its loyalty program, MyClub, with points worth 10 000 GEL. This allowed the winner to choose her desired products or equipment either by visiting Carrefour stores or without leaving home, using Carrefour's new, online application and delivery service. The remaining finalists and chefs were also awarded exclusive French Carrefour products.

The recent collaboration between MasterChef and Carrefour allowed loyal fans of the show to gain more knowledge about different types of ingredients and how they can be used to create a variety of recipes. Based on the examples of young and talented professional chefs, MasterChef and Carrefour are always seeking to further diversify and develop outstanding Georgian cuisine amongst both locals and visitors.

Moreover, the partnership highlights Carrefour's commitment to supporting the growth and prosperity of local communities. Many of the products provided by Carrefour to the MasterChef contestants were sourced locally and delivered straight from Georgian partner farms – a local initiative which will continue for many seasons to come.