If you find yourself in Telavi, the central city of Kakheti, there's one slightly hidden gem under the radar of many tourists, and you might only have heard about it from locals until now: Marleta's Farm.
Located in Shalauri village, only 3km away from the city, Marleta's Farm is not your typical farm where cattle roam behind a wooden fence.
Known for its atypical, non-traditional goat and cow cheeses made using French technology, Marleta's Farm is developing its own path, creating a different kind of Georgian cheese, and starting a new tradition.
It all started when Sopo Gorgadze and her husband Leo Tsaguria decided to move to the village from Tbilisi back in 2009. Their friends jokingly gifted them a cow once they moved to the village, and they named it Marleta. The cow was relatively thin and boney, but produced nearly 25 liters of milk every day.
The neighbors suggested making cheese. Soon after, that hobby turned into full-time, homemade cheese production.
Today, Marleta's Farm is a sophisticated, artsy venue full of gigantic murals, an open cafe, a pool, and a library with a breathtaking view of the snow-topped Caucasus Mountains. A massive weeping willow adds a unique character and charm to the courtyard.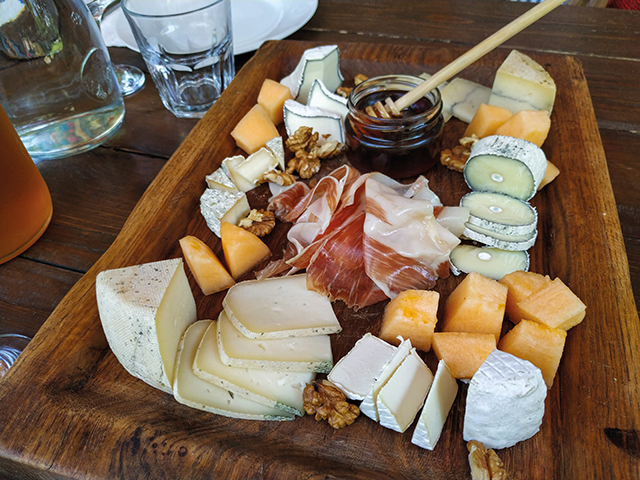 Almost every yard wall is covered with paintings by Sopo's father, Malkhaz Gorgadze, who called this open-air exhibition Paradise Lost.
On my visit, Leo greeted me and my friend, Jenny, and gave us a tour of the complex, showing off their tiny cheese factory and aging refrigerator.
Leo's cheese-making expertise comes from extensive online research, reading books, and a short course on basic cheese-making of Georgian cheeses in a professional college in Telavi.
Marleta's Farm produces nearly four tons of cheese a year and also makes jams, adjika, prosciutto, and other condiments
Kakheti is known for Guda sheep's milk originating from the mountainous region of Tusheti. It has an intense aroma and is often salty and bitter, and because of that, not many locals are huge fans of it.
However, it goes perfectly with a hot loaf of tone bread, cucumber, and tomato.
During the Soviet times, Guda, along with three other cheeses (Imeruli, Karkhnuli [factory], and Sulguni), was industrialized and stapled as a "traditional" cheese for eastern Georgia. As a result, artisanal cheeses almost disappeared from the market.
Luckily, thanks to cheesemakers like Sopo and Leo, as well as the Georgian Cheese Maker's Association, various traditions and cheeses are coming back.
Unlike other traditional local cheeses that use rennet as the ingredient for curdling, Sopo and Leo use lactic acid bacteria and perhaps a few drops of rennet. Their cheeses age from two to six weeks, resulting in delicate and softer cheese.
In total, Marleta's Farm makes around ten different types of cheese. One of their goat's cheese, called Lenperi (which in Megrelian means "sun-colored"), is very soft and creamy. Bona is another soft goat's cheese with white mold that tastes very earthy. And Ashmelo is a cow's milk cheese with white mold and activated charcoal with a distinctive and unique taste. They also make hard goat's cheese.

Marleta's Farm produces nearly four tons of cheese a year and also makes jams, adjika, prosciutto, and other condiments, which they sell in boutique shops, wine bars, and restaurants in Tbilisi.
Visiting Marleta's Farm is recommended by booking an appointment in advance as they usually host big tour groups and have their schedule quite jammed. You can order a cheese platter tasting on your visit, which includes all their different types of cheeses accompanied by fresh fruit, honey, prosciutto, and nuts.
For bigger groups, Sopo, as a passionate cook, hosts gastronomic dinners and cooking classes.
By Baia Dzagnidze of Red Fedora Diary