The London-based Georgian Pianist Luka Okros receives a 125,000$ Bechstein concert piano for test-driving. 
The UK representative of the famous German piano brand lands to Luka Okros the Bechstein concert grand piano to support artist during the lockdown period. While the Pandemic hits hard on the musical industry, cancelling hundreds of projects, having an incredible grand piano at home brings enormous motivation to the acclaimed musician.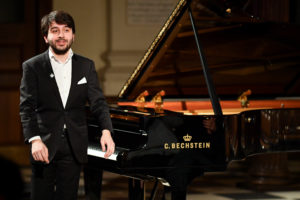 Okros, like other musicians trapped in the current reality, is looking with hope into the future. Many performers struggle without a chance to perform in front of a live audience since March 2020.
Luka is one of the most famous Instagram piano stars and influencers. His videos are going viral, reaching hundreds of thousands of views. They have been making a huge impact, inspiring others to play.
Recently Okros launched a new format of Small Talks on Instagram, introducing famous artists on live streams. This month's star guests list includes singer Katie Melua as well as film director Levan Akin.
By Ketevan Skhirtladze