Autumn is upon us, and the new political season is about to begin. Presumably, it will be a busy few months in parliamentary life, seeing the adopting of dozens of laws to meet the 12-point recommendations set by the EU. But whether the opposition and the ruling party will establish common ground is as yet unclear. GEORGIA TODAY continues interviewing politicians of different political parties to find out if they support negotiations in the parliament or the protest outside of it. This time, we visited Mr Grigol Gegelia, foreign secretary of the "Lelo" party, to discuss critical issues, including the calls for civil disobedience.
Will the "Lelo" party join Zurab Girchi Japaridze of the "Girchi More Freedom" party in his protest, or do you prefer negotiations with the ruling party?
For Lelo, the priority has been and is to see the 12 points implemented and the country regaining its candidate status. That is what moves all our priorities, all our decisions and, indeed, all our actions. So, in the coming season, our priorities will be to pursue all possible routes with the view of actually regaining what Georgia deserves, what the Georgian public deserves and what we've lost because of Georgian Dream's policies. But, of course, all other methods within the law are legitimate, and we are always in close discussions with all our partners about what to do, how to do it, and when to do it.
Is your position a result of unsuccessful attempts to change the government with protests?
No, not at all! I think our position is fundamentally guided by the priority of regaining deserved European membership candidate status for Georgia. We will change this government, of course, but that takes time. It will take time to change an autocratic regime with unlimited funds, illegitimate means of fighting with political opponents, a campaign of hatred, fear, and scaremongering, with attacks on the European Parliament and, I must say, attacks also on the idea of what is real. The Georgian Dream party has attacked the idea of the real and pursued a campaign of falsehood to the degree that it has questioned everything and anything. The goodness of the West has been questioned; the idea of the European Union as a peace project has not only been questioned, but attacked outright! It is difficult to fight autocracy, and we must face that. We are in a tough battle.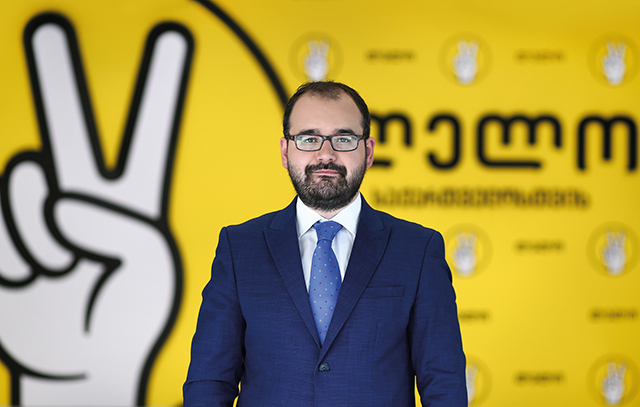 Political analyst Kornely Kakachia told us in his interview that fundamental changes are less likely to happen before 2024. Do you see any other options or do you agree with him?
There is a diversity of views on that. Many people expect the elections to take place in 2024. Others see them coming earlier than that. I don't think that's the most important question of the day. We should be ready to fight every day up until whenever it is. No matter if the elections will be in 2024 or 2023. Indeed, my party is preparing every day, and we are ready to take on GD with our colleagues whenever the elections come up.
Do you expect we will get EU candidacy status before 2024?
I can't see that happening with this government, one that attacks the European Union daily and has done its best to isolate Georgia entirely from the civilized and global community. I can't see that happening because this government will not reform anything. Reforms for this government, we've got to understand, are suicidal. They can't think of deoligarchization because they are united around the oligarch – Bidzina Ivanishvili. They will not reform the justice system. They will not reform any of the particular directions because the moment they reform anything, they will formalize their defeat, which has already happened a few times before. Georgian Dream has found additional corridors to grab power that don't belong to it. So, the moment you reform this country, the Georgian Dream ends, so they will not reform Georgia at all.
The EU once again asked you to work with the party that the EU itself blames for breaking promises and failing on reforms. Isn't this request dishonoring for you?
It's not dishonoring at all. We understand the position of our Western partners. Of course, they are seeking institutional stability and inclusion. But we don't think that request applies to the commissions and working groups created by the Georgian Dream. There are other forms of inclusion; there are different ways and means of working together among the political groups, committees of the parliament of Georgia, as well as the plenary session of the parliament of Georgia. They are appropriate and legitimate institutional means of working together; that is where we will participate. We don't think that anybody has asked us to work with these very dubious working groups, with a very low level of inclusion, and who set very strange preconditions, for example, that Mr Ivanishvili is not an oligarch and that the clan is not a problem in the judicial system. We hear these sorts of preconditions proposed by the Georgian Dream that make it impossible for us to participate.
Georgian Dream will not reform any of the 12 directions because the moment they do, they will formalize their defeat
We are working on our own positive agenda in each of the 12 critical directions set out by the European Commission. In September, we will introduce our agenda of reforms to the parliament. I'm very sure that the Georgian people and our Western partners will be able to see who is offering what, what sort of quality, what political substance and, indeed, what is best for our country.
You criticize the GD party for its policy toward Russian visitors. What would the Lelo party do if it were in government?
Well, we'd first introduce a visa regime for the citizens of Russia and Belarus. We would also introduce mechanisms of control on not only who enters the country from these two states and how many people enter Georgia, but also on the ownership of private property as well as businesses, because for Georgia, as a small nation, but as a small nation threatened by Russia continuously, this is a matter of national security. Yet, we currently have a very big anomaly: Georgia is the only country in the world to have a visa-free regime for the citizens of Russia for three hundred and sixty days per year, despite being the only state in the world who fought a war with Russia in 2008, despite experiencing the nineties, despite experiencing the occupation, and despite being continuously occupied by them. I think it's a moral, political and very serious national security question. I must also say that I'm very much against any form of discrimination against any ethnicity or sexual group, or even national group. That's not acceptable for us, but at the same time, we want to see the moral, historical and political dimension of the question raised and to have a visa regime installed which will, of course, still enable Russians to enter Georgia to pursue their interest here as a tourist or whatever it might be, but that will be controlled by the Georgian state. We, as a people and as a nation, must know who's entering the country, for how long, and for what purpose.
The beginning of the end is on for GD, because the Georgian people will not forgive anyone for the loss of the European perspective
You call Mr Bidzina Ivanishvili an oligarch, but you have yet to make our Western partners believe it, and they've not sanctioned him.
I think they believe it. If you look at the media coverage internationally, Ivanishvili is consistently named an oligarch. If we look at the resolution of the European Parliament, he is very clearly depicted as an oligarch. He has not been sanctioned in a full sense yet, although we might see some recent events as a precursor to that. I think everybody knows that Ivanishvili is an oligarch, and he's described as one and spoken of as one. What is missing is the sanctions. They will come, but they will come from different institutions other than the Georgian opposition.
We, as a people and as a nation, must know who's entering the country, for how long, and for what purpose
Is this the end of Ivanishvili's political life?
Oh, yes, indeed! The beginning of the end is on, because the Georgian people will not forgive anyone for the loss of the European perspective. Georgian Dream will radicalize further. They will try to be even more intimidating and more autocratic, but that is the best sign of their sure end, which is coming.
Exclusive Interview by Erekle Poladishvili