Georgia's top tennis player Nikoloz Basilashvili, who recently won his fourth ATP Tour title at the Qatar ExxonMobil Open, has been again accused of not paying alimony payments and carrying out "economic violence" against his son by the defense of his ex-wife.
Basilashvili was charged for alleged abuse against his ex-wife Neli Dorokashvili in May 2020. The pre-trial hearing of the case was held in the Tbilisi City Court behind closed doors. Basilashvili was released on GEL 100,000 bail. The tennis player considers himself innocent. A final court hearing has yet to be held.
Neli Dorokashvili's interests are protected by the non-governmental organization Partnership for Human Rights. The dispute between the ex-husband and wife continues.
Nikoloz Basilashvili has an only son, Lucas, who is growing up with his mother, Neli (Neka) Dorokashvili.
Following his triumph at the international tournament Qatar Open, at the award ceremony, Nikoloz addressed his son in Georgian a "Lucas, my son, I want you to remember, you are the most precious person to me, I love you and I miss you. I want to thank the fans in Georgia, thank you for standing by me."
Ana Abashidze, his ex-wife's lawyer, has publicly responded to the above emotional address, claiming that the tennis player has not paid alimony for his son for a year and a half and that he's trying to deprive his own child of a home.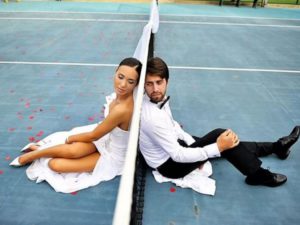 Human rights activist Baia Pataraia also responded to the lawyer's post:
"This is your "commendable" man, he's depriving his son of a home (he already did it to his ex-wife) and he has not paid alimony to the child for a year and a half. This is a form of economic violence.
"Soon, everyone will find out who that man really is," Pataraia wrote.
Pataraia's statement received a big response on social media, some supporting her, some blaming Basilashvili's ex-wife for this scandal.
Nikoloz Basilashvili's lawyer Irma Chkadua claims the above allegations are false and are aimed at extorting money and property from the athlete.
"The only thing I can say is that his ex-wife and child are fully secured both socially and economically. Under the contract, they received property worth more than a million, which includes residential and commercial space. They have an income of several thousand GEL every month from the residential space. Also, in December 2020, the wife received quite a decent amount of money from Nika. I will refrain from naming the amount. Trust me, she is fully secured. We have seen Nikoloz Basilashvili's attitude towards his son, how sincere he is, and society will evaluate the rest properly. It is obvious who is sincere and who is not in this story," she said.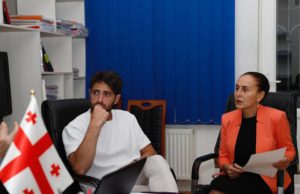 Regarding the alimony payments, Chkadua noted that alimony is not imposed on the sportsman separately, considering other terms of the contract, based on which the ex-wife and a child were provided with other income.
"He has no alimony imposed by the court at all. He had also paid alimony for a certain period of time, and now Neli Dorokashvili has filed a new lawsuit and is asking for alimony.
"I try not to read these statements from the lawyer of Dorokashvili and activist Baia Pataraia at all, as they do not tell the truth. I can unequivocally say that the child has a residential house where he lives and a commercial space from which they receive income and are fully secured.
"Regarding the accusation on the seizure of the house, this is also false, no such complaint had been filed in court, just now Dorokashvili is asking for another house.
"Baia Pataraia writes that a father is forbidden from interacting with his son based on the court's decision, which is also a lie. Everyone has heard who is really right in this story. You may be wondering in whose house Neli Dorokashvili currently lives, the value of which is about one million GEL," the lawyer said.
By Ana Dumbadze
Related Story: Family of Nikoloz Basilashvili Releases a Statement