Morning of departure day… slipping out only 48 hours before the Tusheti snow clearers' contract expired and they were freed of obligation to keep the road open. The most unwelcome noise, to campers, made itself known just before dawn: the patter of rain on the tents! Light snow, even! But it stopped almost immediately, and they remained dry, meaning that there was no need for their owner, our driver Dato Urushadze, to unpack them back in Tbilisi. Whew! I took a cell phone photo of the snow granules for proof. A hasty but warm breakfast, thoroughly douse the fire, pack up everything in the Delica van, and we began our exit.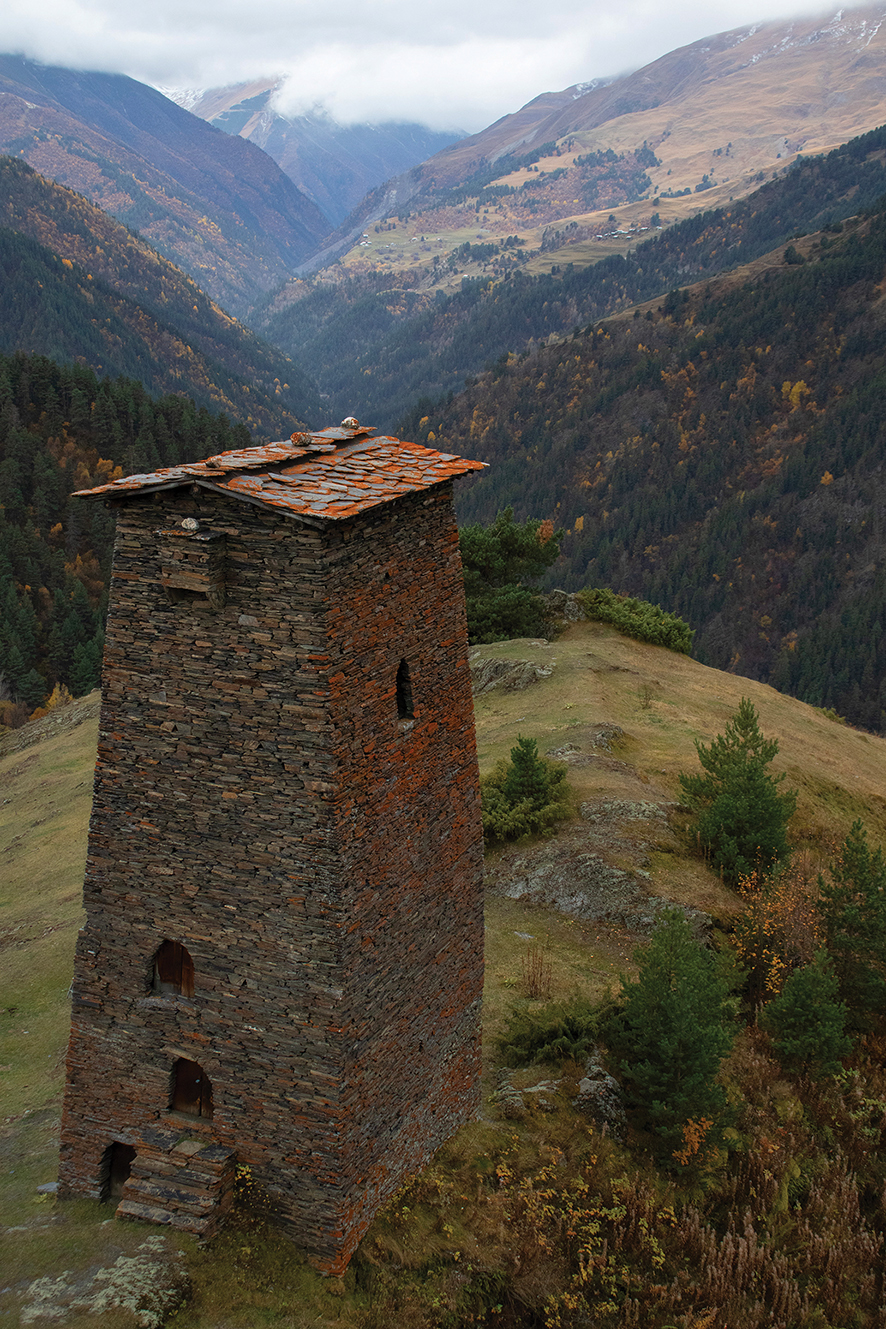 First, though, a stop in Old Omalo, whose stone towers were closest to our campsite, visible from just a short walk away. I was impressed to see that some of the towers had been remade with EU grants, a good sign that Tusheti is getting some attention and support. We filled our water bottles and continued. A local guest house or two greatly impressed us with their handmade wood furniture and veranda overlooking the old town, and we complimented them on their craftsmanship and wished them every success in the future, which they certainly deserve.
Our timing was about perfect: another day might have seen Dato more challenged with snow, although he does drive in Svaneti in winter, so it could hardly be his undoing. The pass at about 2900m did give some snow on the road, and several more herds of sheep being taken down for the winter, guarded by horsemen and by dogs of generally fierce reputation. We avoided approaching these, and I saw that the iconic "large flock of sheep on a Tusheti road" image I have in my head was not yet to appear. But it will wait.
The snow gave way to wonderfully atmospheric mist and clouds on the other side of the pass, hiding and then revealing the massive landscapes which will always characterize Tusheti for me. The autumn colors were still magnificent, with little wind having come since two days ago to bring down most of the leaves. Reds and yellows, the green of the conifers in contrast, perfectly clear water in blues and turquoises, black and grays from the slate cliffs. Time after time we requested photo stops, and gasped at these visions.
Another sentinel's face in rock appeared to me, this one much higher in altitude than the one of a couple of days ago, though less clear, chiefly his eye standing out. But there he was, nonetheless, watching over the land we were fleeing. Descend, descend. Winding, winding. We were in good hands.

The road was still mostly dry, which meant not slippery. Dato has been on it more than 10 times just this last summer, so he is thoroughly experienced, just the kind of driver you want on such a road. I would not have the nerves to drive my own car on it, so I was glad to pay him to do this for us. His addition of tents, mattresses, sleeping bags and a gas stove meant that we were well equipped, and more than happy to arrange the food and cooking for us all so that he would not have any need in this department. An ideal partnership, we think.
Out through Telavi, and back to Tbilisi by early evening, to my waiting car in the center of town. Home, our own beds, fond memories and lots of photos of those gorgeous three days. Tusheti cannot disappoint.
BLOG by Tony Hanmer
Tony Hanmer has lived in Georgia since 1999, in Svaneti since 2007, and been a weekly writer and photographer for GT since early 2011. He runs the "Svaneti Renaissance" Facebook group, now with over 2000 members, at www.facebook.com/groups/SvanetiRenaissance/
He and his wife also run their own guest house in Etseri: www.facebook.com/hanmer.house.svaneti2