The long-awaited 240-meter glass bridge over the Tsalka (Dashbashi) Canyon, alongside a plethora of attractions, including a restaurant and zipline, will officially open on June 14. Accepting visitors will start from June 15, although visiting the canyon has been possible since last year. The project was implemented by KASS LAND, one of the companies of KASS GROUP, with Jewish investment.
As Director of KASS LAND, Eka Tordia, told "Business Partner", the entrance to the canyon was built up, boasting panoramic views of the canyon, and a safe and easy 1.5 km long trail leading visitors to the cascading waterfalls within the canyon was laid.
As part of the project, accompanying ecotourism trails were built, and a visitor center, hotel, cottages, restaurant and other tourist infrastructure were arranged in the surrounding area. According to Tordia, at the initial stage, 20 cottages will open, and this number will increase to 62 in the same season, while the hotel is set to open next year.

Visitors will be able to see the canyon on the same principle as it is possible to see the Martvili and Okatse canyons.
Tordia notes that entrance to the KASS LAND side of Tsalka Canyon requires a ticket. "From June 1, prices will be renewed as the whole area opens up. Discounts will apply to residents and Georgian citizens," Tordia said.
At the initiative of the Agency of Protected Areas of the Ministry of Environment and Agriculture, an electronic public auction was held to lease the Tsalka Canyon, through which, in 2019, the object was handed over to the Jewish company KASS LAND.
The investment cost of the project is 120 million GEL.
"Georgia is a very friendly country to Israel and is full of entrepreneurial potential in many areas," says Hilik Bar, an entrepreneur-partner. "It is also rich in attractive natural resources, which contributes to investments in the development of tourist destinations, nature and the environment.
"It is a very popular place for Jews and other tourists from all over the world and we are very proud of the completion of this unique and huge project that will attract international level visitors to this incomparable land. It has been created entirely by Israeli entrepreneurs together with Georgian professionals. We believe in Georgia's potential, as well as in strengthening the business partnership between Georgia and Israel," Bar notes.
"We are proud that Israeli investors are leading international projects in foreign countries, and Georgia is special among them," added entrepreneur-partner Yossi Sagol.
Those planning a family vacation can enjoy the wonders of the place as they would in any country in Europe
Within the framework of the project, the construction of villas will start in Tsalka. Director of "Issta Real Estate" Shimon Sibon told us more about it.
"Tsalka project is a merger of tourism and our company," he said. "Georgia has a convenient location for international tourists. Those who are planning a vacation with the family can enjoy the wonders of the place as they would in any country in Europe, and relax in a comfortable, ecologically clean forest and beautiful scenery, 35% cheaper than in Europe. Flight duration [from Israel] is also a great advantage for those who plan to travel with children."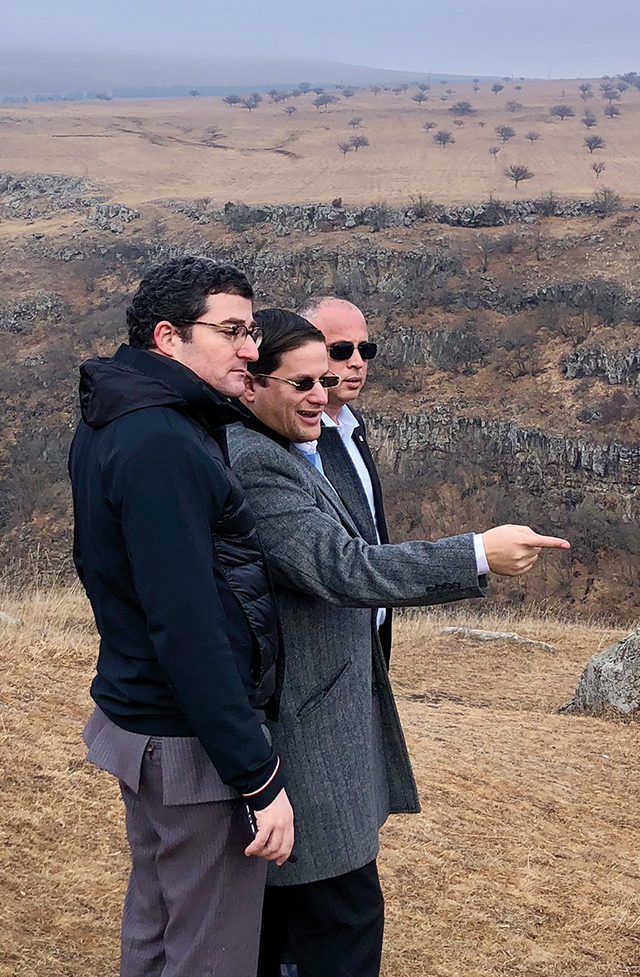 Itsik Moshe, President of the Israel-Georgia Chamber of Business, says: "KASS GROUP's investment is a major event and a change in investment standards in Georgia. The company has turned Periphery into an international tourism hub. This biggest event will be an important step forward for Georgian tourism. We will talk about KASS GROUP's future projects and plans at the Glass Bridge Opening Ceremony. It should be noted that KASS GROUP in Georgia and other countries works with the method of development of Ben-Gurion, which means turning the Periphery into a center of world tourism. The Chamber of Business is pleased and supports the implementation of this volume of investment in Georgia."