If it's the only one in your village, it can still be a game changer. With caveats, of course.
My wife started (more correctly, re-started on the nth iteration, following decades of others) the general shop in our village, from our home, soon after we moved there in 2012. It began very humbly, just a single table the size of a computer desk. But she kept on putting the profits it made back into new stock, businesswoman that she is, and it grew rapidly.
Eventually, we needed a different room, and some shelves. This rather put paid to my dream of all those nicely cured elm planks I'd been storing becoming the house sauna, which wasn't that practical at that point in our lives, fond wish though it was. At least the planks could be of use.
We moved the shop from just inside one door of the house to just inside the other, this being our only expansion choice. Lali's brother came up from Kakheti, and we worked on putting the shelves up together. My father's carpentry and engineering skills are sadly lacking in me, let alone even any interest in these subjects, but with the push of a good pair of helping hands and a practical brain to go with them, I was motivated.
For a while, there was a twice-weekly minivan-bus between our village and the local capital, Mestia, at 3 GEL per one-way 30-km trip; so most people were doing their shopping there, few having either their own transport or the guts to drive the long and winding road 110 km to Zugdidi for much more choice at lower prices. But the van's driver eventually gave up on this, not seeing enough profit in it for his time and the thing's maintenance, so there we were all again, stuck with the Hanmer House shop. Which continued to grow, in its monopoly position.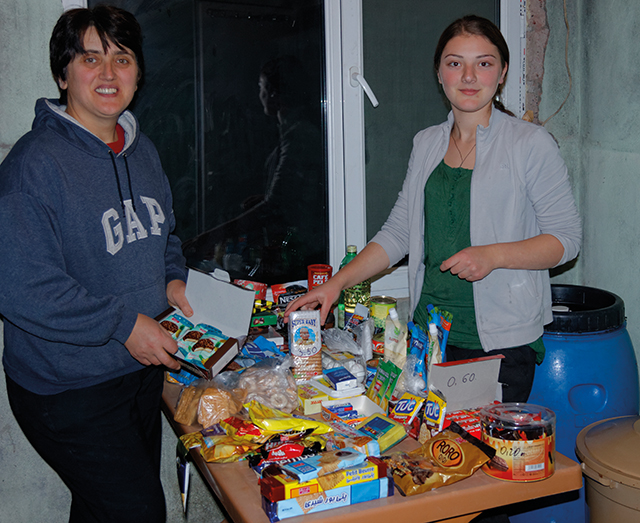 Our experiment with selling wine quickly proved to be a source of more trouble than it was worth, the large local population of "functional alcoholics" showing their true colors. They would come at any hour of day or night, usually already drunk but wanting more. Hating all this, as well as tired out and not wanting to be the cause of any alcohol-fueled violence or deaths, I firmly shut the lid on it before things could turn really ugly. But still for years afterwards, the men would come sniffing around for just one bottle, which after all we must have for our private use, and why not share it! No, just no. My father dying at 78, mostly due to too much beer for too many decades, had also poisoned me against drinking in general, anything more than a couple of glasses at a Georgian feast.
But the shop itself continued to grow, as we added more shelves and filled them. Trips to Tbilisi several times a year now included stops at Lilo Mall, just past the airport, Georgia's massive emporium for everything at the cheapest prices. Electronics, fireworks, rope, potato sacks, rubber boots, children's clothes, school supplies… the categories multiplied. Eventually there was nothing bigger than our shop in the 80 km or so between Kaishi and Mestia.
It changes everything when you can walk to the village shop for most of your daily needs. Especially when you don't have your own car anyway. Also, being two minutes' walk from the school where we taught English meant that even during a 5-minute pause between classes, as the winter breaks were, children would come running up for their snack. Then we had to get on them for thoughtlessly dropping their used candy wrappers or chip bags on the roadside… The arrival of dumpsters near the school a few years ago really helped here, but not 100%, old habits being hard to break and plenty of adults being poor role models for not littering.
We allowed zero-interest credit, and pulled it back to only a select few customers who had proven themselves trustworthy and/or of regular enough income to pay it off in reasonable time. But credit buildup has been the ruin of more village shops in Georgia than anything else I know of. We were only able to keep several thousand GEL of it and not go bankrupt because our other sources of income, especially our house also becoming a big guest house, made up the difference. I urged my wife to abandon credit altogether, despite it being the norm. Once, we even closed the shop altogether for a whole year, in protest. Then reopened, cautiously, with less credit than before. But never back down to zero. My wife kept the books; I ran the thing during the hours when she was teaching, but never as well or with as much heart as she did.

Now we have left the village and province for the whole winter at least, shutting both guest house and shop. Several other village ladies asked for the chance to keep it running in our own home, but my wife declined: they were all mothers of young children, and the time commitment would be too great. We hope that this shop of ours will not have been the last, but we have lots of advice for anyone contemplating making their own go of it, if they will listen. Mostly hard-earned wisdom, but isn't that the best kind?
By Tony Hanmer
Tony Hanmer has lived in Georgia since 1999, in Svaneti since 2007, and been a weekly writer and photographer for GT since early 2011. He runs the "Svaneti Renaissance" Facebook group, now with nearly 2000 members, at www.facebook.com/groups/SvanetiRenaissance/
He and his wife also run their own guest house in Etseri: www.facebook.com/hanmer.house.svaneti