Grab your friends and family and head to the Uplistsikhe cave town just outside Gori on Sunday, June 20, for not only an unrivalled experience of history, museum artifacts, fresh air and wine tasting, but for a sales-exhibition of exceptional artwork and centuries-old traditional craftwork.
Meet Givi Tatulashvili, a 3rd-generation Gori-based Master Potter, presenting both old-style wine drinking vessels and his studio's more contemporary pieces. Also there will be local jewelry-makers, wood-workers, metal-workers, weavers, embroiderers and more!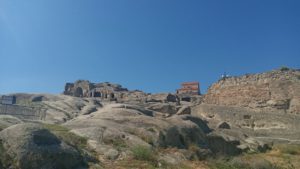 The cave town-museum opens at 10am, while the sales-exhibition area will be open for you to explore from 12pm onwards.