Last week, the situation between Armenia and Azerbaijan became tense again. On November 16, a year after the end of a large-scale conflict between Georgia's two neighbors, border clashes started again, with the parties spreading reports of casualties, deaths and captivity. Azerbaijan and Armenia blamed each other for what happened. The clashes ended within hours, with the truce mediated by Russia. Why did the confrontation intensify? What should we expect from the conflict between the two South Caucasus countries in the near future? And what role will the "mediator" Russia play? These questions are answered by journalist and analyst Neil Hauer, currently based in Yerevan, in an interview with GISP.
What are the reasons behind the tensions that happened at the border a few days ago?
I think it's part of the Azerbaijan strategy, one they have been acting on for the last six months, if not the last year, since the end of the war. Azerbaijan is trying to pressure Armenia into signing an agreement that essentially gives up Karabakh, that says the Karabakh issue is done and it's 100% Azerbaijan. This is what Ilham Alyev has been saying since the end of the war, that "we resolved the Karabakh issue". Even though Armenia, Russia, the US and the EU all say that no, the issue is not resolved, Azerbaijan is trying to do everything it can to pressure Armenia into signing an agreement that says otherwise. Armenia doesn't want to do that, of course, so now they escalated again into a military offensive against Armenia.
What should we expect in the near future?
It all depends essentially on how effective, the EU to some agree, but especially Russia, will be in negotiating with the two sides to prevent this from happening, because Russia is active on the ground there, and has by far the most influence on Armenia. Its troops are in the town of Sisian right now, which is 15 kilometers from where the fighting happened, and there is a Russian base 5 kilometers away. I think if the Russians wanted to stop it, they could stop it a lot faster than they did on Tuesday. On Tuesday, they let the attack go on for about 4-5 hours before they intervened. Ultimately, it all comes down to how far the Russians will let it go.
Russia wasn't proactive about the War for a month and a half. What should we expect from them this time?
I think this is a very different situation because this is not in the disputed territory, such as Karabakh, this is in the Republic of Armenia itself. Armenia is not only a member of the Collective Security Treaty Organization, but also has a bilateral defense treaty with Russia, where both are guaranteed to guard each other's borders and protect their territorial integrity. So, Russia has explicit defense commitments with Armenia to prevent this sort of thing from happening. There is a lot of speculation in Armenia that Azerbaijan is going to try to capture territory and forcefully create a corridor between mainland Azerbaijan and Nakhchivan, but I don't think Russia will ever let that happen because that is extremely different from fighting over Karabakh. If that happened, it would be humiliating for the Kremlin, and even if Russia is an unreliable ally at times, I think that would be going too far for them and they will prevent it from happening.
One of the points of the agreement reached between Armenia and Azerbaijan touches on the Zangezur Corridor. Armenia is postponing carrying it out. Why? How costly could it be?
This has been a big topic of disagreement, because point 9 of the November 10th ceasefire agreement says that all links in the region be unblocked and Azerbaijan will have safe transit between mainland Azerbaijan and Nakhchivan. It doesn't mention a corridor explicitly. For Armenia, the Zangezur Corridor implies that Azerbaijan will have their own control over it and they won't be subject to Armenian border controls. That's what Azerbaijan has been pushing forward, as it is a link that is not subject to any Armenian oversight at all, and Armenia says, no, you can use it, but you have to go through Armenian customs points. The nature of the ceasefire from last year doesn't specify which interpretation is correct. We'll soon see what's going to happen, because the Russians have said that they are going to bring Pashinyan and Alyev to Moscow soon regarding border demarcation. The Russians have made several proposals and all of them are acceptable to the Armenian side, so I think we're getting closer to a resolution.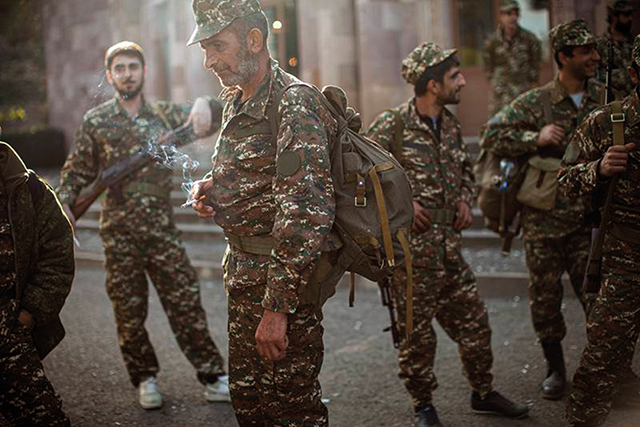 Last time, when there was a war between Armenia and Azerbaijan, it nearly cost the Prime Minister his post. How should Armenian authorities approach the case now and what should they themselves expect in case of further escalation?
It was very difficult politically for Pashinyan, but then there was an election in June and his party won a massive victory. Even if there is dissatisfaction with Pashinyan, with the current political alignment, his opposing side is Robert Kocharyan, who is perhaps the most despised figure in the country, and not an acceptable replacement for the vast majority of people. After the election, a lot of the political tension reduced. It was a clean and fair election, and there was a decisive victory as well. I think we'd have to see something really dramatic, like Azerbaijan capturing Armenian territory, some villages or something like that, for the political situation to really shake up again.
It didn't go well for Armenia a year ago, so what is at stake at this stage for the country? What is the atmosphere generally there? What has Armenia learned?
If there was a full-scale war again, Armenia would lose badly, because it doesn't have a counter. Azerbaijan was trying to provoke a bigger reaction from Armenia so it has an excuse to go another round of war, this time on Armenian territory. For Armenia, it's a very difficult situation, because they don't want to be sucked into that, they don't want to respond to these provocations in a way that will lead to a bigger conflict, a full-scale war again. But at the same time, if Azerbaijan starts launching an attack with artillery like they did last Tuesday, you know, Armenia has to respond. So, it's very difficult position and that's why we see that they are so reliant on Russia at the moment. Except for treaties, Russia is the only one with sufficient force to compel Azerbaijan not to walk in and escalate militarily.
What could you say about regional stability in this regard? What are the chances of solving this process once and for all and how would you assess Russia's potential role in it?
I think we are several decades from a resolution, because of the Karabakh issue. The core problem of the Karabakh issue has not changed despite the war, the status of it is the same as it was before September 26 last year: it is undetermined. Armenia's position is that it has to be determined through the OSCE international negotiations, and Azerbaijan says no, it's done, and Russian peacekeepers are there temporarily and they are supposed to leave within four years. I don't think there's any chance that the Russians will leave in four years, I think they will be there forever, as Russian peacekeepers tend to do when they deploy somewhere. I can't imagine how we would see a resolution to it in the next years.