Interview with Mark Haynes Daniell, businessman, author and regular guest at global business television channels
-The defeat of the Italian rugby national team in Batumi has led to extensive coverage in the European media. How do you think the full value of this victory can captured for the sake of the Georgian rugby?
Because of the positive coverage that you mentioned, more people will be attracted to Georgia both for sports and also for general tourism. I was looking in the English newspapers and noted that Georgia, for the first time, was featured there as a real potential candidate to become a rugby 6 Nations member! This proves that Georgia is one of those very few small countries that has a truly world class sporting capability. If you look at other small countries that have great rugby traditions, this tradition elevates them to a much higher level of global awareness than they would have without this capability: New Zealand, Wales, Scotland and now Georgia can get global positive media coverage because of their great rugby teams and, as a result, increase both sports and general tourism, which is a very valuable opportunity with all of the upheaval in the tourism industry.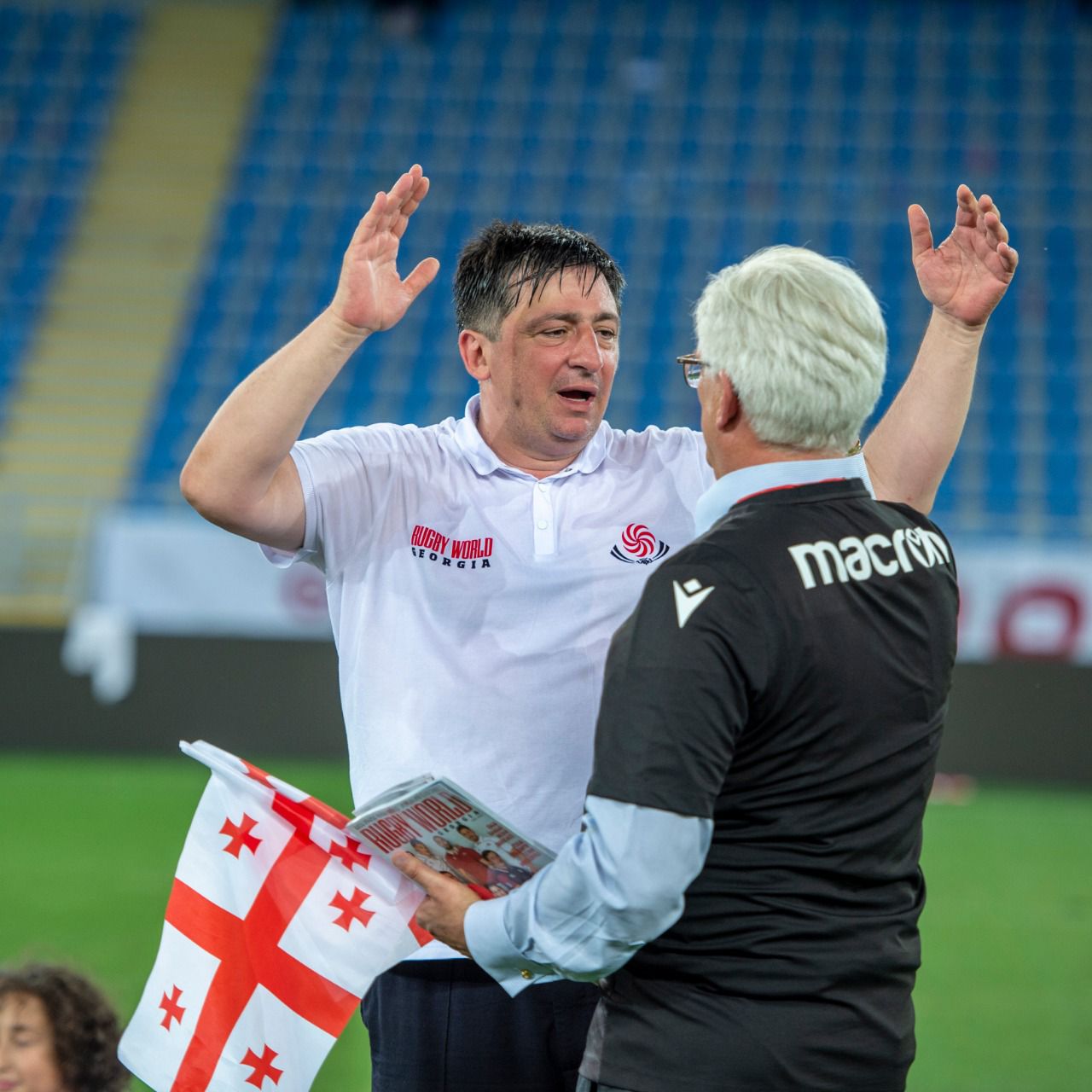 -Perhaps the intention of the national team of Argentina to conduct training for the upcoming World Cup in Batumi is another reflection of an increased stature for Georgia in the rugby world – do you think Georgia can continue to develop in this direction?
The facilities that exist in Georgia are absolutely top class in every way, which provides a wonderful opportunity for foreign teams to come and train in a great environment. It should be both a motivating and inspiring experience for the teams and players that come here to train. Georgia rugby has benefited from an extraordinary program of investment over recent years in infrastructure, building something like 50 rugby facilities around the country, team development and talented player recruitment, which I understand has been provided with the active engagement of Mr Bidzina Ivanishvili, the former Prime Minister and a longstanding supporter of Georgian rugby. This development program is putting Georgia on the global rugby map, which will create many benefits for the sporting, leisure and tourist dimensions to economic development. The national economic benefits from the development of rugby are not limited to ticket sales – an Ernst and Young study some time ago showed that spinoff benefits from a greater engagement with high level rugby can include more travel revenue for airlines, more visitors staying for longer time in hotels, more guests visiting restaurants, often in groups, and more people staying beyond the games to explore a country they otherwise would not have known. The number of impressive stadiums being developed across Georgia is quite remarkable, which creates property development opportunities as leisure, residential and commercial projects follow in areas adjacent to the stadiums, land value goes up, and foot-traffic from relatively wealthy individuals can increase in the area, especially on game days but also in the times between matches. So the investments made over time in developing rugby in Georgia into a high capability sport really elevates a much broader part of the economy than you might think.
– The engagement with Royal families in sport, like the royal family in Great Britain, Prince Albert in Monaco and numerous others can add extra value to the development of different sports across the world- do you think Georgia can also use this phenomena for marketing rugby?
– I believe that royal traditions can elevate activities in many areas of individual and team sport; the presence and encouragement of respected members of royal families can bring both glamour and gravitas to any sporting, artistic or similar event; adding this extra dimension of historical tradition to modern sporting competition can be a real asset for everyone concerned. Rugby traditions are very important at Oxford, Cambridge, Eton – and even at a leading English boarding school called Rugby – where the sport began in 1823, almost exactly 200 years ago. [the Rugby School coat of arms as below] The lessons learned on the rugby pitch have also contributed to the long term success of the country, where it is said that many great British military victories over the centuries 'were 'won on the playing fields of Eton…'
In contrast with the spread stereotype that rugby is almost solely mens' sphere of interest, we saw at least half of the crowd on the Batumi stadium were women, do you think this trend developed can bring even more opportunity for business?
– I do indeed! I took my lady partner to the Georgia-Italy game who is Serbian. It was her first rugby game and she loved it; she is now a rugby fan after just one great match. But the opportunities for women in rugby are not just as spectators. An increasing number of young women are now participating as players as well. Women's sports are a great growth industry, and women's rugby, in Georgia and elsewhere, is one of the most exciting new areas of that development.
And how does awareness of our new rugby successes fit in with how people can view our country? 
– National brands – thinking about countries a bit like products, even though we know they are far more than that – capture the images, traditions, values and ideas a country represents. It is important to build the Georgian rugby brand consistent with the national brand, because they can work well to complement each other.
It is worth remembering that you only get one chance to make a first impression and, as Georgia rises to the top of the rugby world for the first time, it is important to position both Georgia and Georgian rugby in a thoughtful manner. Newly increased interest in Georgian rugby, from both within and outside the country (with expatriate Georgians being a particularly relevant group), can reinforce identity and pride, and also stimulate interest in economic and other aspects of Georgia reaching well beyond the borders of the playing field.
This new opportunity can showcase rugby, but can also provide a platform to bring the Georgian nation, traditions, history, images (the national flag is a treasure as it is exceptionally striking and memorable) and the opportunities to explore in sports and in the broader economy. Recent successes show how well suited Georgia is for rugby, and a broader effort in awareness can also show how rugby can be great for Georgia.
The leadership team for the sport here is very strong – the very dynamic Soso Tkemaladze is doing an excellent job along every possible dimension as the current President of the Rugby Union of Georgia: without doubt he is the right man for the job and will continue to lift the level of the game, the impact of the sport on the country and the full set of benefits the sport can bring to the country in the international arena as well.
– Apart from the rugby economy, how do you asses the state of the Georgian economy in the whole, how optimistic are you about its future and where do you see the perspective for growth?
– Lots of great questions! I am, on the whole, very optimistic about the future of Georgia.
Right now the whole world is facing a number of issues as a result of the pandemic, the war in the Ukraine, increases in inflation and other national, regional and global challenges. Georgia is confronting these challenges well, achieving double digit growth rates in many areas, ten times the rate of growth of the UK, for example, in comparable areas.
There are opportunities for investments, for example in infrastructure, clean energy, import substitution, and new initiatives positioning Georgia as a regional center for financial services. In addition, among a long list of attractive areas to explore, agricultural development, private equity funds for growth capital, technology oriented businesses, e-learning and what I call 'purposeful tourism', travel in the country that has a focus on a particular area like rugby and other sports, culture, wine and healthcare.
I believe Georgia, with its increasing GDP, pro-business government and wonderful set of natural resources, is a great country in which to live and do business; that's why I became a citizen of this country last year. I am a very proud new Georgian myself and have also spoken in the past about opportunities for investors in Georgia on CNBC and other international media channels. I will continue to highlight the opportunities here to both existing and potential investors, and to continue to do what I can to support the development of rugby as a key element in the future success of the sport and of the country.