By Helena Bedwell.
I truly believe that street dogs in Georgia have made a more positive impact on tourism and the image of my country than people and culture alone. If anything, these adorable creatures should be the symbol of the capital, kind of like the cats of Istanbul.
While stray dogs are a no-no in many developed countries, it has become somewhat normal here for some reason. In my childhood, dogs of breed were a rare luxury due to the communist regime restricting the varieties, but I do remember every household in the villages having at least one or two in their yards barking away. Then something happened: economic turndown, political turmoil and rapid changes in the post-soviet era, and still that soviet-mentality and wanting foreign breeds- it all made people very cold towards our little friends.
I am sure everyone who reads this would agree that our country is hell for the husky breeds, labradors and hunter dogs, due to its totally unsuitable climate, lifestyle and the wrong choice potential owners make when choosing their companions. When I came back to Georgia after almost 10 years of absence, I was shocked to see so many abandoned animals on the roadsides.
The villagers could not fully explain why they never wanted those dogs indoors while still having idioms like "You have a dog's luck" in their vocabulary. The majority of the public still strive to have them but refuse to accept crossbreeds; they simply abandon them or put them in the shelters in the best-case scenario. I've heard some urban legends on why religious people avoid dogs, but at the same time, I see priests and clergy owning expensive bred dogs, so this mystery to me is unsolved. As experts explain, the abandoned crossbreeds spread fast in the streets and the Tbilisi street dog was born. To make matters worse, there are simply no rules or regulations on puppy mills, commercial or personal ownership breeding, nor does anybody get punished for abandonment.
Almost every district in Tbilisi, Kutaisi, and Batumi, and almost every region of Georgia has their own colorful stories to tell of a local pooch or a feline living in the streets and quite accustomed to the situation. Think of Kupata, the chubby black and white crossbreed in the streets of Batumi, which captivated the hearts of global social media for helping kids to cross the zebra crossing safely.
Think of Chorna, the old, chubby dog living near the flower market in downtown Tbilisi.
And everyone knows Salvador, the old, almost blind dog living near a famous ice-cream parlor. He doesn't like ice cream, but he does love the affection from customers.
Recently, I met Marco through a very kind, young girl called Taso Losaberidze. Marco is a beautiful, blue-eyed chocolate labrador crossbreed which Taso sheltered in her neighborhood in Gldani almost two years ago. At first, Marco appeared to be an obedient dog, but suddenly he started jumping on public buses and traveling across the city; this dog regularly rides a bus alone to take himself to the airport, cafes, hair-salons.
"He's a travel-loving dog, that's why I named him Marco, in honor of Marco Polo," Taso tells me. She says that Marco had a special tag on his ear. Sometimes, she gets calls from the municipality to alert her that Marco has decided to stay in Vake for a week or two. But he's not likely to stop for long. Marco even has his own Facebook page to update followers on his adventures and help his guardian find him quickly.
Taso writes on his page that Marco is smart enough not to create any havoc in shops and other public venues, and doesn't get into any trouble. He is also very disciplined when crossing the busy streets, so police officers won't fine him.
There are plenty of adorable stories about dogs similar to those mentioned above; the list is endless. And some are harder to hear. I personally met the wonderful duo Masho and Misho, also known as Custard and Cream, in the streets of Bagebi two years ago when I bought an apartment there. These cream-colored dogs had been tagged and had lived in the neighborhood for years, but it seemed more residents disliked their presence than enjoyed it. Every evening, my husband and I would go for a walk with them after dinner in the nearby park, where we would sit on the bench and talk to them in Georgian and English. It was fascinating how the street dogs showed a strong desire to be near humans, despite having experienced the cruelty of others who never welcomed them. When cruel neighbors decided to destroy the wooden house I had put up for them to spend winter in the warm, I decided enough was enough. Today, Custard lives with her new wonderful owner Sophie, who adopted her gladly, and Cream is living happily near Lisi Lake, hanging out with new friends.
I believe no-one should live outside a comfy home; not humans, not animals, unless they are born wild in the forest. There are several organizations, charities, individual groups and activists, like myself, helping them. Unfortunately, the number of street dogs is not decreasing, and according to the unofficial statistics given in 2015, there are up to 46,000 stray dogs and cats living in and around Tbilisi. According to Jano Japaridze, Head of the Tbilisi State Municipality Shelter, around 26,000 of those have been tagged, neutered and vaccinated.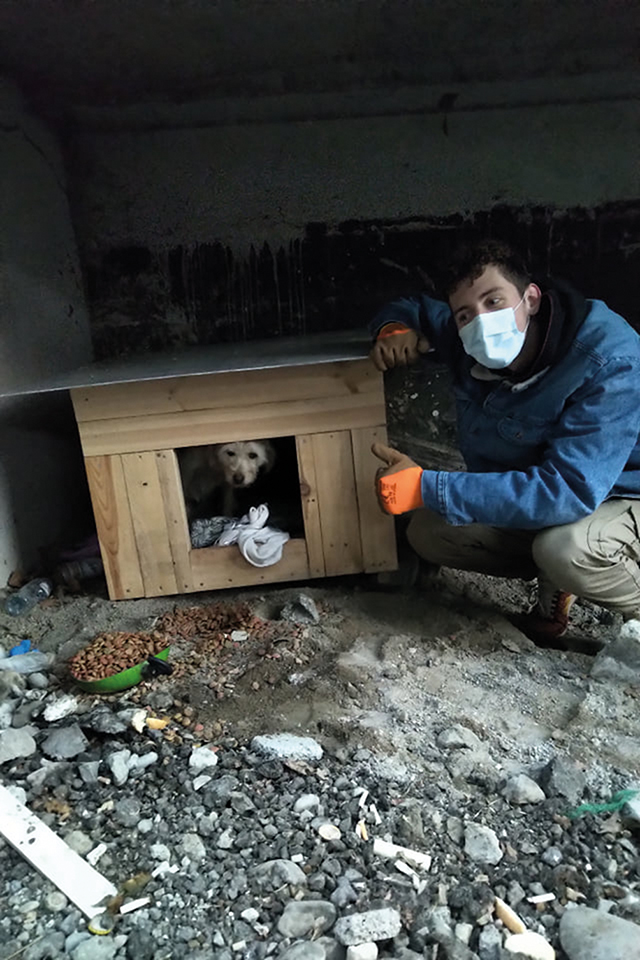 As much as I like the tourists adoringly patting the dogs in the streets and allowing them to eat at the roadside cafes, it still bothers me to portray a country of such high culture and history as a place of ill-treatment of dogs and cats. Unless awareness begins from a young age, no actual laws will be helpful. The love of animals should start in childhood and right now, to eradicate Georgia's stray dog problem.
I remember seeing the famous movie 'Mimino' by genius director Giorgi Danelia. The movie was about a Georgian pilot who decided to try his luck in larger planes during soviet times; about his love of his homeland and everyone who had ever been to Georgia. I recently found out that the small dog 'Zarbazan,' featured in the movie, was actually a stray dog. The movie director had spotted him near the set and decided to put him in the movie. Zarbazan gave the best dog performance of all time and got adopted by the director himself after the movie was shot.
That's the kind of happy ending I'm talking about.
By Helena Bedwell