The International Republican Institute's (IRI) Center for Insights in Survey Research conducted its first nationwide poll of Georgia since the 2020 parliamentary elections, revealing widespread economic concerns and decreased satisfaction with the government's COVID-19 response.
These findings come as the ruling and opposition parties struggle to forge a consensus on the path forward in the wake of the contested elections last fall.
"Over years of polling, Georgians have distinguished themselves by their consistent optimism," said IRI Regional Director for Eurasia Stephen Nix. "That now seems to be changing, with citizens increasingly anxious over the economy, the pandemic and the country's recent political crisis."
Based on the poll, 76% of citizens think Georgia's economic situation has worsened either "somewhat" (37%) or "a lot" (39%) in the past year. At the household level, 63% state that their economic situation has worsened, and 71% describe it as either "somewhat" or "very" bad.
Moreover, unemployment tops the list when asked to name the most important problems facing their country (65%), their town (41%) and their household (34%).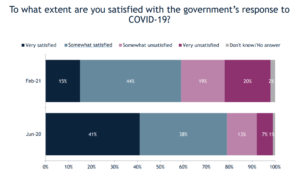 Regarding the pandemic, 59% of Georgians are either "somewhat" (44%) or "very" (15%) satisfied with their government's overall response – a 20-point decrease since IRI's June 2020 survey. In terms of the economic response specifically, 45%, as opposed to 56% in June 2020, are satisfied with the government's efforts to address the economic fallout of COVID-19.
By Ana Dumbadze