Foreign investment remains one of the fastest growing facets of the Georgian economy. This year, the Swefland Group's first international investment conference was host to some of the leading foreign investors, connecting them with Georgian business and government representatives. Swefland Group is a leading real estate developer in Georgia focusing on serving the Middle East and North Africa region.
With the goal of re-stimulating the economy through this investment avenue, the event hosted more than eight keynote speakers from the EU, China, and Middle East. Included in this portfolio are many investors that have already made considerable investments in Georgia and attest to the fertile nature of Georgia's business and economic environment.
The CEO of Sweftland Group, Mahmoud Sami, spoke with GEORGIA TODAY prior to the event, outlining his expectations and describing the vast increase in demand by investors.
"Talking in numbers, Swefland Group is expecting to recruit more than $224,000,000 in Georgia. By visibility studies and the calculations of our investment department, we are inviting more than 25 top-level investors who are interested in increasing their investment wallet in Georgia," he said in an interview with us on December 23.
The investment conference "Invest Hub 2022", held at the Sheraton Grand Tbilisi Metechi Palace, welcomed almost 100 attendees from around the world. After brief introductions by some of the hosts, the first speaker was Zhao Yinong, the Chief of the WTF in China. The Chinese investment model in Georgia, with an emphasis on trade and the Belt & Road Initiative, are what lie at the heart of his East-West investor vision. China has already invested billions in infrastructure and trade projects in Georgia, a testament to the lucrative opportunities in the nation.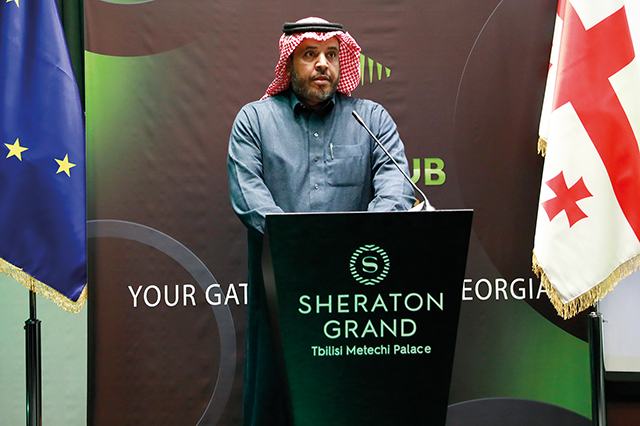 Following his presentation, Ilia Tamarashvili, head of Rural Development Agency, spoke at length about the potential of agricultural investment opportunities. With Georgia's vast and fertile farmland space, the opportunity for both direct agriculture investment as well as farm equipment programs gives those interested in non-urban development plans much to consider. The co-investment, with assurances from government programs in technology, particularly dairy modernization initiatives, also open the way for more Rural Development Programs through the United Nations Development Program. In addition, this expands into further non-agricultural entrepreneurship development programs for small municipalities and towns.
The Deputy Minister of Justice, Akaki Saghirashvili, covered many of the legal considerations investors were assured were keen to learn about investing in Georgia. From the freedom of economy and the Free Trade Agreements Georgia has with both the EU and China, to the simple ease of administration services online, he outlined that getting started in Georgia was very easy. Through advancements in the corporate law structure in the country, a focus has been put on protection of investors, a key topic for the attendees. Harkening back to the subject of land and rural development, the registration of public and private land has been an ongoing campaign for his office, one he now says is a success story, bringing more land development opportunities to those interested.
Hynek Cech, one of the founders of the REGI Base Foundation, introduced his veterans' charity fund and plans for a special treatment facility in Tbilisi. REGI Base, a nonprofit organization based in Prague, Czech Republic, provides vital medical and rehabilitation services to many of NATO's military service members wounded on operations abroad.
In connection with Georgia's central location to Europe, the Middle East, and parts of North Africa, REGI Base intends to open a facility adjacent to the airport in Tbilisi. This facility, shown in Cech's presentation in impressive detail, offers both a care center as well as aircraft parking facilities for special medical flights carrying the wounded warriors out of harm's way. In addition to the center, a special visa status for the facility is planned, allowing faster and easier transportation of both the wounded soldiers and their loved ones. Alongside robotic technology for rehabilitation of the patients, Czech medical staff will further make this hospital the first of its kind in the region.
Closing this presentation, Swefland Group and REGI Base gathered around to sign a memorandum of understanding which outlines the bilateral goals of each organization and a plan to work together to accomplish the investment backing and a completed facility.
With this, Swefland Group representatives took to the stage to outline their housing development plans in Georgia. Being one of the largest developers in the region, their insight into both urban and rural planning showed a keen understanding of how to attract foreign interest.
Their rural development plans involved new housing plots complete with self-sustainment measures. These measures ranged from the extensive use of renewable energy sources such as solar and wind, to clean building materials and waste management practices. Moving into the urban centers, these practices are mirrored, showing new urban housing plans for luxury apartments with modern and clean amenities.
Another project of Swefland Group is their unique radio station. Mtsvane Kalaki, or Green City, Radio is set to be launched in the coming year, delivering traditional programming such as music and talk shows, with an aim at bringing "green" or renewable ideology to the public attention.
Yet another set of ventures of the group is the Tourzilla tourism company and the FC Gardabani sports program. Tourzilla is structured to be a full-service tourism service, bringing tours for both private and corporate clients, travel advice and planning, hotel and car bookings, as well as complete start-to-finish travel bookings. FC Gardabani is a large-scale youth sports and wellness program aimed at keeping Georgian youth active and healthy through various intramural athletic activities.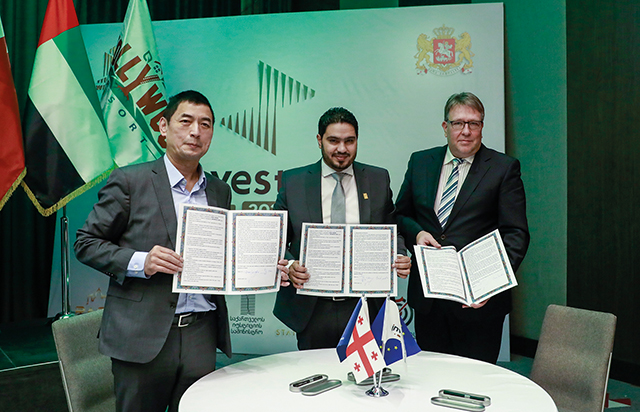 The event's VIP, Mr. Hussein Al-Shahrani, followed these with his experiences and outlook from his time investing in projects in Georgia. He shared his insight from starting out to growing his portfolio and wallet size in the nation, as well as his outlook for 2022. His exact views cannot shared in this piece as he spoke only in his native language, Arabic.
Following this, Mikheil Tarakhchev shared the benefits already in place and projects already underway that would ease any apprehension in the investor's minds. Tarakhchev's organization, the Cross-Cultural Communication Center, is the link between foreign investors and local business and government representatives. His description of the current infrastructure projects is such that they are a sign of a healthy investment environment, as well as the current Free Trade Agreements with both the EU and China. Free Investment Zones and Free Trade Zones act as further enticing incentives for the prospective investors, particularly in the energy and real estate sectors. Alongside these, he characterized the taxation situation in the country as "low, efficient, and fair" and the existing labor force as "young" and "skilled."
Closing out, Swefland Group representatives again took to outlining an additional project they aim to launch. The so-called "Hollywood Resort" project is a multi-purpose development project that contains multiple facets of all the aforementioned presentations. Combining rural upscale housing, sports, commerce, and arts components, the resort is designed to not only offer amazing lodging but also jobs and green environment initiatives outside of the major city centers.
The project is located at an approximately 30-minute drive from the capital and stands to bring millions in investment dollars, over 1800 jobs, and community services for new and existing local residents. A hotel with over 100 rooms on a 50,000 square meter structure is planned to complement this, along with special amenities for prospective film companies looking to bring their projects to Georgia.
Closing the event, Swefland Group and Oplus Ecosystems, the company behind the marketing to international customers, signed a Memorandum of Understanding to complete this project together. Combining the real estate development with the investor attraction model, they begin their relationship towards a new endeavor in Georgia.
With the presentations concluded, the attendees were left to network and mingle, eager to converse about their businesses. The investment pitches surely left their mark, with such fantastic imagery and 3D rendered images of what is to be, something Georgia's leadership, many of whom were in attendance, will be eager to engage in when assessing and accepting new investment activity. Georgia will need these foreign activities to grow at the rate they so dearly desire and, coupled with the prospect of integration into NATO and the EU, this only stands to catapult the country and her citizens ahead of other regional neighbors.
By Michael Godwin