Why not have an employee enjoy the sun during their work hours? Valentina Bagniya, Chief Marketing Officer at SOFTSWISS, a global IT company, discusses her management approach.
Modern large-scale international IT firms are evolving into complete corporations with ambitious global objectives. They consist of numerous departments responsible for crafting distinct products for a worldwide customer base. In recent times, the iGaming sector has emerged as a distinct realm that has swiftly progressed. As competition intensifies, the battle for clients and the establishment of robust brands becomes increasingly important. What is the significance of a well-structured marketing department in this context? What are the strategies for achieving success when a considerable portion of the team operates remotely? Furthermore, why should errors in work be viewed not as setbacks but as opportunities for development?
In this interview, Valentina Bagniya, Chief Marketing Officer at SOFTSWISS, an international tech product company with operations in Malta, Georgia, Poland, and Belarus, shares her insights. Right now, the company has more than 1,400 employees around the world, and regularly wins important awards, including the prestigious 'Workplace of the Year' award.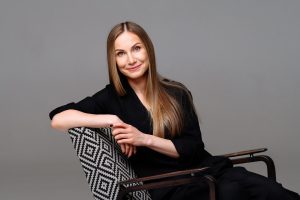 – Valentina, when you came on board at SOFTSWISS, there was not a marketing department in place. You had to build everything from the ground up. Could you tell us about the difficulties you faced on that journey?
– It was a new experience for me, but the challenge was really motivating. Instead of rushing into hiring people, I started by creating a plan. That is the most crucial step, in my opinion. By having a clear understanding of the business and marketing goals, I could figure out the specific skills, roles, and tasks we needed in the team.
Alongside the plan, it took me about three months to form a core team of employees who could tackle the initial important tasks. As we got into the daily routine, it became evident which areas needed more support. Because our industry is complex, I chose to minimise our use of outside contractors and handle most tasks internally. Finding skilled external professionals is tough. They either come at a high cost or their expertise is questionable. They juggle many clients, so they can not fully focus on your needs, which affects the quality.
Initially, I aimed to keep the SOFTSWISS marketing team small, maybe around 10 people. However, 2.5 years later, we have grown to a team of 41.
This period brought a lot of changes. As the company expanded rapidly, so did the marketing department. At first, I was focused on hiring people who could get things done efficiently. Now, I am looking for team members who can make strategic decisions and take full responsibility for outcomes, good or bad.
Is the team fully established now? Our market is growing fast, especially in the fast-paced and trend-driven marketing field. With the industry always evolving and new competitors appearing, coupled with our company's ongoing expansion, we regularly face fresh challenges and tasks. So, we can not really say things are set in stone. Instead, we will keep adjusting our processes, prioritising internal communication, and boosting the team's overall efficiency and marketing performance. This evolution will remain a constant part of our journey.
By the way, one of the main qualities we look for in candidates joining our company is their comfort with change. Stability is not really a thing in our industry. Now, being adaptable to constant change has become the new norm. When everything seems perfectly stable, that is when we need to be alert. This is a top trait I consider when bringing people into the team.
– How can we identify individuals who can easily adjust to change?
– I tend to pay less attention to candidates' expertise in specific tasks or their past work history, assuming they already have the necessary professional skills to have reached the interview stage with me.
Typically, I steer the conversation towards questions that offer valuable insights. What aspects of our company and this role pique your interest? What do you expect from both your employer and yourself? What achievements are you proud of? What are your strengths and areas for improvement? What weaknesses might your previous supervisor point out? Can you share your successes/failures and the lessons you have learned? These questions help me evaluate a person's adaptability, their openness to change or maintaining their viewpoints, their sense of accountability, and their tendency to attribute failures to others.
– When introducing new team members, what do you prioritise more: everyone's comfort or the new person's problem-solving ability?
– It is crucial to understand that despite impressive professional skills, negative behaviours from a candidate, such as creating a toxic atmosphere, spreading discontent, or resisting positive changes, can significantly impact team morale. This can make it challenging for me to keep the team motivated. As a manager, my foremost goal is to foster a comfortable and motivating work environment that not only promotes teamwork but also enables the efficient tackling of business challenges.
Therefore, when selecting the ideal candidate, I place a strong emphasis on their personal qualities. Individuals who demonstrate strong moral values, good manners, a willingness to take ownership, adaptability, flexibility, and a desire to learn can be trained to excel in various roles, even with minimal or no prior experience.
– Could you tell us how the marketing team works in a big global company, like SOFTSWISS? And how do you figure out if the things you do are working well?
– Our department now has seven smaller departments, each focusing on specific tasks and ways to promote things. This helps us not just spread the word about our brand, but also make our company a great place to work. Our team that works on our brand takes care of our strategy, our perception in the market, and our visual identity. We also have separate groups for PR, events, and digital work. Each of them is really important, especially when we are trying to reach certain groups of people. We also have teams that make really good content for reading or viewing, along with others specialising in analysing extensive data to help us make plans. Recently, we made a team that comes up with new and cool ideas to showcase our products and brands.
When it comes to how we do things, we plan out our strategy for a whole year. The time from September to November is super busy because we are looking at how we did this year and making plans for the next one. We also have plans for each quarter and month, with clear goals for everyone in the marketing team. We watch these goals closely to see if we are doing well. We also have big goals that everyone in the company works toward. Each person on the team helps us reach these important goals and be successful overall.
– In one of your previous interviews, you mentioned that the marketing team at SOFTSWISS is something you are really proud of. But, of course, work does not always go perfectly. So, how should a manager handle mistakes?
– Everybody makes mistakes occasionally. I strongly believe that mistakes can actually teach us a lot and help us get better. During times of success, it is easy to overlook reasons behind our achievements and attribute them solely to luck.
At one point in my career, I was aiming for growth and thinking about leaving a big global brand for another company that offered me a great opportunity. I talked to the General Manager before deciding. He told me that becoming a true marketing professional takes more than just a few successful projects. It involves going through a lot of different marketing experiences, each lasting about a year. This idea really stuck with me. Some years might be really successful, while others might not be. To get better, it is important to carefully look at these different experiences, figure out what made them good or bad, and learn from the mistakes we make. This self-reflection is really important for getting better. By the way, I ended up deciding to stay with the company.
It is not about making excuses or trying to defend ourselves when things go wrong. It is about being brave enough to say, 'I messed up, I was wrong'. Having this attitude is the first step to really growing and getting better.
In a company where people generally think that success is just a fixed thing, employees tend to avoid challenges and give up when they fail. They try to hide their mistakes and blame others so they do not have to admit they did something wrong.
But in companies that believe in growing and getting better, it is a different story. No matter what happens, the main focus is always on improving. Mistakes are seen as chances to learn and grow, and we see them as important steps in getting better at our jobs and as individuals. Besides just realising where we went wrong, we also learn important lessons from them. We use these lessons to stop the same mistakes from happening again and to keep moving forward and getting better.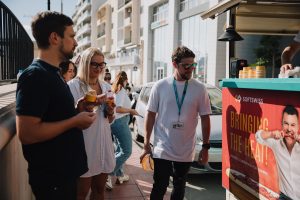 – There are many different ways to manage teams. A manager can be a mentor, a boss, or someone who delegates tasks. Do you follow any specific way of managing?
– It is more like a mix of my knowledge and experience. People are all different, even when they work together in a team and believe in the same things. Each person has their own strengths. So, there is no one single way that would work for everyone. For some team members, it might be best if I tell them exactly what to do. For others, it might be better if I work together with them to figure things out.
On the whole, I believe in letting people take on responsibility. I want my teams to really take on their role in making our company's big ideas and goals happen. But they will not really do that if I am always telling them what to do.
– How does it feel to oversee multiple offices in Europe and have most of your team working remotely all around the world at SOFTSWISS? What is it like to communicate with colleagues mainly through screens rather than face-to-face?
– When it comes to remote work, managers often worry if their team members are really working or just relaxing by the sea during work hours. But for me, it is okay to let them enjoy their time! What truly matters is that they handle their tasks well and get things done efficiently.
When I formed the SOFTSWISS marketing team, remote work was already a part of our lives. Of course, it brings some challenges. When everyone is in the same place, there are more chances to be involved in processes, share information, learn together, stay motivated, and be productive. However, I see remote work as something modern and necessary, especially for a global company.
At the same time, I feel really happy when I have the opportunity to meet my colleagues in person. Those meetings are truly valuable. When you can talk face-to-face, share jokes, have conversations, and even take a walk together, it brings us closer and creates a stronger sense of unity, something that can not be achieved through a computer screen.
It is important to recognise that remote work has its own benefits. You can go to the sea, swim in the morning and evening, and work during the day while looking at the waves. This kind of setting can inspire you and give you energy. Speaking of SOFTSWISS, our team members live in various places like Malta, Spain, Italy, Argentina, and many other countries. It is not without its challenges, but it brings diversity that helps us see familiar things in new ways. And this fresh perspective contributes to more effective work.
– Do you think that job seekers in the IT industry have shifted their priorities in the past few years? Nowadays, they seem to be more focused on working with professionals, growing in their careers, and finding fulfilment in their work rather than just concentrating on the salary.
– There was a time when people were drawn to the IT industry mainly because of the potential for high salaries. As more companies started offering competitive pay, job seekers had more options to choose from. Benefits related to comfort, happiness, and work-life balance became important for keeping and attracting talent, sometimes even more important than money.
Now, it seems like the trend is changing again. The qualities I mentioned have become the new normal, and companies that do not offer good relocation policies, extra time off, bonuses, or other incentives struggle to attract new employees. These perks have become the standard expectation, and without them, companies lose their appeal. While these benefits are still crucial and often taken for granted, financial motivation is becoming important again. It is as if the industry has come full circle, and is going back to its origins. As a result, companies now face an interesting challenge – how to make their work more appealing and captivating. This can be achieved by working on special projects, encouraging innovative ideas, and creating a strong sense of connection to the outcomes they achieve. Embracing this new approach will help companies remain competitive and attractive to potential employees in this ever-changing landscape.
– Are you well-versed in the histories of major industry titans such as Google and Apple? Are there noteworthy role models that you find aspirational?
– Definitely! I have read all the popular books that delve into how teams within these major brands came to be successful. And what have I discovered, you might wonder? Well, on their journey to becoming famous, each of these incredible teams faced huge challenges — complexities, changes, difficulties, layoffs, shifts in strategies, and more. Take Steve Jobs, the famous leader of Apple, for example. He was actually fired from his own company. I remember learning about this when I was studying for my MBA, and I was really surprised.
But the interesting thing is that all these big companies managed to overcome their problems and grow even stronger. I really wish there were books that could teach us important lessons from business failures. Also, it is important to remember that just because we read about strategies from companies like Google and Apple, it does not mean we should copy them exactly. We have our own unique mindset, and we are building our business in a different time. To succeed, we need to look at our situation in a fresh way and come up with our own solutions.
– Could you share the recent success of the SOFTSWISS marketing team at the EGR Marketing Innovations Awards 2023? Which project led to this win?
– Absolutely! We won this award by coming up with a really creative idea that was inspired by advertising campaigns for products in the fast-moving consumer goods (FMCG) industry. What made it even cooler was that many of our employees had experience in this area, so they could use their skills easily. The thing is, marketing in iGaming (online gaming) is still changing and growing, so we decided to do something different. Our main goal was to make more people aware of SOFTSWISS in Malta, which is a hub for our industry with lots of people working in iGaming.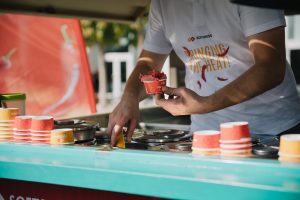 We chose to use a hot pepper as our main symbol, along with the slogan 'Blazing in'. And to get noticed, we stepped out of the usual and tried new things in B2B marketing. We put our message on the radio, buses, billboards, and even in prime spots at the Malta International Airport, where lots of iGaming professionals pass through. We even handed out unique spicy ice creams, like chilli mango and strawberry chilli — matching our SOFTSWISS colours of yellow and red — right outside the offices of potential clients.
We also featured important leaders from SOFTSWISS, including the company's founder Ivan Montik, in a really cool photo shoot with those fiery peppers. Those photos went on billboards that got a ton of attention. This whole project was a true team effort, and everyone had a great time working on it. And the best part? We did even better than we expected, surpassing all our goals. This achievement brought our team even closer together, and our colourful campaign caught the eye of nearly everyone.