The Ministry of Economy and Sustainable Development (MoESD), with the support of the European Union (EU) and KfW development bank, and in partnership with the German independent energy consulting company GOPA intec, hosted a large-scale public event, "Georgia's Sustainable Energy Day" as part of the Georgian Energy Sector Reform Project (GESRP) on June 23 in Tbilisi's Dedaena Park. The event was supported by CENN and Tbilisi City Hall.
At the core of the event is the EU's commitment to promoting energy efficiency and renewable energy in the European neighborhood where the Energy Community, with Georgia as a contracting party, has in place a goal to achieve a climate-neutral economy by 2050.
Key elements supporting this include the European Green Deal, which aims to transform European economies in alignment with the Paris Agreement and the UN 2030 Agenda for Sustainable Development. The Green Deal strives to establish a sustainable economy within the EU and the Energy Community by harnessing climate and environmental challenges as opportunities. It also emphasizes a just and inclusive transition for all stakeholders.
Furthermore, the implementation of new legislations and regulations plays a vital role in helping the neighborhood countries reach their energy and climate targets. These measures focus on reducing greenhouse gas emissions, increasing the utilization of renewable energy sources, and improving energy efficiency. Additionally, they aim to empower consumers, enhance energy security, foster innovation, and establish fully integrated and competitive energy markets within the EU and the Energy Community.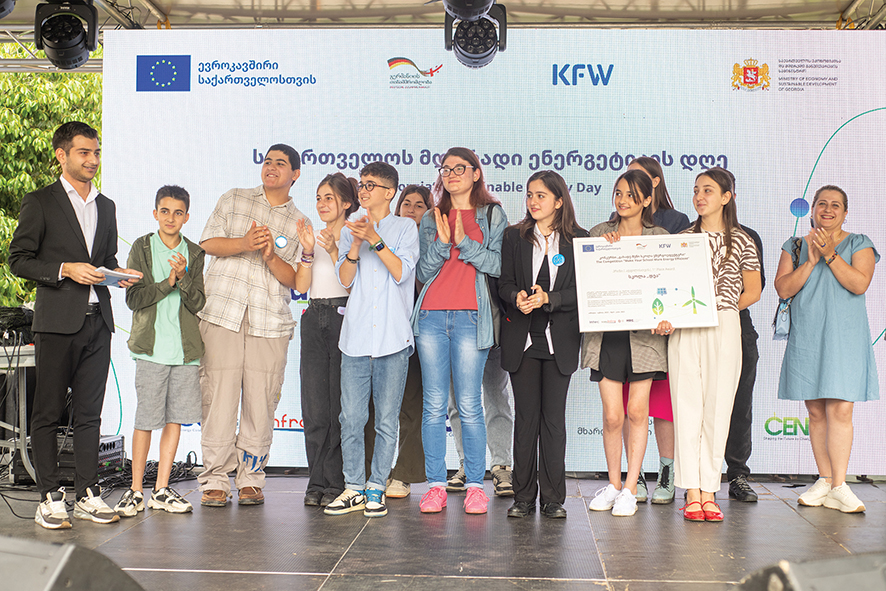 As part of this direction, the Sustainable Energy Event sought to encourage Georgia's development towards these goals of a green economy, promoting energy efficiency, and raising public awareness of alternative and renewable energy. The event offered an exhibition of energy-efficient technologies, educational seminars and a plethora of entertainment programs.
Representatives of different state authorities, the private sector, international institutions and donor organizations, school students, teachers, and other interested individuals united to explore everything on offer at the Energy Day event.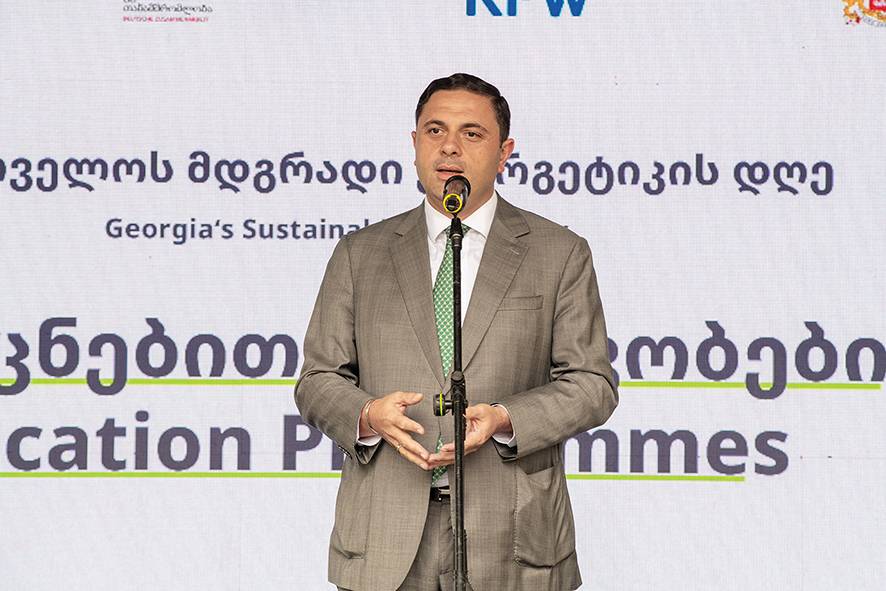 Attendees were welcomed by Romeo Mikautadze, First Deputy Minister of Economy and Sustainable Development of Georgia; Borko Raicevic, Senior Energy Efficiency Expert at the Energy Community Secretariat; Mzia Giorgobiani, Deputy Minister of Regional Development and Infrastructure of Georgia; and Ekaterine Guntsadze, Deputy Minister of Finance of Georgia, who recognized the importance of building an energy-efficient, sustainable economy, and thanked the companies and individuals involved in the process of raising awareness of "green solutions."
One of the most exciting and important parts of the event was an award ceremony for the "Make Your School More Energy Efficient" competition, as part of which, three winning Tbilisi schools were awarded by the GESRP project with certificates and cash vouchers to purchase energy-efficient technologies for their school buildings. The pupils of these three schools won by drawing up and implementing the most diverse and creative activities during their in-school energy efficiency awareness campaigns.
Romeo Mikautadze awarded "Dea" school, the winner of the competition, mentioning in his speech that the campaign was among the most outstanding projects in raising awareness of green solutions, which is important from a young age.
The second place in the competition was taken by Public School #169 of Tbilisi, while third place was claimed by the Public School #106. Deputy Minister of Regional Development and Infrastructure Mzia Giorgobian and Deputy Minister of Finance Ekaterine Guntsadze presented the winners with certificates.
"We are carrying out the project as part of Georgia's Energy Sector Reform Program," Mikautadze explained. "Our objective is to instill proper habits, as children often pass on their knowledge to their parents and inspire them to make energy-efficient choices. Through the 'Make Your School More Energy Efficient' competition, we aimed to provide the younger generation with more information, recognizing them as the future of our nation. We intend to organize similar competitions and activities for schoolchildren in various regions of Georgia as well."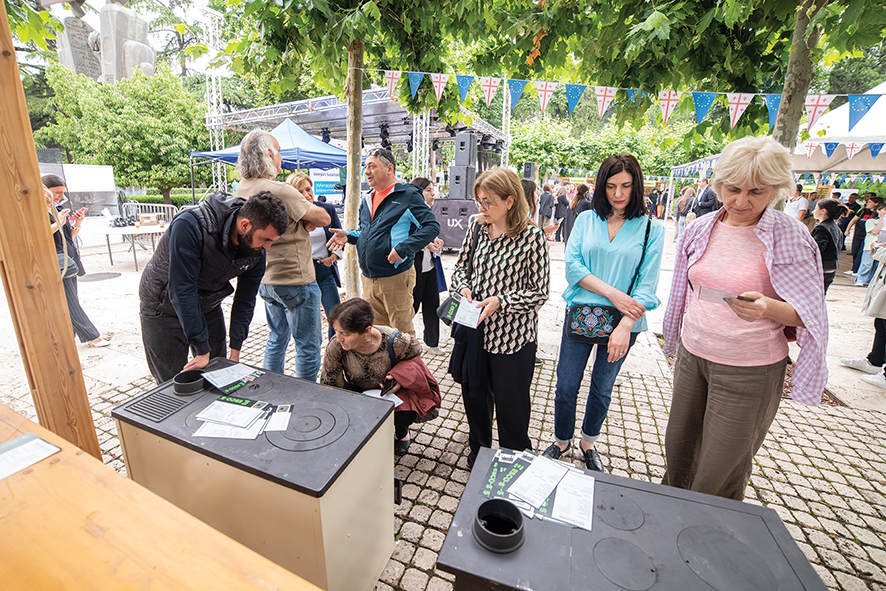 During Georgia's Sustainable Energy Day on June 23, 14 companies presented their energy-efficient and renewable technologies at booths in Dedaena Park. Products and services displayed within the exhibition covered solar panels, e-mobiles, EE stoves, briquettes, consulting services and granting opportunities.
Kids' educational zones provided entertainment and fun activities for children that piqued their curiosity and fostered knowledge of sustainability, engaging them in interactive exhibits that highlighted the advantages of energy conservation, and promoted awareness of renewable energy sources.
An energy-efficient transport exhibition was also held in the garden, where interested persons had the opportunity to familiarize themselves with the characteristics of energy-efficient, green vehicles and get information about their advantages.
It was agreed by all participants that the event showed useful energy efficiency solutions and acted as a forum for education, awareness-raising, and inspiration for creating a more sustainable future.
GOPA-Intec, supporting the Ministry of Economy and Sustainable Development (MoESD), and CENN, an organization dedicated to public environmental education, were leading this initiative, helping the young participants to raise their awareness about ecological matters and green solutions through practical trainings.
By Ana Dumbadze